Join the Sulwhasoo Membership,
Be the first to know about new launches,
access to exclusive events, and more.
Product Update

Birthday Privileges

Workshop or Event
Invitation
Membership Point System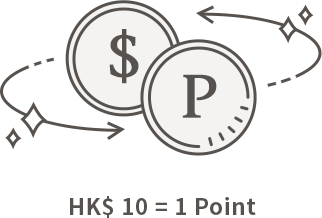 Earn a point for every HK$ 10dollar you spend
online and in store.
* Gold and Amber members can redeem any
regular-priced products
or single treatment
with each product point equivalent to HK$ 1.
TERMS AND CONDITIONS
Membership benefit
Gold

Spending up to
HK$ 50,000

Amber

Spending up to
HK$ 30,000

Jade

Spending up to
HK$ 8,000

BASIC

Any purchase
(product or treatment)

Welcome Reward
Anti-inflammaging skincare kit & shopping privilege : Enjoy double points for next purchase
Birthday Privilege
- Exclusive gift for Gold
members - Double points for unlimited
purchases in birth month - One-time free SPA treatment
(worth HK$ 3,000)
- Exclusive gift for Amber
members - Double points for one
purchase in birth month - One-time free SPA
treatment (worth HK$ 2,400)
- Exclusive gift for Jade
members - Double points for one
purchase in birth month - One-time 50% off Beauty
Lounge treatment

- Mask experience pack

- Double points for one
purchase in birth month - One-time 50% off Counter
Facial treatment
Anniversary Privilege
2-4 years / 5-9 years / 10 years or above
Point Reward
$10 = 1 point ; Points could be used to redeem selected Sulwhasoo products
Redeem any regular-priced products
or single treatment with each product point equivalent to HK$ 1.
Membership Renewal
Extra Points : 1,200 points
Extra Points : 800 points
Extra Points : 400 points
Membership Upgrade
Extra Points : 400 points
10% Off for Regualr Products
Free Delivery
New Product Preview & Pre-ordering
Other Privileges
Such as Holiday Privilege, Hotel Joint Promotion Privilege and Workshop Invitation
Gold

Spending up to HK$ 50,000

Welcome Reward
Anti-inflammaging skincare kit & shopping privilege : Enjoy double points for next purchase

Birthday Privilege
- Exclusive gift for Gold members
- Double points for unlimited purchases
in birth month
- One-time free SPA treatment (worth HK$ 3,000)

Anniversary Privilege
2-4 years / 5-9 years / 10 years or above

Point Reward

$10 = 1 point ; Points could be used to redeem

selected Sulwhasoo products

Redeem any regular-priced products
or single treatment with each product
point equivalent to HK$ 1.

Membership Renewal
Extra Points : 1,200 points

10% Off for Regualr Products

Free Delivery

New Product Preview & Pre-
ordering

Other Privileges
Such as Holiday Privilege, Hotel Joint Promotion
Privilege and Workshop Invitation

Amber

Spending up to HK$ 30,000

Welcome Reward
Anti-inflammaging skincare kit & shopping privilege : Enjoy double points for next purchase

Birthday Privilege
- Exclusive gift for Amber members
- Double points for one purchase in birth month
- One-time free SPA treatment (worth HK$ 2,400)

Anniversary Privilege
2-4 years / 5-9 years / 10 years or above

Point Reward

$10 = 1 point ; Points could be used to redeem

selected Sulwhasoo products

Redeem any regular-priced products
or single treatment with each product
point equivalent to HK$ 1.

Membership Renewal
Extra Points : 800 points

Membership Upgrade
Extra Points : 400 points

New Product Preview & Pre-
ordering

Other Privileges
Such as Holiday Privilege, Hotel Joint Promotion
Privilege and Workshop Invitation

Jade

Spending up to HK$ 8,000

Welcome Reward
Anti-inflammaging skincare kit & shopping privilege : Enjoy double points for next purchase

Birthday Privilege
- Exclusive gift for Jade members
- Double points for one purchase in birth month
- One-time 50% off Beauty Lounge treatment

Anniversary Privilege
2-4 years / 5-9 years / 10 years or above

Point Reward
$10 = 1 point ; Points could be used to redeem
selected Sulwhasoo products

Membership Renewal
Extra Points : 400 points

Membership Upgrade
Extra Points : 400 points

New Product Preview & Pre-
ordering

Other Privileges
Such as Holiday Privilege, Hotel Joint Promotion
Privilege and Workshop Invitation

BASIC

Any purchase (product or treatment)

Welcome Reward
Anti-inflammaging skincare kit & shopping privilege : Enjoy double points for next purchase

Birthday Privilege
- Mask experience pack
- Double points for one purchase in birth month
- One-time 50% off Counter Facial treatment

Anniversary Privilege
2-4 years / 5-9 years / 10 years or above

Point Reward
$10 = 1 point ; Points could be used to redeem
selected Sulwhasoo products

Membership Upgrade
Extra Points : 400 points

Other Privileges
Such as Holiday Privilege, Hotel Joint Promotion
Privilege and Workshop Invitation
Redemption List
Redeem your points for Sulwhasoo's must-have items
VIEW THE REDEMPTION LIST
Redemption List
Points
Redemption Item
400

| | | |
| --- | --- | --- |
| Gentle Cleansing Foam 200ml | OR | Clarifying Mask 150ml |

800

Concentrated Ginseng
Renewing Mask 5 sheets

OR

First Care Activating Mask
10 sheets

OR

HK$ 500
Product Gift Voucher

1,200

Concentrated Ginseng
Renewing Eye Cream 20ml

OR

Snowise Brightening
Serum 50ml

1,600

Timetreasure Invigorating
Eye Cream 25ml

OR

Timetreasure Invigorating
Eye Serum 25ml
* Exclusive privileges for Gold and Amber members
Redeem any regular-priced products or single treatments
with 1 product point equivalent value to HK$ 1