Artist
Hong Jee Hui

An interacting artist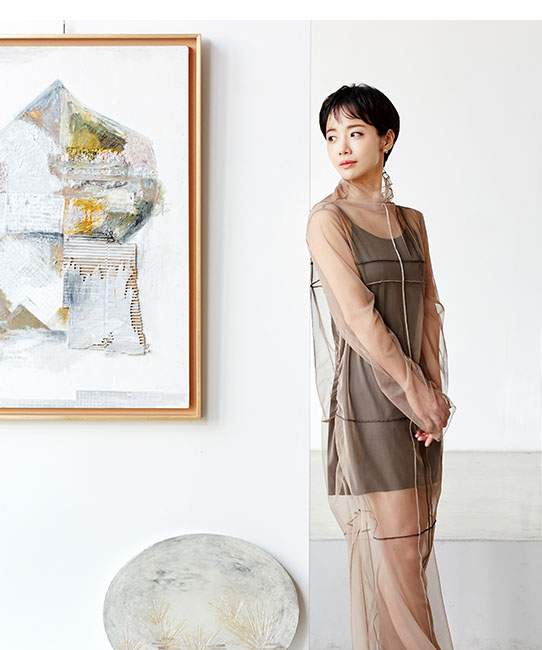 She shares her art through SNS. She is quite open, and expresses her ideas very actively. She posts about her art and her life as an artist very honestly and comfortably. This makes her rather different from other artists who try to hide behind their works. She focuses on her inner self. But there is a reason why she openly communicates with the public.
"I know how thirsty the people are toward the beauty of art. I have experienced the same as well. But the art around us is not so friendly. You may hesitate before going to a gallery. I did just like that. I was always intimidated. As an artist, however, there was no reason to be embarrassed in front of art. I wanted to let people know that anyone can enjoy art. I want you to understand that what is sublime is the effort you make to see art, not the art itself.
She taught herself most of the skills she needed to become an artist. She traveled everywhere to satisfy her curiosity and learn new things. She studied the materials, gluing the glass pieces on the canvas and making the entire pieces look like jewels.
"I share everything with my students in my atelier. I can always find something else. I don't think hiding is a way of keeping something. I want to share mine. I want more people to find happiness in art. I want them to look into their true selves, and find their own expressions like I did."
This idea makes her atelier a pleasant place for anyone, from a seven-year-old child to a middle-aged grown-up. Anyone can enjoy learning art with no pressure about achieving a goal or doing well. She introduced classes to share positive energy with other people, just as she had felt comfortable and been inspired in her colleague's atelier during times of hardships.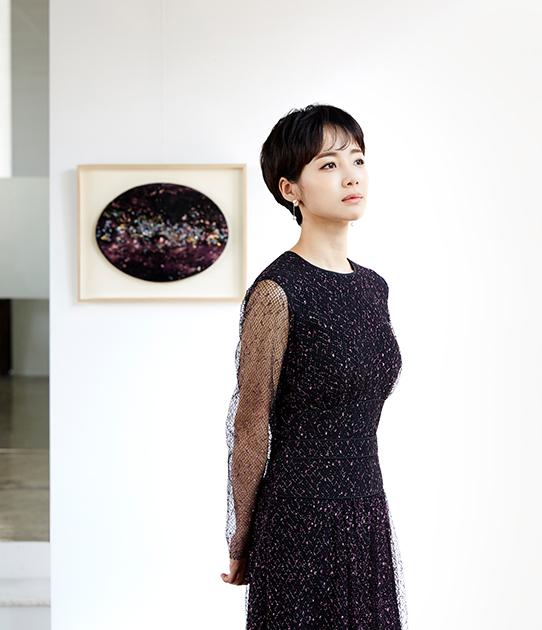 Slowly yet precisely
Artist Hong has completed one drawing a day, done yoga every day, and written one piece a day for 10 years. She seems to be hard at work toward her goal, but her son calls her a snail.
"I am really slow. I have no goal. I just try to be constant, although slow, in search of what I have to do and what I want to do. This is what I have realized in life. I am slow, but I know exactly where I want to go. I have trust in myself. I cannot stay ahead of others, but I will be in the right direction in the end."
She does not have a goal, but she knows her direction: to be a humble artist, to be someone who does not stop thinking, improving, learning, and challenging, to be someone who can pay attention to the isolated and discover strengths in something weak, to be someone who pursues the true beauty of balance with no contradiction, and to be someone who continues to shine even if she breaks down like her favorite glass materials.