Actress
Seong Kyeong Kim

"As I went over 40, I learned one thing; I learned to separate what I am good at from what I am not good at."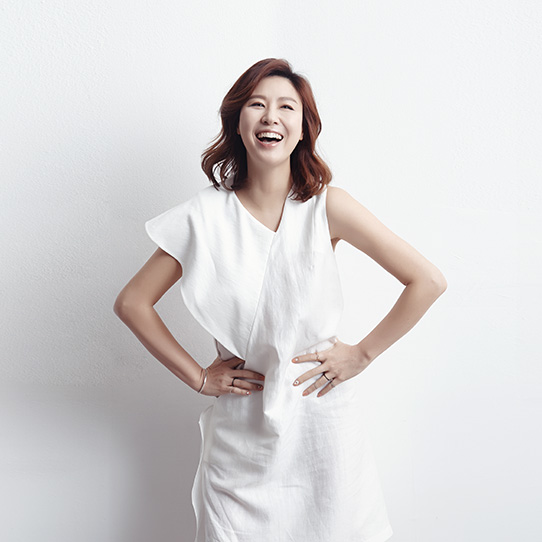 We interviewed her on a cold winter day about 3 years ago.
Looking back, she was about to expand her territory as a freelance entertainer with the opening of general service channels. We talked about things like her firm determination to take off the life of formal suits and challenge in various ways to survive in the fast-changing entertainment business. After that, it was not difficult to find her performance on TV. Seeing her speak up her mind on entertainment shows or hosting talk shows on current events was foreseen. However, no one imagined seeing her at a presentation of a TV series. After performing a supporting role just once, she went right on to grab the starring role. It was a rather bold transition.
"It was amazing because I just got one job after another. When they saw me open up on an entertainment show, the scriptwriter of <The Strong Ones>, a talk show of current events, contacted me. Then, a TV series production casted me after seeing my performance on <The Strong Ones>. They told me that my image on TV is just right for the character on the show." She shook her head and turned her back at first. She thought it was uncanny. Then, she called her sister, Kim Sung-ryung, and got her support. Her sister advised her to widen the scope of her thoughts as she was just a host all this time. With the support her actress sister, she barely got the courage to challenge acting.
To mention her first work, it was SBS aired last year. Although she did not appear very often, the drama won as much as 21% of viewers, so it was not bad for the first performance. She confidently won the starring role on aired on MBC Dramanet this year. She was like a bulldozer dashing toward success. Was she hiding a new set of buttons to turn on a new character as an actress?
"The producer had just one request. He told me to 'be myself' without learning how to act. Fortunately, I am getting good reviews about my acting. Once, Cho Hyoung-ki told me I was 'smart'. He said it was better to show who I am rather than learning how to act a little bit and pretending to be an actress (laugh)."
Many actresses who used to be announcers are getting good reviews these days. There are Baek Ji-yeon and Oh Sang-jin, and Kim is also doing quite well as an actress. Her success, as she admits, comes from stable pronunciation and vocalization as a former announcer. She must have practiced learning while working as an announcer.
As she became an announcer for SBS in 1993, she has successfully survived in the entertainment business for over 20 years. Jung Eun-a and Lee Geum-hee would be the only female announcers who have longer experience than her and are still active. Her secret for survival was very simple: Pursuing her goal with all her might and fulfilling the job perfectly. This has been coupled with her honest and rigid personality. She is clear about right or wrong. She has clear likes and dislikes.
"As I went over 40, I learned one thing; I learned to separate what I am good at from what I am not good at. When I was an announcer, I was naturally good at planning and hosting, but I couldn't get a hold of the right way to make others laugh. These days, I try not to be greedy for what I lack and get help instead. For the recent talk concert, I maintained balance by leading the mainstream and having Sook take over what I can't handle."
She was right. She demonstrated her talents in planning at the recent opera talk concert which she co-hosted with Comedian Kim Sook. It was a unique show where they judged the female characters in famous operas to analyze the types of women from different times in history. She participated in almost all aspects of the show from planning to casting, to hosting.
"What was best about the show was the combination of Kim Sook and me. Many people said that the combination of operas and Kim Sook was fresh and so was the connection between Kim Sook and me. We clearly boosted each other's strengths while on the show. Sook uplifted the audience and I wrapped up with my lecture."
The concert was put together because she was close friends with Kim Sook and both of them were interested in art. Her planning and driving force came to life when she was motivated. She has already planned to produce a series of concerts on ballet, art, and Korean traditional music. How diligent!
Actually, she did not just talk about at the concert. Since the title of the talk concert was 'Bad Girls', she had to profess why she is a bad girl herself. However, it was not very easy for her to put the story of her life on a piece of paper. She had to revise it over and over again. She had to go over her entire life just to finish a few lines of writing.
"I was able to see through myself as a person while describing why Kim Sung-kyung is a bad girl."
"I was able to see through myself as a person while describing why Kim Sung-kyung is a bad girl. Until when I was working on SBS , I knew nothing about failure. Then, I divorced and left the company. Both of the fences that used to protect me went away at the same time. That was when I began building my own fence. My fence was being honest and following the rules. People often told me I am particular. That gave me the power to survive."
The co-hosts on <The Strong Ones> often tease her by calling her an 'old' or 'old-fashioned' announcer. She takes it lightly as a joke. Rather, she wants to give her a big applause for surviving on this battleground for over 20 years. It just keeps motivating her to challenge and attempt new things.
Amazingly, she has worked without taking a day off all year this year, but it is not tiring. She gets exhausted at the end of the day, but her heart is light. The TV series was an exciting challenge, while the talk concert was a thrilling pleasure. That is why she can simply describe all this time as 'fun'.
She is still struggling to get her name known to the public. It could be a bad girl or a TV character that is thirst for success. She could be in any shell. This while flower is constantly unraveling who Kim Sung-kyung is in order to take a step closer to the public.