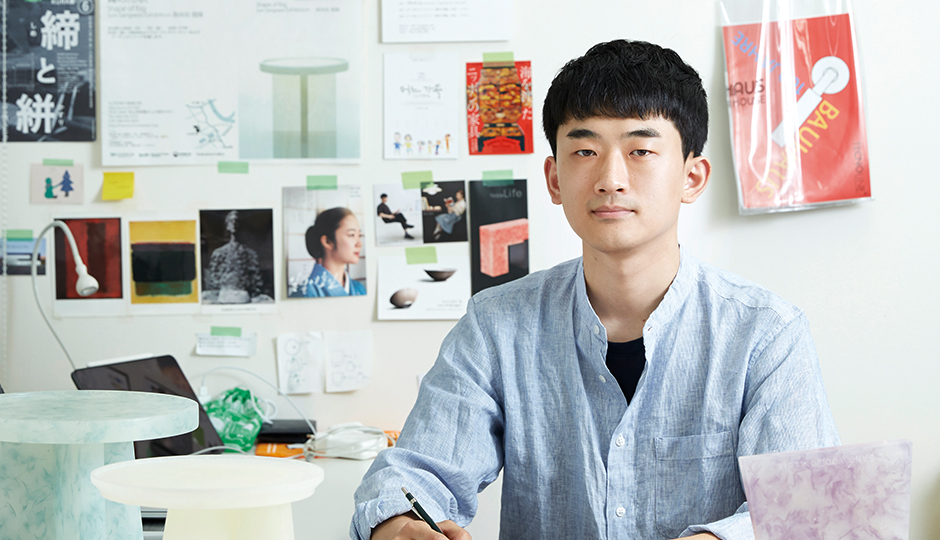 Son Sang Woo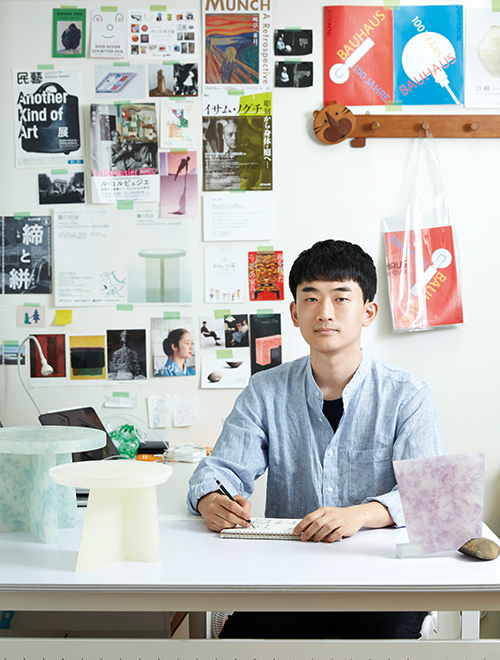 What inspired you to come up with the heterogeneous combination of traditional Korean paper and synthetic resin?
I majored in wooden furniture in college. I discovered that the ordinary process was not quite fulfilling, so I found a new material that was suitable for my way of expression. In using that process, I expressed the translucency of 'fog' and discovered that resin is the material that can enhance the texture of mulberry on Korean paper. I worked mostly with white at the beginning because I thought that the 'fog is the Korean white'; however, I am currently incorporating various colors.
It is especially interesting how you referred to the foundation stones and girders of Korean houses for 'Bench Series'.
When I was attending graduate school, I visited the old temples with my colleagues. For the first time, I visited Dosanseowon and my vague ideas about the Korean houses changed completely when the cultural interpreter told us in detail about the functions and aesthetics of the foundation stones and girders. I focused on the minimalistic Korean houses after looking around the indifferent yet natural foundation stones and girders of Mandaeru in Byeongsanseowon. Believing that the structure of Korean houses is connected with the furniture, the girders that support the massive roof have been turned into the bench's frame, and the foundation stones that bring the ground together with the house into the legs of the bench with natural wood.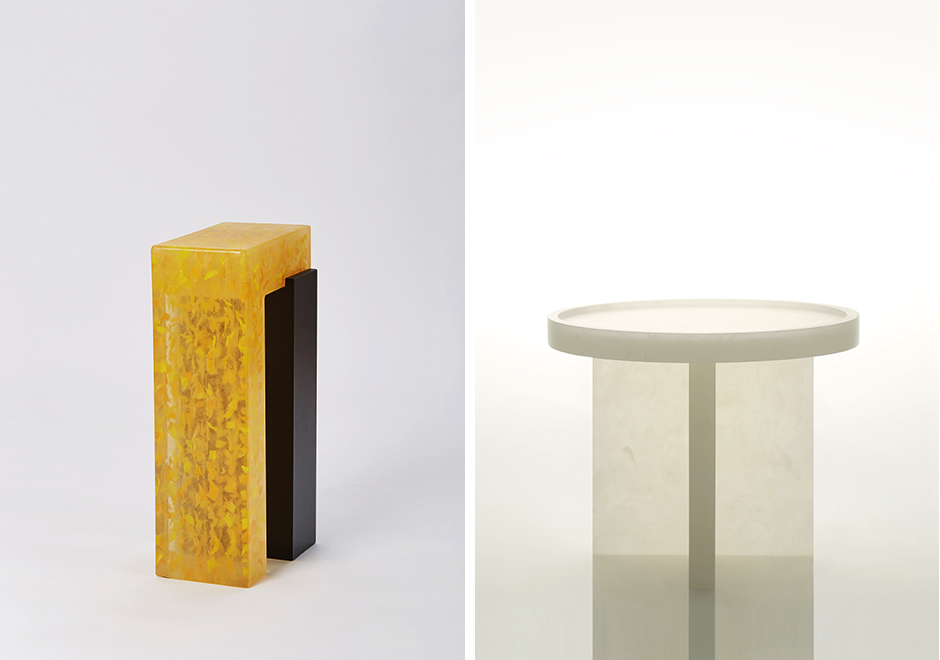 Did you face technical difficulties because of a new attempt?
I had countless trials and errors before I settled with the current shape and colors. Resin, for instance, is hard to manage, and it can become too soft or too brittle. I have accumulated data on the right amount of hardening agent and the right temperature, but it is going to be a long process. I am not going to settle for less. Therefore, I am trying different ways and exploring different paths for the pursuit of something new.

The 'Platter Series' on the cover is truly interesting. Can you provide more insight on this?
I decided to work with carpentry because I have always loved the texture of wood. I have wanted to work with Korean-style platters for a long time. Nevertheless, I adopted the various colors of Washi, a traditional Japanese paper, during my show in Japan last year. Although my signature still remains white.

So you could say you've done your solo exhibition in Japan.
My solo exhibition in Korea is scheduled for October, so my exhibition in Japan, , became my first solo show abroad. But regardless from the schedule, the 3 month time spent in Japan for the exhibition preparation was significantly meaningful. I could not create large pieces using the machines because I was not familiar with that area. That is why I developed the portable platters that can also be used as trays. I named my 'Platter Series' as 'Kiri', which means fog in Japanese.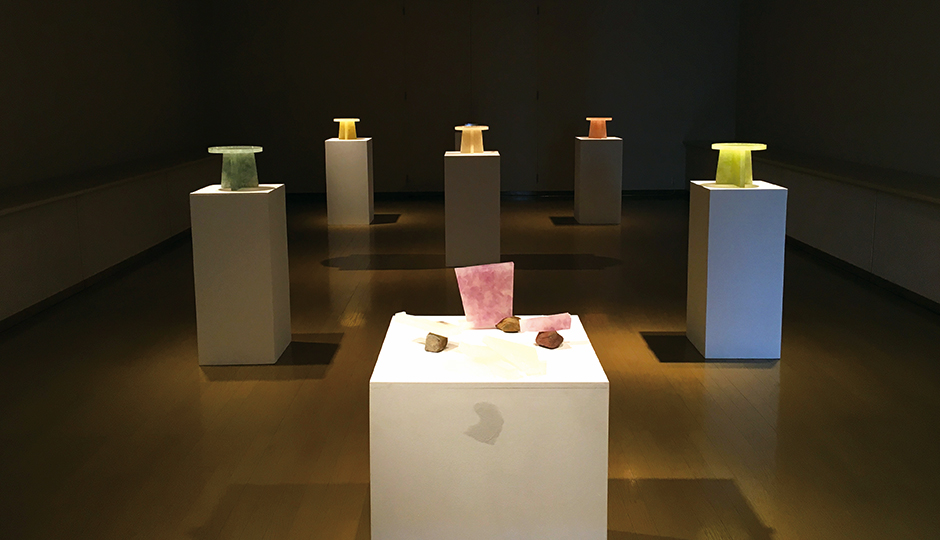 You are staying in Sindang Creative Arcade for the younger artists.
I have been here for two years now. It was an appropriate decision because I was able to secure a studio space after graduation. I am constantly motivated to work through the public systems, and I am able to receive various support from Seoul Foundation of Arts and Culture in regard to curating an exhibition.

What are your concerns nowadays as an artist?
My biggest concern and determination is that I should never be stagnant. If this is a matter of attitude, my realistic concern is to find the balance between being 'functional' and 'artistic', since my works are 'functional' furniture and 'artwork' at the same time. I need to follow both reasonable prices and practical shapes because these are furnitures, however I am leaning towards the artistic aspect as an artist. It is not easy to find the right balance, so rather, I decided to focus on discovering my own artistic language.

What are your plans for the future?
The plan that is marked on my calendar is the first solo show scheduled for October. However, I have many concerns because I have realized that the trend in the furniture industry is shifting from something handed down for generations to commodities and now to artworks. Personally, I am looking for ways to share my art style abroad. I also want to be recognized for the possible combination of Korea's traditional and modern materials.