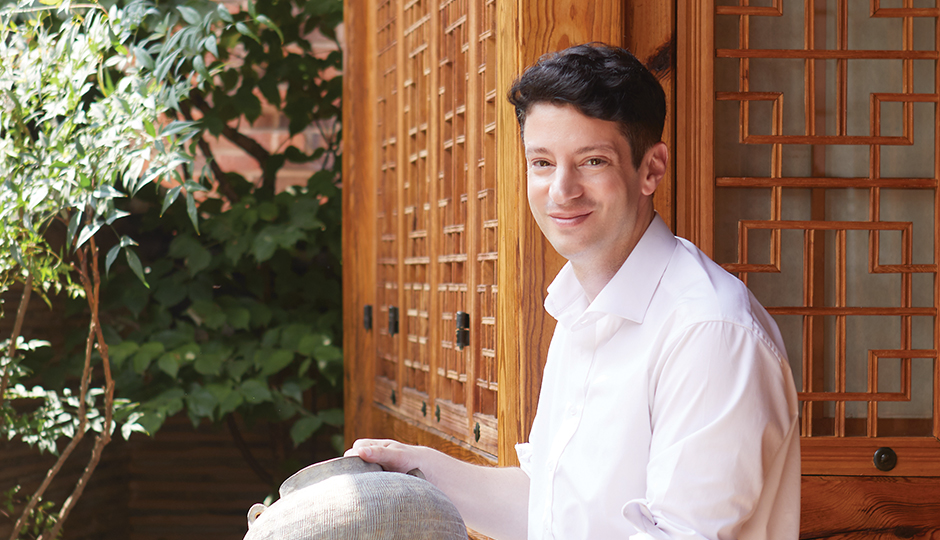 The definition of 'space' and 'naturalism.'
The beauty of Korea as told by entertainer Mark Tetto. Listen to his story.
At the beginning of fall, the sky is high and exceptionally blue and clear. It was a nice day, so I went through the large crowd at the heart of Bukchon and arrived at Mark Tetto's traditional Korean house called 'Pyeonghaengjae.' It was quiet as if the crowdedness had been instantly absorbed by another entity.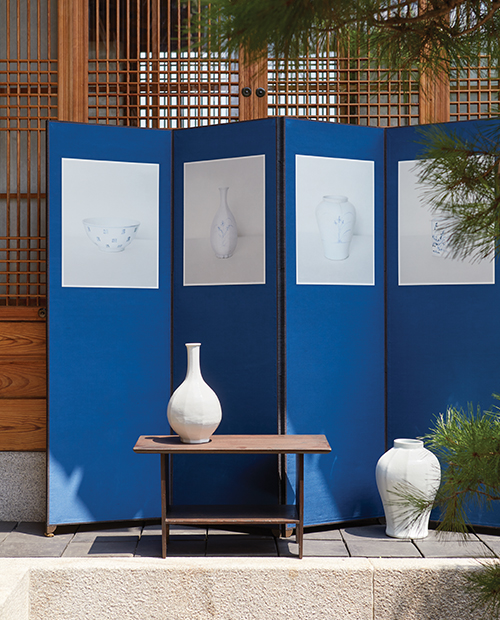 We know Mark Tetto, an entertainer and entrepreneur, through on JTBC. Along with his fluency in Korean and prudent insights, he is defined by his love for the traditional arts and cultural heritage of Korea. He has even bought the traditional Sumaksae (the roofing tiles used along the edges of roofs of wooden structures in various patterns) from an American collector, and brought it back to Korea. It is not very easy to do even among Korean citizens. What was his motivation? Where did it come from? Mark Tetto says that everything began with 'living in a traditional Korean house.' "I have been living in this traditional Korean house for 4 years now. I did not choose to do so because I knew much about it at first. When I first saw the house, I fell in love with it, and thought about living in it. I have always lived in an apartment, back in New York and in Korea. My life today is very different from my life in an apartment. My apartment was just where I stayed to get ready for work or to go out. It made me lonely, and it did not mean anything to me. So I tended to stay out longer. The Korean house, on the other hand, has a deep meaning to me. It calms me after a long day, and allows me to be who I am. It is a space for healing and a mentor to help me look back on my life." The Korean house does not offer the convenience of automatically locking doors during busy mornings. The many windows and doors at Mark Tetto's Korean house has to be screw-locked one by one. He thought it is just too much work every morning at first, but those 5 minutes of his life has become a sort of ritual or meditation before beginning his day. The spare time to look back on your life is a gift. That is not all. He can open his eyes to the beauty of Korea.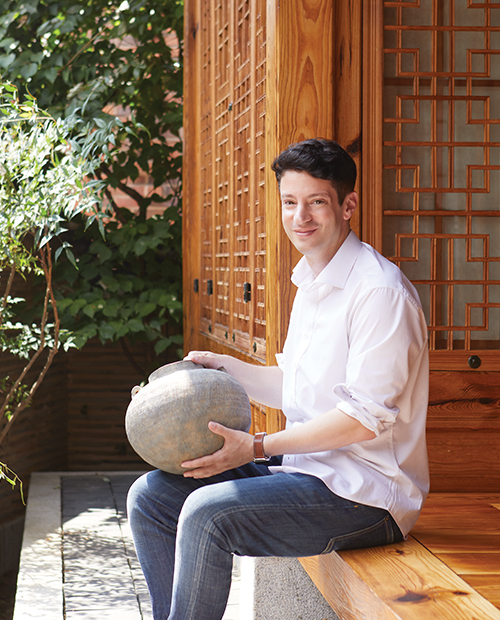 "When I first moved here, I bought an entire line of furniture and put everything together. But it did not go with the space at all. I had to look for what went well with the house, and brought each of my discoveries in one by one. Naturally, I saw the traditional culture and arts, the antique furniture, and the craft work of Korea. I have been acquainted with contemporary artists who are reinterpreting them for the new era. I particularly love Bohnchang Koo's photographs of porcelain, so I have purchased his frame and screen partition. I was amazed by the roof that connects to the next door and the house next to it when I looked outside. I wanted to know what that was, and found out that it was Gihwa, the roofing tiles. That is when I started collecting patterned Maksae and I ended bringing Sumaksae that was kept in the U.S. Some people might look at it as an architectural material. In fact, Gihwa is not recognized as cultural heritage. However, it feels like a special artwork to me. All of these happened to me while living in this Korean house, and I have been honored with the privilege to be appointed Sumunjang of Gyeongbokgung. I am very grateful for everything." He sees the beauty of Korea as 'space' and 'naturalism.' He fell in love with the traditional Korean house at first sight, although it was empty because of the value that reached his core even before he became familiar with the notion of 'space.' The many efforts he has exerted in order not to disturb the beauty of space must have made Mark Tetto who he is today. He practiced moderation to keep all the extravagance away, and acknowledged the original form of nature without any artificial processing. The Korean beauty that Mark Tetto has discovered is an essential part of life that we have neglected for a long time.