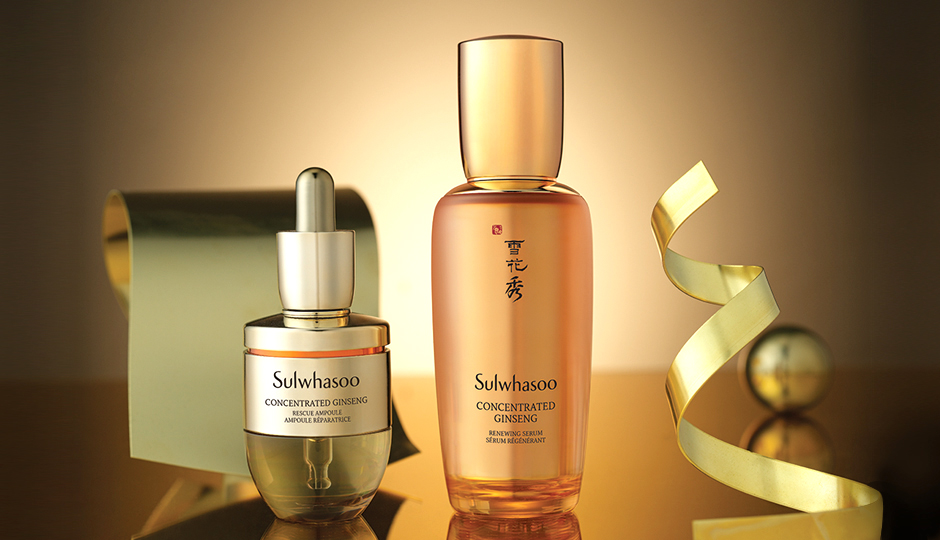 Ginseng, the Foundation of
Sulwhasoo's Vision for Beauty
The crowning achievement of Sulwhasoo's relentless research in Ginseng, is a core substance known as Ginsenomics™. Ginsenomics™ features a rare type of Saponin that is enriched more than 6,000 times using cutting-edge bio-technology available exclusively at Sulwhasoo. Although a typical Ginseng plant contains more than 30 different types of Saponin, the Saponin used in Ginsenomics™ is a particularly rare type, found in minuscule amounts only, and is known to deliver the best anti-aging benefits on human skin among all Saponin substances. Ginsenomics™ delivers anti-aging benefits by supplying a rich source of powerful renewing energy deep inside the skin. This helps the skin retain its natural vitality and strengthen its capacity to respond actively against changes to the external environment and other harmful environmental factors. Te Concentrated Ginseng Renewing Serum uses Ginsenomics™ to take anti-aging to the next level by not only erasing any traces of aging, but also keeping the skin radiant and glowing even with the passage of time.
The outstanding benefits of the Concentrated Ginseng Renewing Serum are based on the capacity of Ginsenomics™ to penetrate deeply into all layers of the skin that con-trol its overall resilience, formulated to help the skin completely rebuild its structure. Most importantly, the Concentrated Ginseng Renewing Serum assures consumers by simultaneously solving multiple skin-related concerns that manifest with aging, such as deeper wrinkles and the collapsing facial profile due to sagging skin. The Serum is not a one-dimensional solution to aging - it is a triple micro-targeting technique that simultaneously boosts skin resilience to restore the structure of each layer inside the skin and encompasses preventive anti-aging efficacies. The Concentrated Ginseng Rescue Ampoule (new product launched last August) delivers the ultimate Ginseng anti-aging experience with a combination of Ginsenomics™, which represents the pinnacle of Sulwhasoo's Ginseng research heritage, and the rare Ginseng Berry. Sulwhasoo's Active Beauty Ginsenoside, Ginsenomics™, accelerates the synthesis of a substance called collagen inside the skin. This quickly improves signs of skin aging. Ginseng Berry plays its part by helping soothe irritated skin and offering excellent recovery benefits. The synergy between these two substances results in intensive skincare in emergency situations. Tough applying the ampoule once is enough to experience noticeable benefits, applying a full bottle over a three-week period can significantly alleviate signs of aging, including deeper wrinkles and dilated skin pores. The Concentrated Ginseng Rescue Ampoule is the only product of its kind to feature rare substances extracted from Ginseng Berries using Sulwhasoo's exclusive technology. It can only be harvested once throughout a Ginseng plant's entire life cycle. For a plant to be harvestable, the Ginseng has to be at least 1,000 days old. The Ampoule is special in terms of its design (container design) as well.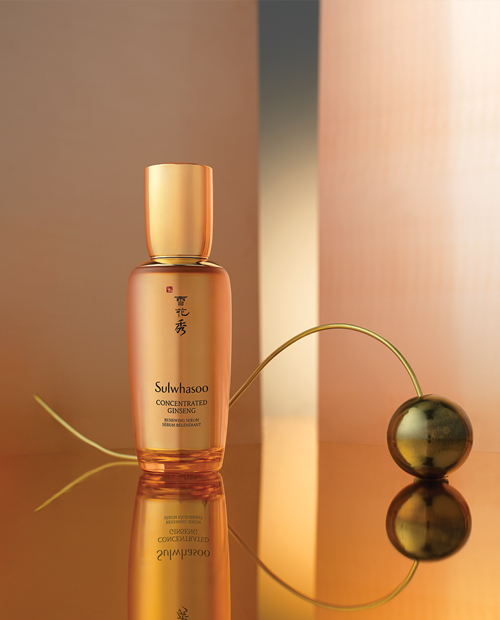 The rare and precious Ginseng Berry extract and Ginsenomics™ are kept separately, and you can mix the two ingredients together just before application. This is Sulwhasoo's way of keeping each ingredient as fresh as possible, maximizing their combined efficacies upon application. Tanks to the anti-aging benefits of Ginsenomics™, which keeps the skin youthful even as time goes by, the Concentrated Ginseng Renewing Serum and Concentrated Ginseng Rescue Ampoule can deliver a delightful anti-aging experience. Using both products together can generate positive synergy and boost skin resilience even further. Not only that, the combination of the Serum and Ampoule can help the skin recover from sudden deterioration or damage caused by external stimuli. Ultimately, both products offer dense and resilient skin that constantly retains youth every day. Te beauty routine with Concentrated Ginseng Renewing products is a precious gift from Sulwhasoo's Ginseng science. Keep your skin firm every day with the Concentrated Ginseng Renewing line.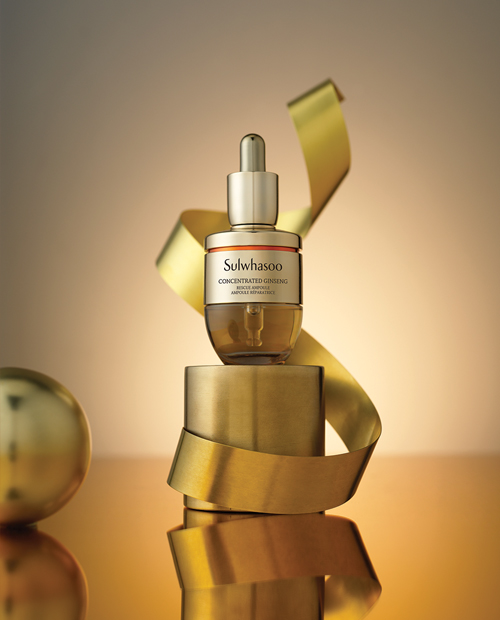 Concentrated Ginseng
Renewing Serum
Step 1

After cleansing in the morning and evening, Water and Concentrated Ginseng Rescue Ampoule. Apply Concentrated Ginseng Renewing Serum on the cheeks, forehead, and chin and spread the serum in an upward vertical motion

Step 2

Spread upward from the chin to the forehead and sweep smoothly from the forehead to both chins.

Step 3

Sweep from the bottom up the neck and finish by sweeping just below the ears along the chin line.