Sulwhasoo releases 2015 ShineClassic Makeup Limited Edition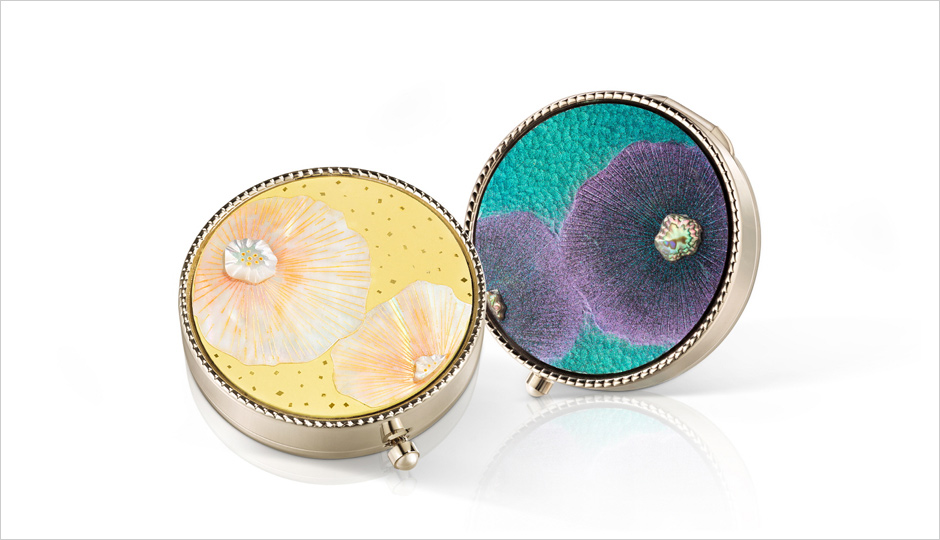 "Sulwhasoo's Limited Edition features the beautiful harmony of tradition and modernity"
Sulwhasoo's 2015 ShineClassic Makeup Limited Edition
Delicate mother-of-pearl craft symbolizes plum blossoms with elegant and dignified beauty.
Powder Compact and Multi Powder Compact are available at Sulwhasoo stores nationwide from November for a limited time.
Sulwhasoo, a holistic beauty brand that prizes the beauty of harmony and balance inspired by Asian philosophy, proudly introduces two types of 2015 ShineClassic Makeup Limited Edition with the sophisticated traditional colors of Korea for a limited time from November.
Sulwhasoo's 2015 ShineClassic Makeup Limited Edition is a collaboration with accessory craft artists, Hyun-kyung Lee, Eun-kyung Goo, and Hye-min Lee. The traditional mother-of-pearl material was patterned with fine lines and decorated with mother-of-pearl pieces, enabling Sulwhasoo to capture the dignity and purity of plum blossoms, a symbol of elegance and distinguished beauty, for the 2015 ShineClassic Makeup Limited Edition.
The 2015 ShineClassic Powder Compact and Multi Powder Compact use micro-fine powder, created with a high purity synthesis technology, to leave your skin bright and radiant. The Micro Sliding Powder glides onto your skin to leave it smooth and clear after applying your makeup. The subtle scent of plum blossoms brings tranquility to your body and mind.
ShineClassic Compact is a premium and limited edition compact that gives your skin a translucent and clear finish with fine and pure powder particles. The package design captures the bright red color of plum blossoms that bloom in winter, and the Fine Grinding Technology uses enhanced particle control technology to create micro-fine powder for a delicate and smooth finish.
ShineClassic Multi Powder Compact is a blush and highlighter designed to leave you with brighter, revitalized skin. The packaging captures a variety of amazing blue colors, while the content uses the beautiful colors of plum blossoms to give you a radiant complexion. Multi Powder Compact uses the clarity of pearls to give you a rich and radiant skin tone with clear shades.
Every year since 2003, Sulwhasoo has released its ShineClassic Makeup Edition, inspired by the traditional Korean patterns, ingredients, and techniques. Traditional materials are reinterpreted in the modern context to show the harmonious beauty of tradition and modernity pursued by Sulwhasoo.
The 2015 ShineClassic Makeup Limited Edition will be available at Sulwhasoo in department stores nationwide for a limited time from November.
Sulwhasoo 2015 ShineClassic Powder Compact
Size/Price: 10g*2 / Approximately 150,000 KRW
Shades: Subtle (#1) / Calm (#2)
Released: November 2015
Sulwhasoo 2015 ShineClassic Multi Powder Compact
Size/Price: 10g*2 / Approximately 150,000 KRW (with brush)
Shades: Light Pink & Deep Pink & Light Yellow & Light Purple
Released: November 2015
About Sulwhasoo
Sulwhasoo believes in a holistic approach to beauty and skincare, providing the ultimate skin solution that carefully treats our inner and outer beauty. The approach harmonizes our natural beauty with ancient Asian wisdom and legendary Asian medicinal herbs to restore the delicate equilibrium between body and mind. The Sulwhasoo brand gains wisdom from the laws of nature and lavishes your body with the rare and precious ingredients of nature in pursuit of that ideal beauty. Sulwhasoo showcases the value of holistic beauty to the world with the Jaum Balancing Complex ™, our unique solution designed to supplement yin energy and help reverse aging by restoring the skin's balance. The formula uses just five precious ingredients, carefully selected from a list of more than 3,000 medicinal herbs, including Korean ginseng, the legendary ingredient that makes Sulwhasoo's unique formulas even more special when combined with our cutting-edge bioconversion technology. As of 2015, Sulwhasoo has stores in South Korea, Mainland China, Singapore, Hong Kong (China), Thailand, Indonesia, Malaysia, Taiwan, Vietnam, and the U.S., successfully thriving as the Asian beauty creator.