Sulwhasoo's global charity event in Hong Kong (China)
INTERNATIONAL
|
2015.12.08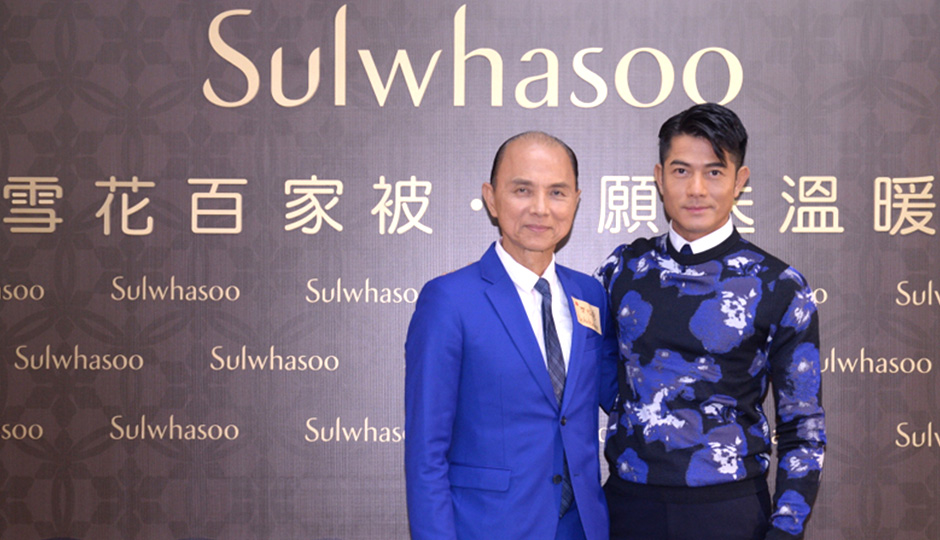 Globally delivering Sulwhasoo's warm message of hope with the 'Quilts of Sharing Hearts'
- A charity event 'Quilts of Sharing Hearts' , held on December 7th with actor Aaron Kwok and designer Jimmy Choo
- profits from selling the charity kit will be donated to the needy
Sulwhasoo, the holistic brand that delivers the beauty of Harmony and Balance with Asian philosophy and wisdom, hosted the '2015 Sulwhasoo Charity Event with the Quilts of Sharing Hearts' last 7th as a part of its global contribution activities at Lady MacLehose Centre in Tsim Sha Tsui, Hong Kong (China).
First began in 2010, 'Sulwhasoo Charity Event with Quilts of Sharing Hearts' is a social contribution activity inspired by an Asian tale that a newborn can live a long healthy life when the neighbors gather 100 pieces of fabric to make a quilt. In partnership with Chi Heng Foundation in Hong Kong (China), it was set out to deliver a message that little attention and help of many people can gather to give a big help for the neighbors in need.
The theme of this year's charity event was 'Sulwhasoo Hundreds of Families Quilt - Share the Wish for Warmth (雪花百家被 祝願送溫暖)' and many celebrities participated in it, including Hong Kong (China)'s most popular actress Aaron Kwok and designer Jimmy Choo. Aaron Kwok and Jimmy Choo even delivered the quilts they donated to the homes to isolated families. Also, 13 local celebrities of Hong Kong (China), including actresses Kelly Chen, Carina Lau, and Anita Yuen, President Cathy Lee of Ekatrina NY, and eight popular stylists, showed their care by donating as well.
In celebration of the event, Sulwhasoo Hong Kong (China) sold 2,500 Charity Kits that consisted of Gentle Cleansing Foam, Overnight Vitalizing Mask, and Clarifying Mask for a limited time from October 29. The profits in the amount of about 700,000 HKD were donated to Chi Heng Foundation. Sulwhasoo's quilts and donation will be delivered to neighbors that are in need to deliver the hope of sharing.
Hong Kong (China) is where Sulwhasoo opened its first global store, and offer premium quality products and spa services at the stores at Tsim Sha Tsui, Canton Road, and Causeway Bay to earn the love of many local customers. Without additional marketing activities such as TV commercials, Sulwhasoo has proudly made it to the 'wish list of premium brands' among the upper class in Hong Kong (China) and the tourists from China.
About Sulwhasoo
Sulwhasoo believes in a holistic approach to beauty and skincare, providing the ultimate skin solution that carefully treats our inner and outer beauty. The approach harmonizes our natural beauty with ancient Asian wisdom and legendary Asian medicinal herbs to restore the delicate equilibrium between body and mind. The Sulwhasoo brand gains wisdom from the laws of nature and lavishes your body with the rare and precious ingredients of nature in pursuit of that ideal beauty. Sulwhasoo showcases the value of holistic beauty to the world with the Jaum Balancing Complex ™, our unique solution designed to supplement yin energy and help reverse aging by restoring the skin's balance. The formula uses just five precious ingredients, carefully selected from a list of more than 3,000 medicinal herbs, including Korean ginseng, the legendary ingredient that makes Sulwhasoo's unique formulas even more special when combined with our cutting-edge bioconversion technology. As of 2015, Sulwhasoo has stores in South Korea, Mainland China, Singapore, Hong Kong (China), Thailand, Indonesia, Malaysia, Taiwan, Vietnam, and the U.S., successfully thriving as the Asian beauty creator.