Timetreasure Renovating Eye Cream EX delivers premium anti-aging care based on precious ingredients derived from Red pine
INTERNATIONAL
|
2016.02.16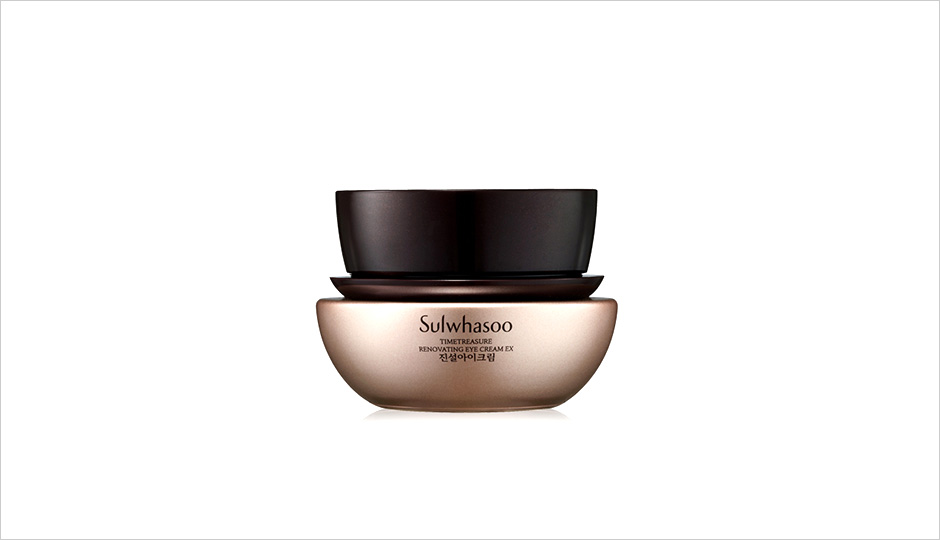 Sulwhasoo's unique anti-aging regime beats harshwintery days
- The rise of comprehensive anti-aging care highlights the importance of precious ingredients as well as skin science technologies
- Timetreasure Renovating Eye Cream EX captures the age-defying De-Aging Active, which exists in miniscule amount in red pine trees
Anti-aging skin care is of more importance especially in cold, harsh weather. Due to the exposure to harsh winds in the cold outdoors and dry environments indoors, the skin loses moisture and elasticity, giving way to fine wrinkles. Sulwhasoo, the holistic beauty brand that delivers beauty of harmony and balance with Asian philosophy and wisdom, introduces "precious ingredients" as this year's keyword for anti-aging skin care.
As the recent anti-aging trend looks beyond mere anti-wrinkle treatment to find a comprehensive anti-aging regime, it requires not just the application of advanced technologies but also the use of precious ingredients. In particular, Sulwhasoo Timetreasure Renovating Eye Cream EX contains the age-defying De-Aging Active (DAA), a rare ingredient extracted from Red Pine, to provide care and vitality to the delicate eye area. Timetreasure Renovating Eye Cream EX is comprehensive anti-aging care for women against winter.
The Red Pine is one of the most resilient pine species in Korea, thriving under even harsh conditions to form lush forests and keeping its green needles intact for thousands of years. The Red Pine is also a symbol of longevity and youth because of its strong wood, a dense growth ring structure and its look ever-young.
Through five decades of research commitment to botanical ingredients based on traditional Korean medicine, Sulwhasoo identified the age-defying DAA and seized it in Timetreasure Renovating Eye Cream EX. The age-defying DAA exists only in miniscule amount in the depth of Red Pine that have drawn on nature's vitality for thousands of years. Sulwhasoo perfected the age-defying DAA by applying the unique poje method, inspired by the wisdom of traditional Korean herbal medicine, and an 11-step refining process. Sulwhasoo's patented capsulization technology delivers the vitality of Red Pine into the skin.
Sulwhasoo Timetreasure Line, the embodiment of Sulwhasoo's technologies, reverses signs of aging and tackles the ever-worsening aging process by energizing the skin. In particular, Timetreasure Renovating Eye Cream EX's special formula provides a comprehensive anti-aging solution by firming the skin under the eyes, reducing dullness around the eyes and refining the skin texture. Timetreasure Renovating Eye Cream EX also exudes the subtle mind-soothing aroma scent of Red Pine,adding uniqueness to the beauty ritual.
Timetreasure Renovating Eye Cream EX [Anti-wrinkle and whitening product]
About Sulwhasoo
Sulwhasoo believes in a holistic approach to beauty and skincare, providing the ultimate skin solution that carefully treats our inner and outer beauty. The approach harmonizes our natural beauty with ancient Asian wisdom and legendary Asian medicinal herbs to restore the delicate equilibrium between body and mind. The Sulwhasoo brand gains wisdom from the laws of nature and lavishes your body with the rare and precious ingredients of nature in pursuit of that ideal beauty. Sulwhasoo showcases the value of holistic beauty to the world with the Jaum Balancing Complex ™, our unique solution designed to supplement yin energy and help reverse aging by restoring the skin's balance. The formula uses just five precious ingredients, carefully selected from a list of more than 3,000 medicinal herbs, including Korean ginseng, the legendary ingredient that makes Sulwhasoo's unique formulas even more special when combined with our cutting-edge bioconversion technology. As of 2015, Sulwhasoo has stores in South Korea, Mainland China, Singapore, Hong Kong (China), Thailand, Indonesia, Malaysia, Taiwan, Vietnam, and the U.S., successfully thriving as the Asian beauty creator.