Sulwhasoo releases the Radiant Spring Makeup
INTERNATIONAL
|
2016.03.07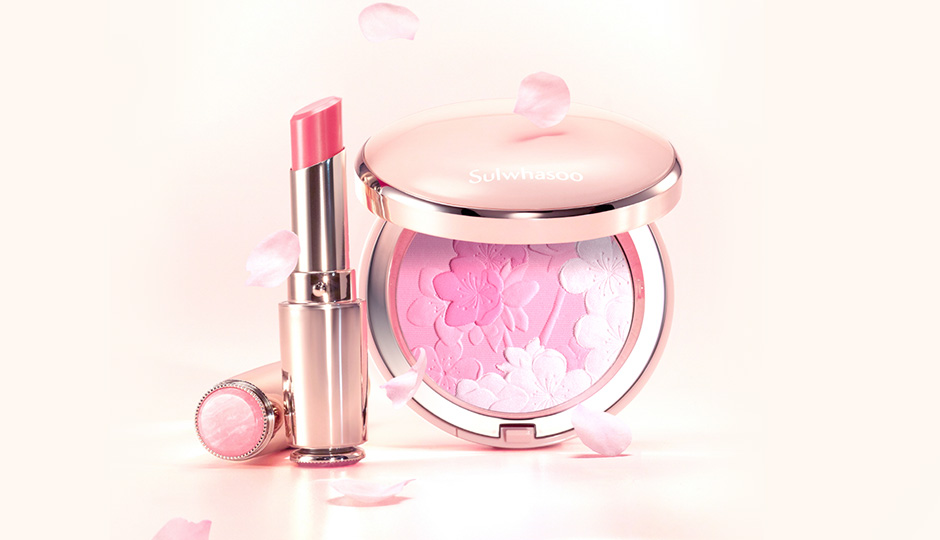 Breathing radiant vitality into lips & cheeks for this spring
- Sulwhasoo releases the new 'Radiance Blusher' and adds new tones for 'Essential Lip Serum Stick'
- The essential spring makeup items for radiant skin & lips with vitality
Sulwhasoo, a holistic brand that presents the beauty of harmony and balance with Asian philosophy and wisdom, releases the multi-color blusher 'Radiance Blusher' and three more shades for 'Essential Lip Serum Stick' for this spring. Essential Lip Serum Stick with a rich texture and concentrated hydration brings radiant vitality to the lips, while Radiance Blusher, a highlighter/multi-color blusher, gives the skin life and glow.
Lip makeup and blusher are considered essential items for makeup with radiant vitality. Sulwhasoo's Essential Lip Serum Stick is a deep-hydrating and deep-nourishing color lip balm that instantly applies smoothly for deep hydration, resilience, and vitality. Essential Lip Serum Stick contains Camellia Oil Safflower Complex for exceptional hydration to quench thirsty lips, while the double hydrating barriers replenish the oil and moisture at the same time to leave the lips protected from rough environments with long-lasting moisturization. It also contains Prunus Armeniaca (Apricot) Kernel Oil and rich Elastic Complex to densely plump the lips' surface for smooth, resilient lips. The Plum Blossom Extracts also deliver natural flower-like vitality. The three new shades that were added this March have brighter vitality and glow compared to the existing No. 1 Apricot Serum and No. 2 Blossom Serum. They are No. 3 Flower Pink, No. 4 Rose Red, and No. 5 Blossom Coral.
Radiance Blusher, which is Sulwhasoo's new product this March, consists of the main blusher for subtle radiance, the darker red blusher for shading, and the highlighter for the highlighting effect so that they can be mixed and matched as desired. You can adjust the shade by varying the movement of the brush and add the highlighting effect. Radiance Blusher applies the Bloominous Pearl Powder technology to create a clear bright radiance of plum blossoms that bloom with vitality. Bloominous Pearl Powder enhances the reflection of red light for the vitality of skin and refines the radiance of skin tone with overall reflection. Sulwhasoo Radiance Blusher comes in two shades: No. 1 Pink Harmony for bright vitality and No. 2 Coral Harmony for natural vitality.
Essential Lip Serum Stick and Radiance Blusher, for gracefully bright skin with vitality this spring, will be available at Sulwhasoo stores within department stores nationwide from March.
Sulwhasoo Essential Lip Serum Stick
Size/Price: 3g
Shades: 5 shades

- No. 1 Apricot Serum
- No. 2 Blossom Serum
- No. 3 Flower Pink
- No. 4 Rose Red
- No. 5 Blossom Coral
Sulwhasoo Radiance Blusher
Size/Price: 10g
Shades: 2 shades

- No. 1 Pink Harmony
- No. 2 Coral Harmony

Components: 3 shades & a brush
About Sulwhasoo
Sulwhasoo believes in a holistic approach to beauty and skincare, providing the ultimate skin solution that carefully treats our inner and outer beauty. The approach harmonizes our natural beauty with ancient Asian wisdom and legendary Asian medicinal herbs to restore the delicate equilibrium between body and mind. The Sulwhasoo brand gains wisdom from the laws of nature and lavishes your body with the rare and precious ingredients of nature in pursuit of that ideal beauty. Sulwhasoo showcases the value of holistic beauty to the world with the Jaum Balancing Complex ™, our unique solution designed to supplement yin energy and help reverse aging by restoring the skin's balance. The formula uses just five precious ingredients, carefully selected from a list of more than 3,000 medicinal herbs, including Korean ginseng, the legendary ingredient that makes Sulwhasoo's unique formulas even more special when combined with our cutting-edge bioconversion technology. As of 2015, Sulwhasoo has stores in South Korea, Mainland China, Singapore, Hong Kong (China), Thailand, Indonesia, Malaysia, Taiwan, Vietnam, and the U.S., successfully thriving as the Asian beauty creator.