Sulwhasoo opens Korea's largest 'single-brand' beauty flagship store
INTERNATIONAL
|
2016.04.01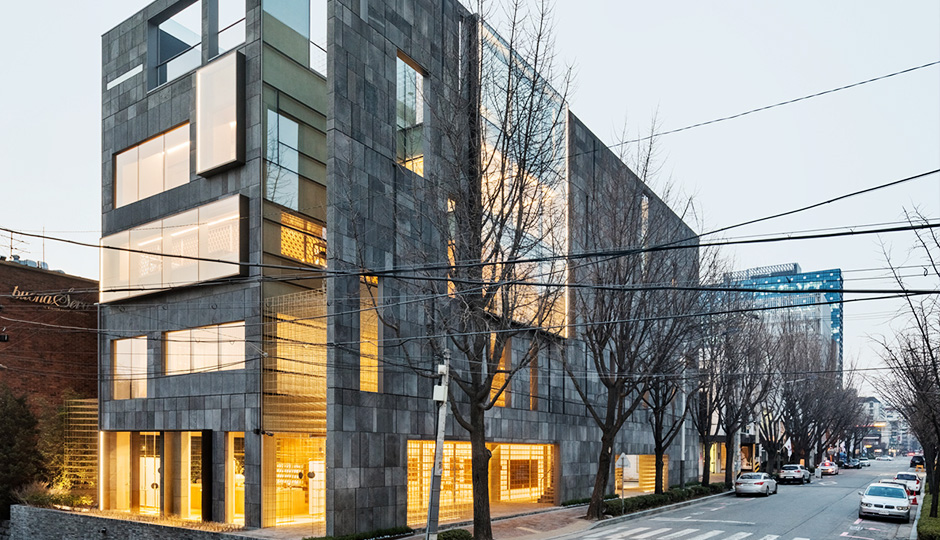 Sulwhasoo opens signature space in Seoul - a landmark embodying the essence of Asian Beauty
Sulwhasoo, AMOREPACIFIC's holistic beauty brand which delivers the beauty of harmony and balance inspired by Asian philosophy and wisdom, opens its first Korean flagship store on March 30, 2016. The new store, Korea's largest flagship store owned by a single beauty brand, is located on Dosan-daero in Seoul along with the world's leading luxury brands in fashion and beauty.
The overarching design concept of the new Sulwhasoo store is a 'lantern,' symbolizing the Sulwhasoo brand lighting the way to beauty with the wisdom of Asian beauty. The gold brass which gracefully covers exterior and interior of the building connects every floor which has a separate theme, and serves to create a sense of a grand journey covering past, present and future. Sulwhasoo flagship store is designed by internationally renowned architect duo Neri & Hu.
The six-story Sulwhasoo flagship store showcases the brand heritage and brings visitors closer to holistic beauty by offering Sulwhasoo products, spa services and flagship-exclusive services such as beauty counseling.
The BOUTIQUE & HERITAGE ROOM (1F) includes the Heritage Zone which exhibits Sulwhasoo's brand story and philosophy as well as seasonal offerings and new products. At the BOUTIQUE & GIFT SERVICE (2F), visitors can try out the entire collection of Sulwhasoo's skincare & makeup products, as well as experience beauty counseling sessions. In addition, the GIFT ZONE (2F) provides an exclusive packaging service for special occasions. The CULTURE LOUNGE (3F) is Sulwhasoo's signature cultural space, where the brand will hold various cultural programs on a regular basis. The flagship store also has a VIP Lounge to offer a relaxing atmosphere for VIP customers.
In addition, Sulwhasoo flagship store provides spa services infused with Sulwhasoo's unique ingredients and formulas. The SULWHASOO SPA (B1F) offers a luxurious anti-aging spa program based on Korean medicinal herbs whereas SULWHASOO BALANCE SPA (4F) enables visitors to enjoy a casual spa experience with a spectacular view of Dosan Park. The rooftop lounge of Sulwhasoo Flagship Store is a great place to relax, recharge and host events and parties with an open view of Dosan Park.
The opening of the first Sulwhasoo flagship in Korea follows the brand's milestone in sales – in 2015, Sulwhasoo became the first beauty brand in Korea to record annual sales of KRW 1 trillion. It is the first Korean brand to record annual sales of KRW 1 trillion in Korea's beauty and fashion industry. Embodying Korea's unique culture, sensibility, and philosophy, the brand has grown remarkably since its launch – creating a 'Korean herbal medicine cosmetics' wave throughout the nation. Today, Korean herbal medicine cosmetics have become a standalone category as a result.
The number one selling beauty brand (by sales) in Korean department stores since 2005, Sulwhasoo recorded a 40% growth in domestic sales in 2015. Launched overseas for the first time in Hong Kong (China) (2004), Sulwhasoo is now available across Greater China, Singapore, Thailand, Indonesia, Malaysia, Taiwan, Vietnam, and the US. Sulwhasoo is recognized and loved by customers around the world for its leading products such as the First Care Activating Serum EX and the Perfecting Cushion.
Based on such achievements, Sulwhasoo aims to become the No. 1 brand in the Asian market in 2016, and the No. 7 brand in the global market by 2020.
Sulwhasoo Flagship Store
Address: 18 Dosan-daero 45-gil, Gangnam-gu, Seoul, Korea
2) Business hours: 10:00-21:00, Monday-Sunday (*Closed every second Monday of the month, New Year's Day and Chuseok)
3) Contact: +82 2-541-9270
4) Reservation for spa: Sulwhasoo Spa (B1) +82-2-541-9272
Sulwhasoo Balance Spa (4F) +82-2-541-9273
5) Website: http://www.sulwhasoo.com
About Sulwhasoo
Sulwhasoo believes in a holistic approach to beauty and skincare, providing the ultimate skin solution that carefully treats our inner and outer beauty. The approach harmonizes our natural beauty with ancient Asian wisdom and legendary Asian medicinal herbs to restore the delicate equilibrium between body and mind. The Sulwhasoo brand gains wisdom from the laws of nature and lavishes your body with the rare and precious ingredients of nature in pursuit of that ideal beauty. Sulwhasoo showcases the value of holistic beauty to the world with the Jaum Balancing Complex ™, our unique solution designed to supplement yin energy and help reverse aging by restoring the skin's balance. The formula uses just five precious ingredients, carefully selected from a list of more than 3,000 medicinal herbs, including Korean ginseng, the legendary ingredient that makes Sulwhasoo's unique formulas even more special when combined with our cutting-edge bioconversion technology. As of 2015, Sulwhasoo has stores in South Korea, Mainland China, Singapore, Hong Kong (China), Thailand, Indonesia, Malaysia, Taiwan, Vietnam, and the U.S., successfully thriving as the Asian beauty creator.