Sulwhasoo 'Invigorating Ginseng Extract Ampoule'
INTERNATIONAL
|
2016.05.12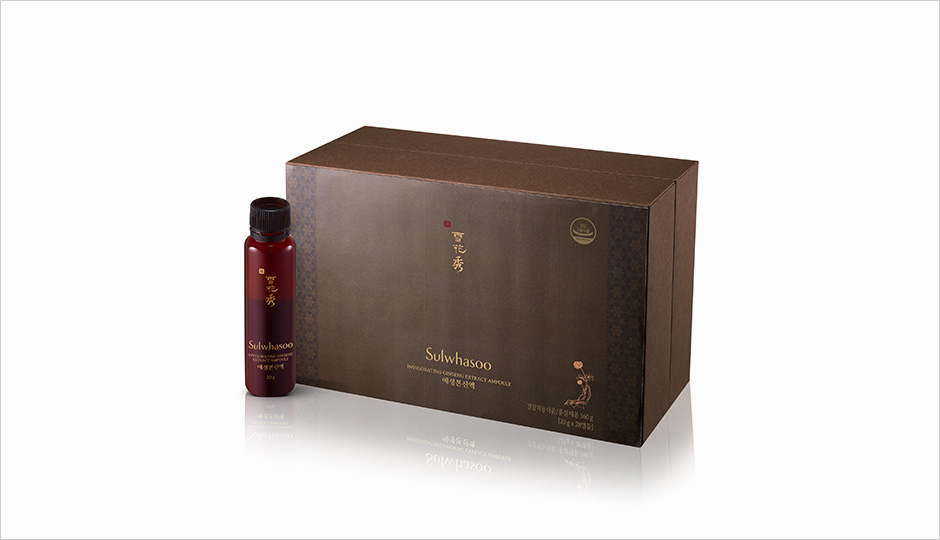 Energy-replenishing Ultra Heaven Red Ginseng revitalizes the body
- Drinkable ampoule infused with red ginseng extract, empowerd by Sulwhasoo's expertise
- Ultra Heaven Red Ginseng improves blood flow and reduces fatigue to fill the body with vitality.
Sulwhasoo, the holistic beauty brand that delivers beauty of harmony and balance with Asian philosophy and wisdom, presents Invigorating Ginseng Extract Ampoule, an energy-replenishing, drinkable ampoule containing red ginseng extract.
Aging brings about changes in the body such as increased fatigue and reduced immune functioning. In particular, most women experience drastic physical changes at every turn of the life cycle. Thus, Sulwhasoo presents Invigorating Ginseng Extract Ampoule infused with Ultra Heaven Red Ginseng, which boosts the energy level in the body by decreasing feeling of fatigue and enhancing immune responses.
Sulwhasoo Invigorating Ginseng Extract Ampoule contains Ultra Heaven Red Ginseng as the key ingredient, drawing on the energy of the earth. Ultra Heaven Red Ginseng born with the application of Ultra Heaven Process, Sulwhasoo's proprietary ultra-high-pressure processing technology, is rich in active ingredients. Ginseng is carefully cultivated for several years and selected under strict quality standards.
[Primary ingredient: AMOREPACIFIC's Ultra Heaven Process (Patent No. 0445184)]
Invigorating Ginseng Extract Ampoule also contains Ginseng Berry®, extracted from red, ripe berries on four-year or older ginseng plants.
[Secondary ingredient: Ginseng Berry® is extracted from ginseng berries through AMOREPACIFIC's proprietary technology. Ginseng Berry® is a registered trademark of AMOREPACIFIC]
In addition, Invigorating Ginseng Extract Ampoule features a harmonious blend of soybean-derived isoflavones and JINAN Replenishing Complex™ infused with four traditional botanical ingredients.
[Secondary ingredient: JINAN Replenishing Complex™ is a compound of four traditional herbal ingredients - Wolfiporia extensa, Rehmannia root, Milk vetch root and Angelica gigas – harmonized through AMOREPACIFIC's technology]
The gentle taste and aroma of Invigorating Ginseng Extract Ampoule add depth in flavor and restore energy balance, facilitating a healthy flow of energy throughout the body.
Sulwhasoo Invigorating Ginseng Extract Ampoule [Dietary supplement]
Weight: 20g x 28 ampoules
About Sulwhasoo
Sulwhasoo believes in a holistic approach to beauty and skincare, providing the ultimate skin solution that carefully treats our inner and outer beauty. The approach harmonizes our natural beauty with ancient Asian wisdom and legendary Asian medicinal herbs to restore the delicate equilibrium between body and mind. The Sulwhasoo brand gains wisdom from the laws of nature and lavishes your body with the rare and precious ingredients of nature in pursuit of that ideal beauty. Sulwhasoo showcases the value of holistic beauty to the world with the Jaum Balancing Complex ™, our unique solution designed to supplement yin energy and help reverse aging by restoring the skin's balance. The formula uses just five precious ingredients, carefully selected from a list of more than 3,000 medicinal herbs, including Korean ginseng, the legendary ingredient that makes Sulwhasoo's unique formulas even more special when combined with our cutting-edge bioconversion technology. As of 2015, Sulwhasoo has stores in South Korea, Mainland China, Singapore, Hong Kong (China), Thailand, Indonesia, Malaysia, Taiwan, Vietnam, and the U.S., successfully thriving as the Asian beauty creator.