Sulwhasoo presents upgraded Everefine Lifting Cream and Everefine Lifting Ampoule Serum
INTERNATIONAL
|
2016.08.01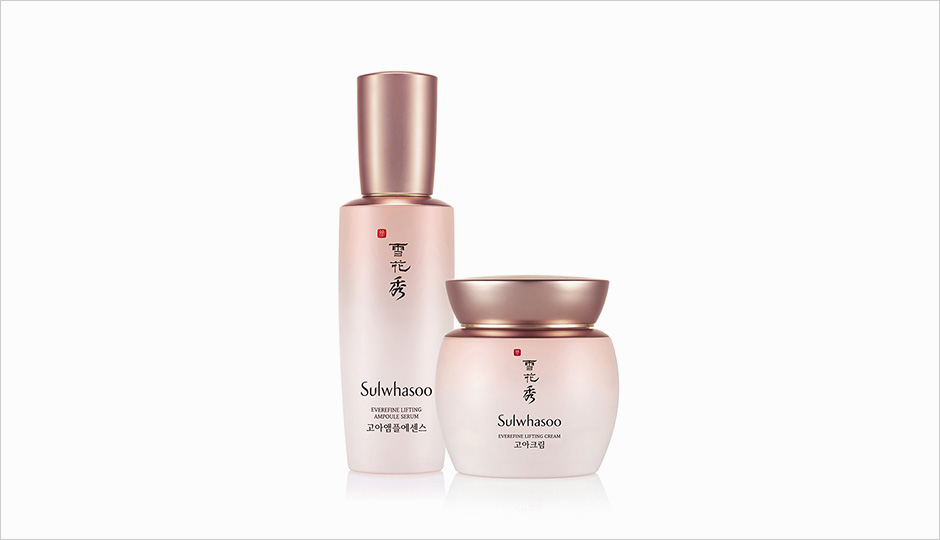 Skin-firming MaeseondanTM achieves radiant and firm-looking skin
-The nutrient-rich Everefine Lifting line relieves dryness and lifts sagging skin for women in their 50s and 60s
-The Everefine Lifting Line contains skin-firming CMS (Coumestrol) found in bean leave extracts
-Sulwhasoo developed Maeseondan™, skin-lifting solution by adding licorice and ginko extracts to CMS ten times the original condensation
Sulwhasoo, the holistic beauty brand that delivers beauty of harmony and balance with Asian philosophy and wisdom, presents the upgraded Everefine Lifting Cream and Everefine Lifting Ampoule Serum. The advanced Everefine Lifting Cream and Everefine Lifting Ampoule Serum provide women in their 50s and 60s with much-needed care and attention by delivering age-defying firmness and deep nourishment.
For women, turning 50 is a turning point as skin aging accelerates due to a rapid decline in collagen content. The loss of collagen, the main structural element of the skin, causes a sagging look on the exterior skin. According to a survey of 1,000 women aged 50 through 75, sagging skin is the most common skin problem among the 50-60 age group.
Sulwhasoo took note of beans to address skin problems among women in their 50s and 60s, a turning point for skin, and identified skin-firming active ingredient, Coumestrol (CMS) in bean leaves As CMS only exists in small amounts in bean leaves, Sulwhasoo has conducted research on beans regarding growing conditions, different varieties and growth stages to find the optimal way of extracting CMS. As a result, Sulwhasoo successfully developed MaeseondanTM which contains 10 times more condensed CMS than the previous version. With the combination of skin-firming bean leaves extracts and skin-nourishing licorice and ginkgo extracts, MaeseondanTM takes lifting effects to another level.
The Everefine Lifting line marks a new generation with upgraded Everefine Lifting Cream and Everefine Lifting Ampoule Serum. Everefine Lifting Cream, as moisture-rich lifting cream, tightens aged and sagging skin and relieves dryness to create a resilient and radiant look. The thick and firm formula covers the skin with a smooth moisturizing layer and carries particle-sized nutrients to the skin, allowing you to wake up to well moisturized and glowing skin the next morning.
Everefine Lifting Ampoule Serum is nutrient-rich daily serum that provides the skin with intensive nourishment and care. The highly concentrated formula is instantly absorbed into the skin and with a fresh finish.
The subtle scent of the White Plum Blossom, characteristic of the Everefine Lifting Line, delivers rejuvenating positive energy and brings you closer to Sulwhasoo's holistic beauty, which realizes harmony and balance between the inside and outside.
The nutrient-rich Everefine Lifting Cream and Everefine Lifting Ampoule Serum are available through Sulwhasoo's door-to-door sales representatives from August 2016.
Sulwhasoo Everefine Lifting Cream
Sulwhasoo Everefine Lifting Ampoule Serum
About Sulwhasoo
Sulwhasoo believes in a holistic approach to beauty and skincare, providing the ultimate skin solution that carefully treats our inner and outer beauty. The approach harmonizes our natural beauty with ancient Asian wisdom and legendary Asian medicinal herbs to restore the delicate equilibrium between body and mind. The Sulwhasoo brand gains wisdom from the laws of nature and lavishes your body with the rare and precious ingredients of nature in pursuit of that ideal beauty. Sulwhasoo showcases the value of holistic beauty to the world with the Jaum Balancing Complex ™, our unique solution designed to supplement yin energy and help reverse aging by restoring the skin's balance. The formula uses just five precious ingredients, carefully selected from a list of more than 3,000 medicinal herbs, including Korean ginseng, the legendary ingredient that makes Sulwhasoo's unique formulas even more special when combined with our cutting-edge bioconversion technology. As of 2015, Sulwhasoo has stores in South Korea, China, Singapore, Hong Kong, Thailand, Indonesia, Malaysia, Taiwan, Vietnam, and the U.S., successfully thriving as the Asian beauty creator.