Sulwhasoo launches its 100th store in China
INTERNATIONAL
|
2016.10.26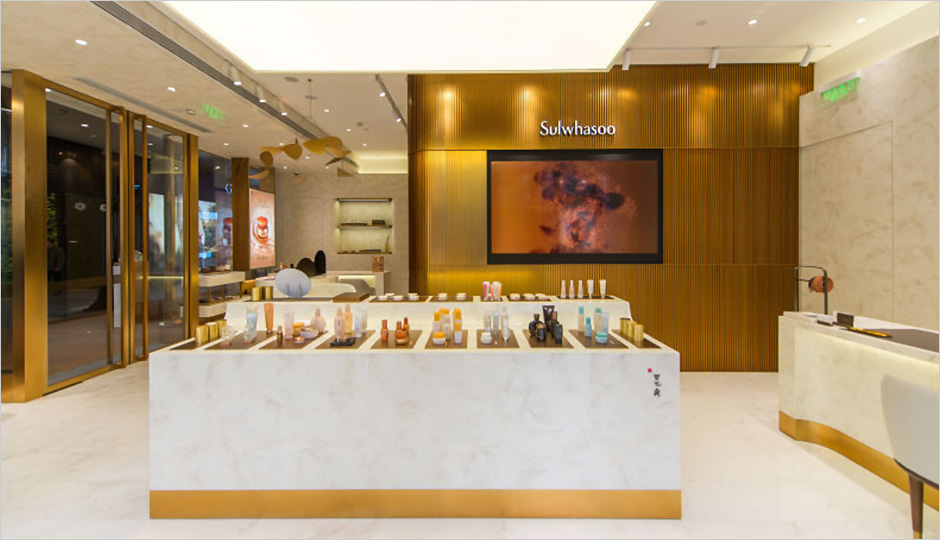 Sulwhasoo promoting Korean Asian Beauty across China
- Attended by 30 media outlets and actress Carina Lau , the opening ceremony of Sulwhasoo's 100th store in China gained huge interest
- Sulwhasoo launched its 100th store at the luxury shopping mall Taikoo Li in Chengdu, China on September 30
- Sulwhasoo cements its presence as a global beauty brand that represents Asia while maintaining steady growth in China, ASEAN and America
Sulwhasoo, Amorepacific's holistic beauty brand which delivers the beauty of harmony and balance inspired by Asian philosophy and wisdom, celebrated the launch of its 100th store in the luxurious shopping mall, Taikoo Li in Chengdu, China on October 25, 2016.
The opening event reconfirmed Sulwhasoo's unique presence incomparable to western beauty brands in China, the most attractive market for the global beauty industry, and its emergence as a must-have cosmetic brand that represents the global popularity of Korean culture.
The opening event brought together representatives from around 30 Chinese media outlets and distinguished actress Carina Lau, which reflected the magnitude of public interest. In particular, the ceremony was live-streamed via China's leading online TV channels such as QQ.com and iQIYI.com, capturing the attention of local customers.
The 100th store is Sulwhasoo's first free-standing store at a stand-alone location in China. Taikoo Li, home of Sulwhasoo's 100th store in China, is a luxury shopping mall opened in 2014 and sets the tone for the upscale shopping district, serving as the center of transportation, retail and fashion trends in Chengdu. Sulwhasoo's 100th store in Taikoo Li will play a pivotal role in fulfilling the brand mission of conveying Asian beauty to China and the rest of the world. The new store comprises of brand zone, luxury zone, gift service zone, spa cabin and instruments. Sulwhasoo plans to deliver Sulwhasoo's unique heritage to global customers through its new store, providing unique brand experience in a refined atmosphere. As a means to deliver Sulwhasoo's distinctive value of holistic beauty to the rest of China, the 100th store sets to enhance VIP services such as introducing gift wrapping services and offering exclusive products such as essential balms and scented sachets.
Since its expansion to China in March 2011, Sulwhasoo has rapidly won the hearts and minds of Chinese customers as a luxury beauty brand and as a traditional Korean medicine brand.

As a result, Sulwhasoo achieved top-line growth of more than 100% in 2015, surpassing the average Chinese beauty market growth of 8%. Sulwhasoo continues to report annual top-line growth of more than 80% year to date, opening in the Beijing's landmark shopping mall Shin Kong Place as well as other premium department stores in major cities such as Shanghai. Sulwhasoo continues its rapid growth and promotes Korean Asian beauty across China.
Meanwhile, Sulwhasoo continues to maintain balanced growth across China, ASEAN and America thus cementing its presence as a global beauty brand exceeding beyond Korea and representing Asia. Marking its 50th anniversary of the brand's origin ABC Ginseng Cream in 1996, Sulwhasoo established itself as a brand that embodies the history of beauty products based on traditional Korean medicine. Committed to its mission of globally promoting Asian beauty, Sulwhasoo is set to make a bigger leap for global expansion and growth to become the number 1 beauty brand in Asia by 2020.
About Sulwhasoo
Sulwhasoo believes in a holistic approach to beauty and skincare, providing the ultimate skin solution that carefully treats our inner and outer beauty. The approach harmonizes our natural beauty with ancient Asian wisdom and legendary Asian medicinal herbs to restore the delicate equilibrium between body and mind. The Sulwhasoo brand gains wisdom from the laws of nature and lavishes your body with the rare and precious ingredients of nature in pursuit of that ideal beauty. Sulwhasoo showcases the value of holistic beauty to the world with the Jaum Balancing Complex ™, our unique solution designed to supplement yin energy and help reverse aging by restoring the skin's balance. The formula uses just five precious ingredients, carefully selected from a list of more than 3,000 medicinal herbs, including Korean ginseng, the legendary ingredient that makes Sulwhasoo's unique formulas even more special when combined with our cutting-edge bioconversion technology. As of 2015, Sulwhasoo has stores in South Korea, Mainland China, Singapore, Hong Kong (China), Thailand, Indonesia, Malaysia, Taiwan, Vietnam, and the U.S., successfully thriving as the Asian beauty creator.