Sulwhasoo opens the Perfecting Cushion Brightening Pop-up Store
INTERNATIONAL
|
2017.03.06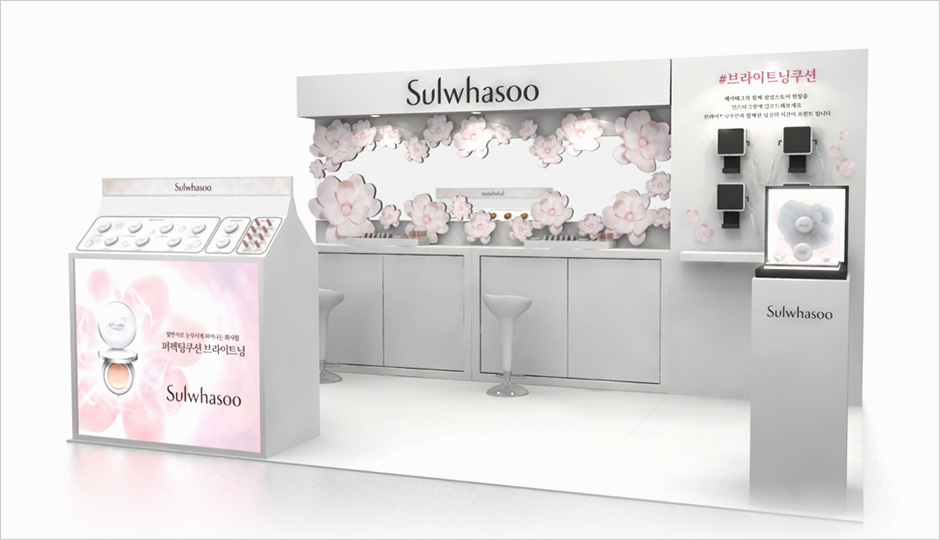 Perfecting Cushion Brightening presents a bloom of luminous brilliance on petal–smooth skin
- The Perfecting Cushion Brightening Pop-up Store opens its door for three days from March 10 through 12 at the main branch of Shinsegae Department Store
- The Pop-up Store hosts various customer events including free makeover and Instagram photo printing
Sulwhasoo, Amorepacific's holistic beauty brand, which delivers the beauty of harmony and balance inspired by Asian philosophy and wisdom, launches a three-day Perfecting Cushion Brightening Pop-up Store from March 10 through 12 at the main branch of Shinsegae Department Store.
Perfecting Cushion Brightening presents a flawless, luminous reflection from all sides. The Pop-up Store offers various opportunities to experience Perfecting Cushion Brightening and showcases a wide range of Sulwhasoo's makeup products such as Perfecting Cushion, Perfecting Cushion Intense and Essential Lip Serum Sticks.
The Pop-up Store hosts a variety of events for visitors. Those who take photos at the Pop-up Store and share them on Instagram with #BrighteningCushion can get their photos printed out on site. In addition, coupons will be handed out to all visitors. Coupons are valid throughout the event period and redeemable for free samples and special offers at the Sulwhasoo counter, located right next to the Pop-up Store.
Sulwhasoo's makeup artists will offer makeover demos using Perfecting Cushion Brightening at 12:00 and 15:00 on each of the three days when the Pop-up Store is open.
Perfecting Cushion Brightening gives the skin a brilliant luminosity in all directions. Its formula contains magnolia extract, which blooms with the bright light of spring, and Pearlescent Complex to bring a translucent radiance to the skin. Sulwhasoo's proprietary purifying water based on skin-clarifying licorice extract makes the skin look clearer and cleaner. Perfecting Cushion Brightening also uses an oil-capture system to absorb and capture unnecessary sebum to create a smooth, matte finish without making the skin sticky. Perfecting Cushion Brightening is available in seven shades that match your skin tone for a natural look.
Sulwhasoo Perfecting Cushion Brightening Pop-up Store
Operating period: March 10 (Friday)-March 12 (Sunday), 10:30-20:30
Venue: The main branch of Shinsegae Department Store (1st floor, 63, Sogong-ro, Jung-gu, Seoul)
About Sulwhasoo
Sulwhasoo believes in a holistic approach to beauty and skincare, providing the ultimate skin solution that carefully treats our inner and outer beauty. The approach harmonizes our natural beauty with ancient Asian wisdom and legendary Asian medicinal herbs to restore the delicate equilibrium between body and mind. The Sulwhasoo brand gains wisdom from the laws of nature and lavishes your body with the rare and precious ingredients of nature in pursuit of that ideal beauty. Sulwhasoo showcases the value of holistic beauty to the world with the Jaum Balancing Complex ™, our unique solution designed to supplement yin energy and help reverse aging by restoring the skin's balance. The formula uses just five precious ingredients, carefully selected from a list of more than 3,000 medicinal herbs, including Korean ginseng, the legendary ingredient that makes Sulwhasoo's unique formulas even more special when combined with our cutting-edge bioconversion technology. As of 2015, Sulwhasoo has stores in South Korea, Mainland China, Singapore, Hong Kong (China), Thailand, Indonesia, Malaysia, Taiwan, Vietnam, and the U.S., successfully thriving as the Asian beauty creator.