Sulwhasoo releases Perfecting Cushion Limited Edition
INTERNATIONAL
|
2017.03.27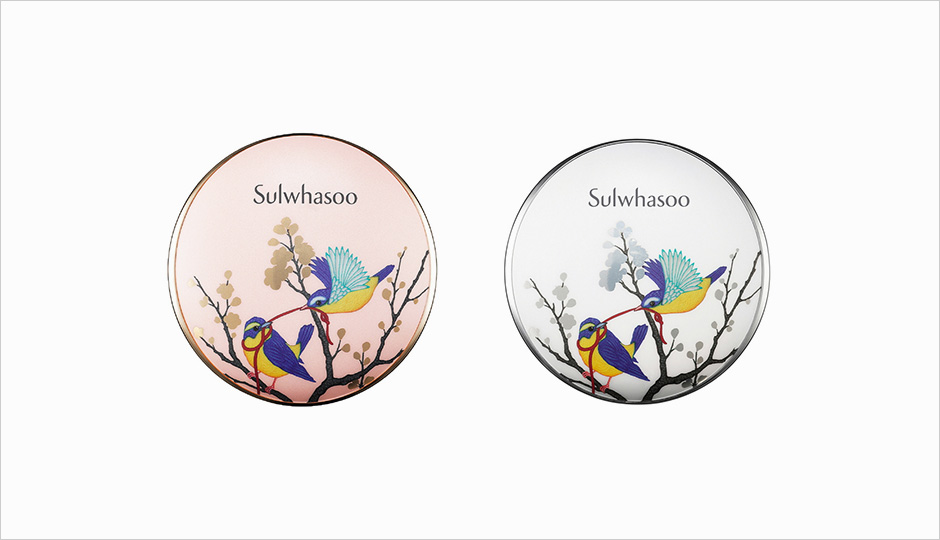 The limited edition carries golden birds of joy and good luck
- The limited edition will help spread good luck and joy to someone you care about with a couple of golden birds, an auspicious symbol in Korean tradition
Sulwhasoo, Amorepacific's holistic beauty brand, which delivers the beauty of harmony and balance inspired by Asian philosophy and wisdom, presents customers worldwide with a limited edition for Perfecting Cushion and Perfecting Cushion Brightening. The limited edition features a couple of golden birds, carrying the message of good luck and love for precious people in our lives.
Traditionally, birds have played a large part as a symbol of joy in artworks as seen in murals from Goguryeo era, celadon and other various handcrafts. Notably, golden birds are considered a harbinger of good luck and prosperity. In appreciation to strong customer support, Sulwhasoo presents Perfecting Cushion Limited Edition, reinterpreting the exquisite grace of golden birds in a contemporary context.
Through the limited edition, Sulwhasoo brings the blessing and good luck in the form of golden birds and continues the Korean Art Collaboration to promote the value and aesthetics of Korean tradition with a contemporary touch. Perfecting Cushion Limited Edition introduced a contemporary twist to the traditional peony flower painting in 2015 and the flower and butterfly painting with peaceful and auspicious energies in 2016. For 2017, the limited edition presents contemporary interpretation of popular motifs in folk art and genre paintings - full-blown flowers, red threads which represent the intertwining of relations and a couple of golden birds visiting flowers - through collaboration with Hong Ji yeun, a contemporary artist. The limited edition captures the vitality and joy in the message of good luck and adds to aesthetic value as a collectable piece through a harmony between tradition and modernity.
Sulwhasoo's million-selling Cushion foundation, Perfecting Cushion contains Apricot seed herbal moisturizer to make the skin look firmer with a healthy glow. In addition, Perfecting Cushion features Sulwhasoo's proprietary Watercolor Method, which evenly disperses pigments with water instead of oil, to reduce the appearance of fine lines and blemishes for a flawless coverage. Perfecting Cushion's unique, flexible film-fixing polymer forms a thin protective barrier to achieve a perfect makeup look that lasts for up to 12 hour without a dry or cakey feeling.
Perfecting Cushion Brightening contains skin-gleaming Magnolia Extract and the translucent Pearlescent Complex to bring out the natural luminosity to the skin. In addition, Perfecting Cushion Brightening uses Sulwhasoo's proprietary purifying water derived from Licorice Extract, which is known for excellent skin-clarifying effects, instead of distilled water, to present clear complexion. With the Oil Capture System that traps and absorbs unnecessary seubm, Perfecting Cushion Brightening gives a petal-smooth finish without leaving a sticky feeling.
Perfecting Cushion and Perfecting Cushion Brightening Limited Edition will help spread good luck and joy to someone you care about, offering a great value as a collector's item as well.
Sulwhasoo Perfecting Cushion Limited Edition
Weight: 15G*2
Shades: No.13 Light Pink

No.21 Medium Pink
No.23 Medium Beige
Sulwhasoo Perfecting Cushion Brightening Limited Edition
Weight: 15G*2
Shades: No.13 Light Pink

No.21 Medium Pink
No.23 Medium Beige
About Sulwhasoo
Sulwhasoo believes in a holistic approach to beauty and skincare, providing the ultimate skin solution that carefully treats our inner and outer beauty. The approach harmonizes our natural beauty with ancient Asian wisdom and legendary Asian medicinal herbs to restore the delicate equilibrium between body and mind. The Sulwhasoo brand gains wisdom from the laws of nature and lavishes your body with the rare and precious ingredients of nature in pursuit of that ideal beauty. Sulwhasoo showcases the value of holistic beauty to the world with the Jaum Balancing Complex ™, our unique solution designed to supplement yin energy and help reverse aging by restoring the skin's balance. The formula uses just five precious ingredients, carefully selected from a list of more than 3,000 medicinal herbs, including Korean ginseng, the legendary ingredient that makes Sulwhasoo's unique formulas even more special when combined with our cutting-edge bioconversion technology. As of 2017, Sulwhasoo has stores in South Korea, Mainland China, Singapore, Hong Kong (China), Thailand, Indonesia, Malaysia, Taiwan, Vietnam, and the U.S., successfully thriving as the Asian beauty creator.