Sulwhasoo Herbal Soap
INTERNATIONAL
|
2017.07.03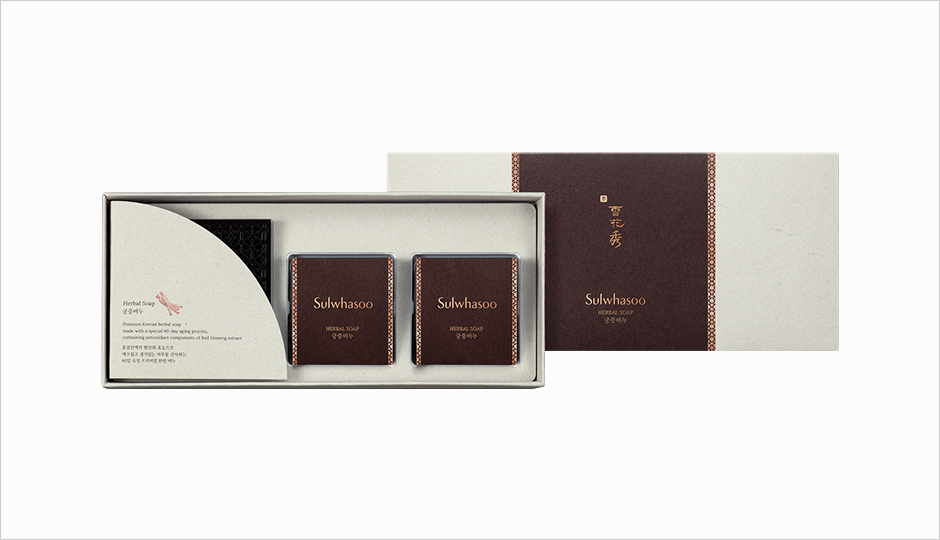 Harnessing traditional Korean herbal medicine, the premium soap rejuvenates the skin with profound energy of red ginseng extracts
- Herbal Soap, aged for 40 days, makes the skin look smooth and radiant with antioxidant effects of red ginseng
Sulwhasoo, a holistic beauty brand that presents the beauty of harmony and balance inspired by Asian philosophy and wisdom, launches the premium Korean medicinal herb soap - Herbal Soap. Sulwhasoo Herbal Soap, aged for 40 days, makes the skin look smooth and radiant with antioxidant effects of red ginseng.
The main ingredient of Sulwhasoo Herbal Soap is red ginseng which is unskinned Korean ginseng, recognized for its superb efficacy, processed with steaming and drying treatments. Sulwhasoo Herbal Soap has magnified the efficacy of red ginseng by adopting a special ginseng processing method - Steamed Process™. Just as blazing fire and cold water refine iron into steel, Steamed Process™ applies steam and heat to purify ginseng. Upgraded with Steamed Process™, Herbal Soap contains two times higher concentration of Korean red ginseng extracts to offer powerful antioxidant effects.
An optimal formula of Korean medicinal herbs such as antioxidizing red ginseng, Solomon's seal, Peony and Rehmannia tones the skin texture and rejuvenates the skin. In addition, the new ingredients, including Camellia Oil and Ginger Oil, will help protect the skin from external harms and boost the skin's resistance.
Sulwhasoo Herbal Soap gives a new definition to a natural soap, as it is handmade with a traditional process, where ingredients are carefully boiled for 40 days before going through three rounds of drying and aging processes. Herbal Soap, aged for 40 days, gives a rich lather with superb cleansing power and takes care of excess sebum, leaving the skin feel refreshed and comfortable without any tightness.
Sulwhasoo Herbal Soap takes luxury to a whole new level by incorporating sophisticated dark brown color and luxurious rose gold inlays into product packaging. Featuring the design that embodies dignity and devotion, Herbal Soap will make an ideal present for those who you love and care.
Sulwhasoo Herbal Soap
Volume: 100g*2 & 1 soap holder
About Sulwhasoo
Sulwhasoo believes in a holistic approach to beauty and skincare, providing the ultimate skin solution that carefully treats our inner and outer beauty. The approach harmonizes our natural beauty with ancient Asian wisdom and legendary Asian medicinal herbs to restore the delicate equilibrium between body and mind. The Sulwhasoo brand gains wisdom from the laws of nature and lavishes your body with the rare and precious ingredients of nature in pursuit of that ideal beauty. Sulwhasoo showcases the value of holistic beauty to the world with the Jaum Balancing Complex ™, our unique solution designed to supplement yin energy and help reverse aging by restoring the skin's balance. The formula uses just five precious ingredients, carefully selected from a list of more than 3,000 medicinal herbs, including Korean ginseng, the legendary ingredient that makes Sulwhasoo's unique formulas even more special when combined with our cutting-edge bioconversion technology. As of 2017, Sulwhasoo has stores in South Korea, Mainland China, Singapore, Hong Kong (China), Thailand, Indonesia, Malaysia, Taiwan, Vietnam, the U.S., Canada, and France, successfully thriving as the Asian beauty creator.