Sulwhasoo unveils the upgraded Perfecting Cushion EX
INTERNATIONAL
|
2017.07.26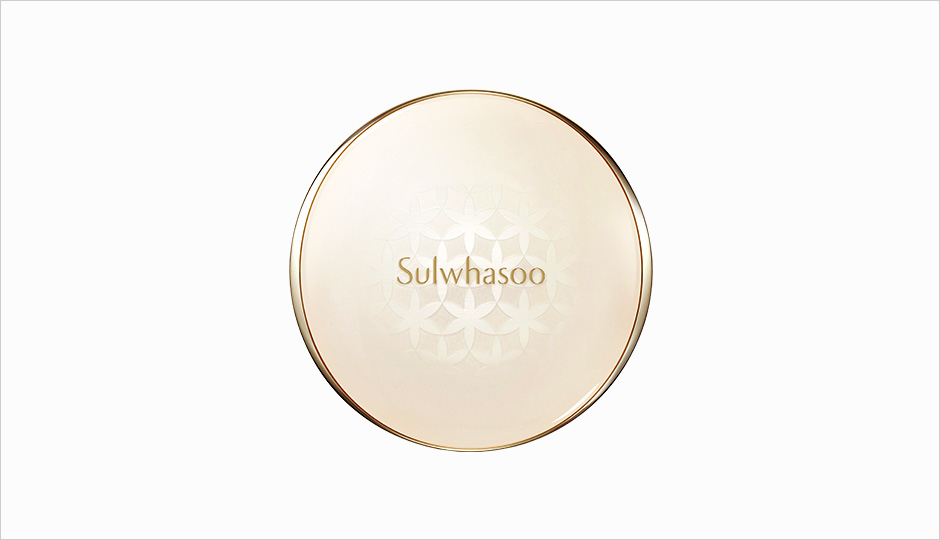 Flawless coverage with moisture creates the perfect complexion
Sulwhasoo unveils the upgraded Perfecting Cushion EX
- Cushion foundation presents a flawless look with delicate coverage and hydrating touch
Sulwhasoo, Amorepacific's holistic beauty brand, which delivers the beauty of harmony and balance inspired by Asian philosophy and wisdom, presents the upgraded Perfecting Cushion EX. The Cushion foundation creates a flawless look with its delicate coverage and hydrating touch.
The skin looks beautiful, when it is flawlessly smooth and glistening with moisture. Sulwhasoo has upgraded Perfecting Cushion EX to achieve the look that many women dream of. Perfecting Cushion EX, Sulwhasoo's million-selling makeup product, now features an even lighter texture that tightly adheres to skin. The new-generation Perfecting Cushion EX creates a dewy, glowing look by flawlessly covering blemishes and enveloping the skin with Sulwhasoo's precious moisturizing elements.
The upgraded Perfecting Cushion EX enables a perfect coverage with Sulwhasoo's 'Slim fit high coverage' formula and skincare technologies that unlock the moisturizing properties of Schizophyllum commune. The harmony of the proprietary formula and the moisturizing element delivers a long-lasting, hydrating coverage that feels comfortable for a long time.
The new-generation Perfecting Cushion EX's formula maintains its proprietary technology to achieve a delicate coverage that feels light on skin. In addition, the pigment coating dispersion technology, which individually coats particles dispersed into water, helps the formula seamlessly blend on to the skin, allowing exceptional adherence and a long staying coverage.
The product design also makes a strong appeal to the heart with the smooth and glossy feel of the material and beautiful details featuring plum blossom patterns. The more modern-looking, slimmer packaging makes it easier to carry around.
Sulwhasoo adds four new shades of Perfecting Cushion EX to better cater to a more diverse customer base in Korea and abroad. The 10-shade range offers a variety of choices to customers with different skin tones and needs, allowing them to achieve a natural finish.
Sulwhasoo Perfecting Cushion EX
[SPF 50+ PA+++, UV protection/brightening/anti-wrinkle functional cosmetic product]
Weight: 15G*2
No of shades: 10

No.11 Porcelain (Pink)
No.15 Ivory (Pink)
No.17 Ivory (Beige)
No.21 Natural (Pink)
No.23 Natural (Beige)
No.25 Sand (Pink)
No.27 Sand (Beige)
No.31 Honey (Pink)
No.33 Honey (Beige)
No.37 Amber (Beige)

About Sulwhasoo
Sulwhasoo believes in a holistic approach to beauty and skincare, providing the ultimate skin solution that carefully treats our inner and outer beauty. The approach harmonizes our natural beauty with ancient Asian wisdom and legendary Asian medicinal herbs to restore the delicate equilibrium between body and mind. The Sulwhasoo brand gains wisdom from the laws of nature and lavishes your body with the rare and precious ingredients of nature in pursuit of that ideal beauty. Sulwhasoo showcases the value of holistic beauty to the world with the Jaum Balancing Complex ™, our unique solution designed to supplement yin energy and help reverse aging by restoring the skin's balance. The formula uses just five precious ingredients, carefully selected from a list of more than 3,000 medicinal herbs, including Korean ginseng, the legendary ingredient that makes Sulwhasoo's unique formulas even more special when combined with our cutting-edge bioconversion technology. As of 2017, Sulwhasoo has stores in South Korea, Mainland China, Singapore, Hong Kong (China), Thailand, Indonesia, Malaysia, Taiwan, Vietnam, the U.S., Canada, and France, successfully thriving as the Asian beauty creator.