Sulwhasoo debuts at Galeries Lafayette in Paris
INTERNATIONAL
|
2017.09.12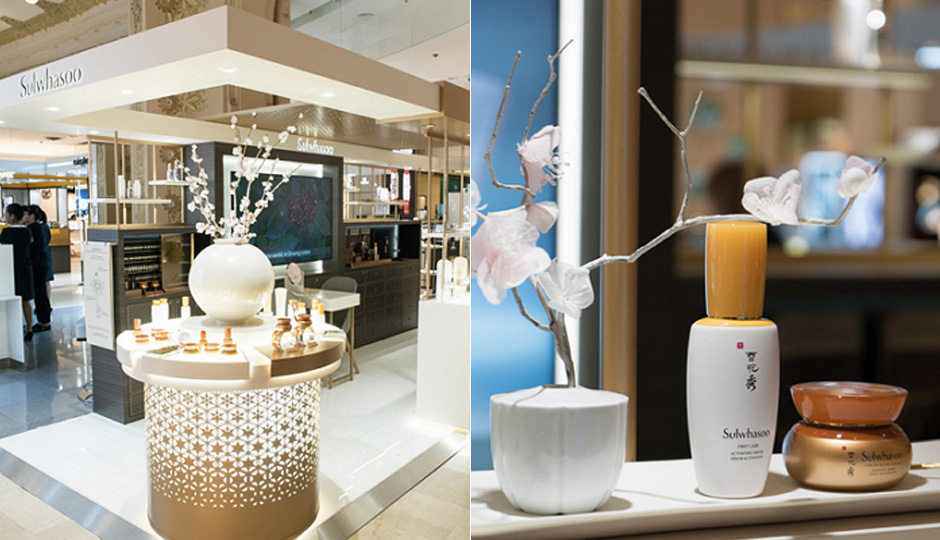 Sulwhasoo's half-century journey to Korean beauty has finally reached Europe
- Opened its first single store at Galeries Lafayette on September 8th in Paris, France
- Captured French spirit by bringing up First Care Activating Serum EX and Concentrated Ginseng Renewing Cream EX
- The brand's global expansion beyond Asia and America to Europe with the value of beauty brought by traditional Korean herbal medicinal technology
Sulwhasoo, Amorepacific's representative brand, launched an independent store at Galeries Lafayette, the French department store in Paris on September 8th, 2017 to pave the way for reaching the European market as the one and only Korean brand to achieve such a feat.
Galeries Lafayette in Paris, the mecca of beauty, has been a popular attraction among both local residents and tourists. In response to the growing popularity of K-beauty in France, Sulwhasoo plans to make its Galeries Lafayette store an attraction to all of global customers visiting Paris.
In Paris, the center of fashion and beauty trend, Sulwhasoo has launched its signature products, First Care Activating Serum EX and Concentrated Ginseng Renewing Cream EX. Sulwhasoo is set to deliver the quintessence of holistic beauty with First Care Activating Serum EX, a global best-seller, and Concentrated Ginseng Renewing Cream EX, the culmination of Sulwhasoo's 50-year ginseng research. First Care Activating Serum EX used as the first step of skin care restores radiance and balance to skin, while Concentrated Ginseng Renewing Cream EX is an antiaging cream infused with the vitality of ginseng.
When it opened in Paris on September 8th, the Sulwhasoo store was packed with local customers as well as tourists from various countries such as the Middle East and China, reflecting high expectations for Sulwhasoo. The most sought-after items were Sulwhasoo's major products, namely Concentrated Ginseng Renewing Cream EX Light, First Care Activating Serum EX, and Perfecting Cushion EX. Sulwhasoo received a positive response with many asking about the brand's story and ingredients such as ginseng which are quite new to them as well as product counselling services.
Sulwhasoo's Galeries Lafayette store is designed not just to sell products but also to create multisensory brand experiences. The overall decor of the store presents the delicate ambiance from Korean crafts and the subdued beauty of the East to communicate the brand's values. An interior reminiscent of a traditional herbal medicine clinic adds authentic feeling to the store providing an easy explanation of the basis of the brand, the traditional Korean herbal medicine, and unique ingredients such as ginseng and JAUM Balancing Complex™. The store also reaches out to customers with Korean sensibility, offering a special gift wrapping service that has only been available at Sulwhasoo Flagship Store in Korea. Aside from the independent store, Sulwhasoo has secured its presence at Galeries Lafayette's international section and online shopping mall.
"The opening of an independent store at Galeries Lafayette marks a new milestone in Sulwhasoo's history that spans more than half a century, and at the same time is a symbolic move to accelerate the brand's global expansion" said a related person in Sulwhasoo. "The value of beauty inspired by Asian wisdom and enabled by traditional Korean herbal medicine technology has been setting a new beauty standard for major markets around the world. As such, the presence at Galeries Lafayette would allow Sulwhasoo to solidify its status as a global brand by extending its reach beyond Asia and America to include Europe and globally promoting Korean beauty and values.
About Sulwhasoo
Sulwhasoo believes in a holistic approach to beauty and skincare, providing the ultimate skin solution that carefully treats our inner and outer beauty. The approach harmonizes our natural beauty with ancient Asian wisdom and legendary Asian medicinal herbs to restore the delicate equilibrium between body and mind. The Sulwhasoo brand gains wisdom from the laws of nature and lavishes your body with the rare and precious ingredients of nature in pursuit of that ideal beauty. Sulwhasoo showcases the value of holistic beauty to the world with the Jaum Balancing Complex ™, our unique solution designed to supplement yin energy and help reverse aging by restoring the skin's balance. The formula uses just five precious ingredients, carefully selected from a list of more than 3,000 medicinal herbs, including Korean ginseng, the legendary ingredient that makes Sulwhasoo's unique formulas even more special when combined with our cutting-edge bioconversion technology. As of 2017, Sulwhasoo has stores in South Korea, Mainland China, Singapore, Hong Kong (China), Thailand, Indonesia, Malaysia, Taiwan, Vietnam, the U.S., Canada, and France, successfully thriving as the Asian beauty creator.