2017 ShineClassic Makeup Limited Edition
INTERNATIONAL
|
2017.11.03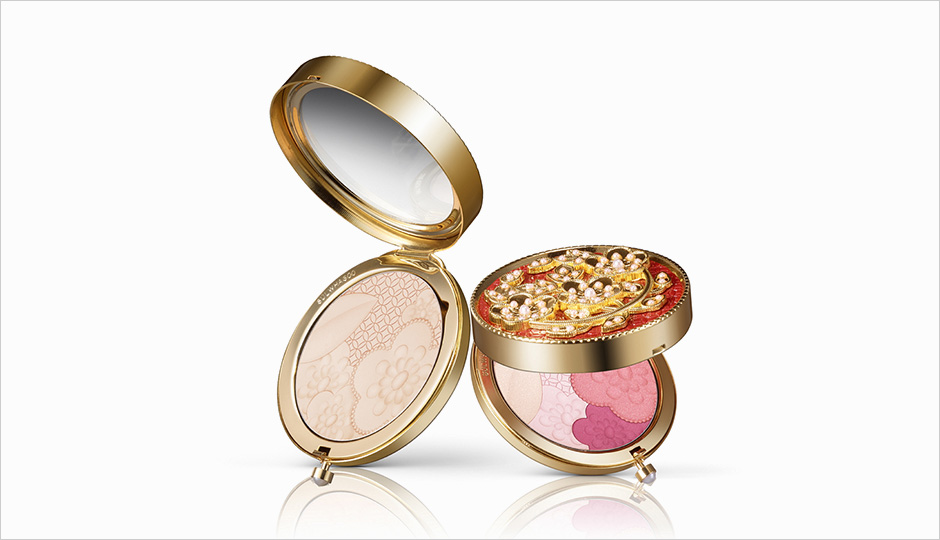 The Makeup collection recreates the refined beauty of Jinjunang,
pearl decorated pouch with a contemporary twist
- ShineClassic Powder Compact and ShineClassic Multi Powder Compact will be newly released in a limited quantity
Sulwhasoo delivers the beauty of harmony and balance inspired by Asian philosophy and wisdom. On the occasion of the 15th anniversary of its ShineClassic Makeup, Sulwhasoo launches more special makeup edition in 2017. This year, ShineClassic Makeup Limited Edition recreates Jinjunang, a pearl-studded pouch which conveys the splendor of Korean royal court culture with what Sulwasoo pursues - the harmonious beauty of tradition and modernity. The limited edition comes in two variants in limited number, ShineClassic Powder Compact and ShineClassic Multi Powder Compact.
Since 2003, Sulwhasoo has continuously presented the ShineClassic Makeup every year, drawing inspiration from traditional Korean patterns, materials and craft techniques. ShineClassic Makeup has evolved in a way that weaves Korean aesthetics into a contemporary context.
This year, ShineClassic Makeup Limited Edition pays homage to 'Jinjunang', a sachet decorated with pearls that Royal women in the past such as the queen and princesses carried when they attended court ceremonies. The silk pouch is embroidered with gold threads in a floral pattern and finished with pearl details of leaves and stamen, providing a glimpse into the elegant and fancy style of women in the old days. ShineClassic Powder Compact and ShineClassic Multi Powder Compact feature delicate gold-toned motifs engraved on the front, drawing a visual parallel to the golden embroidery on the silk pouch and symbolizing the ShineClassic Makeup's perpetuity with a contemporary twist. In addition, the golden flower is graced with tens of pearls, taking beauty to a different level with exquisite traditional craftsmanship.
Sulwhasoo's ShineClassic Powder Compact of 2017 makes the skin look smooth and clear with 'Fine Grinding Technology', a modernized particle-controlling tenique inspired by traditional grinding stones. ShineClassic Multi Powder Compact adds a natural touch of color with natural pigments and creates distinctive radiance by depositing an even layer of pearl powder to control light reflection and refraction.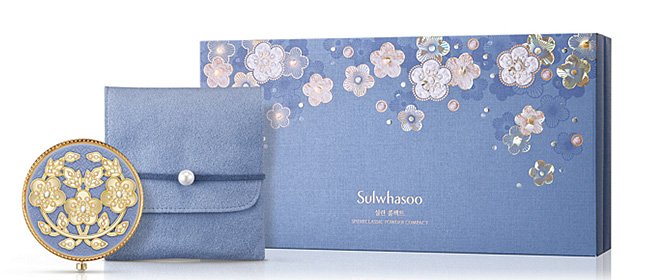 ShineClassic Powder Compact is a premium limited compact that gives skin a translucent and clear finish with fine and pure powder. Plum Blossom Extract refines the skin as soft and smooth as a petal. Inspired by a navy blue tassel on Jinjunang, the compact is framed with a gold-toned metal on light navy base to create a gentle and refined look.
2017 ShineClassic Powder Compact Limited Edition
Content: 10g*2
Shade: Natural Beige (No. 1) / True Beige (No. 2)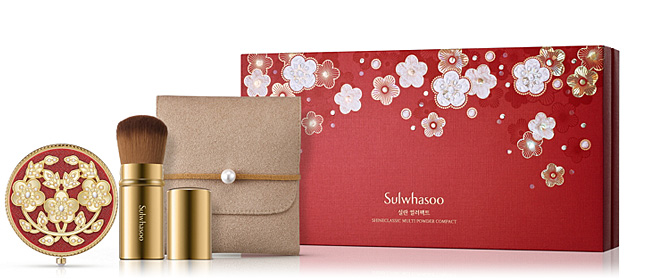 ShineClassic Multi Powder Compact is a premium multi-color compact, which makes the skin look radiant and youthful as plum petals. This blush or highlighter brings vitality and brightness to the skin while adding the subtle colors of the beautiful plum petals to liven up the skin tone. ShineClassic Multi Powder Compact delivers various shades of plum blossom and its petals with a palette of red, pink, light pink and ivory. The natural colors derived from natural pigments add healthy vitality to the skin. The compact captures the allure and glamour of the pearl-studded pouch, featuring gold-toned flowers on a red background.
2017 ShineClassic Multi Powder Compact Limited Edition
Content: 10g (includes brush)
Shade: Purplish Red & Pink & Light Pink & Ivory
About Sulwhasoo
Sulwhasoo offers the ultimate skin solution that treats the skin from within by incorporating modern skin science into legendary ingredients infused with timeless Asian wisdom and presents holistic beauty to restore balance between body and mind. The Sulwhasoo brand gains wisdom from the laws of nature, pursues beauty reminiscent of nature with precious natural ingredients and delivers beauty of harmony and balance between body and mind by creating beauty from the inside out. Sulwhasoo globally promotes the value of holistic beauty with the JAUM Balancing Complex™, an optimal blend of five ingredients, carefully selected from more than 3,000 medicinal herbs, Korean ginseng, the legendary ingredient that makes Sulwhasoo's unique formulas even more special, and Sulwhasoo's cutting-edge Bio-conversion Technology™. As of 2017, Sulwhasoo has established itself as an Asian Beauty Creator, operating in 12 global markets around the world such as South Korea, Mainland China, Singapore, Hong Kong (China), Thailand, Indonesia, Malaysia, Taiwan, Vietnam, the US, Canada and France.