Sulwhasoo launches Peach Blossom Spring Utopia Limited Edition
INTERNATIONAL
|
2018.04.26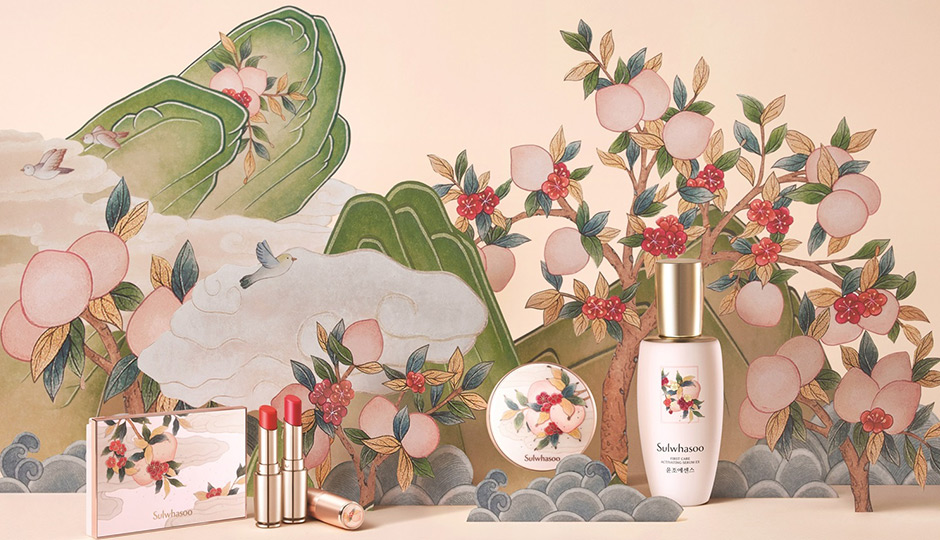 Sulwhasoo launches Peach Blossom Spring Utopia Limited Edition
- Sulwhasoo launches limited edition that embodied Sulwhasoo's warm wishes for happiness.
- Interpreted a utopian vision of the world with modern folk painting design.
Sulwhasoo, Korea's leading luxury beauty brand, is launching Peach Blossom Spring Utopia Limited Edition carrying the best wishes for loved ones.
In the ancient East, the image of a peach orchard brimming with the vitality of green leaves and the splendor of peach-blossom petals was equated with a utopian vision, called Peach Blossom Spring, where people live in peace and happiness. The image of peach was often incorporated into folk paintings, ceramics and ink stones, which were given as a special gift that would bring otherworldly eternal happiness.
Through the collaboration with the artist Seo Hana who modernly reinterprets the traditional folk painting, Sulwhasoo shares its wish that happiness prevails in the lives of our loved ones with the release of Peach Blossom Spring Utopia Limited Edition. The special edition features an enriching collection of First Care Activating Serum EX, Perfecting Cushion, Perfecting Cushion Brightening, Lip Serum Stick, and Makeup Multi Kit.
Peach Blossom Spring Utopia Limited Edition contains First Care Activating Serum EX, the first-step serum, which delivers ultimate radiance to the skin with moisturizing and balance-restoring treatments.
Also included is Perfecting Cushion EX, Sulwhasoo's million-selling makeup product. Perfecting Cushion EX enables a flawless coverage and exceptional adherence for a long staying coverage.
Perfecting Cushion Brightening gives a smooth finish without leaving a sticky feeling while leaving a natural luminosity to the skin.
The rich-textured Essential Lip Serum Stick forms a double layer of oil and water on lips and locks in moisture, leaving them well-nourished and moisturized.
Makeup Multi Kit consists of Sulwhasoo Powder for Cushion and Multi Blusher with a peach undertone. Multi Blusher is a new addition to Sulwhasoo's color palette, combining three colors of the season to create a spring-ready natural look. Sulwhasoo Multi Blusher features a mix of the main blusher, which is blendable with other shades to add a subtle flush of color, a point blusher, whose crimson shade creates depth, and a highlighter, which creates highlighting effects.
[NEW] Sulwhasoo First Care Activating Serum EX (120 ml)


The first-step boosting serum that gives glowing radiance to your skin by harmonizing the balance.

[NEW] Sulwhasoo Perfecting Cushion (15G*2)


The promise of the perfect make-up with long-lasting, slim fit-cover, and a glowing finish.




(No.15 Ivory (Pink) / No.21 Natural (Pink) / No.23 Natural (Beige))

[NEW] Sulwhasoo Perfecting Cushion Brightening (15G*2)


A translucent complexion and bright skin tone with radiance that lasts all day.




(No.13 Light Pink / No.21 Medium Pink / No.23 Medium Beige)

[NEW] Sulwhasoo Lip Serum Stick (3G)


Sulwhasoo's highly concentrated serum provides nourishment and moisture, along with vivid color.




(No.4 Rose Red / No.9 Glow Orange)

[NEW] Sulwhasoo Make up Multi Kit


Make-up multi-kit is consisted of a finishing powder that keeps your make-up refreshed with its exceptionally light touch and seasonal limited peach tone multi-color blush.
About Sulwhasoo
Inspired by the ultimate beauty of plum blossoms blooming in the snow, Sulwhasoo, Korea's leading luxury beauty brand, presents timeless beauty, conveying the true aesthetics found from the philosophy of harmony and balance, tradition and modernity. The Sulwhasoo brand gains wisdom from the laws of nature, pursues beauty reminiscent of nature with precious natural ingredients and delivers beauty of harmony and balance between the body and the mind by creating beauty from the inside out. Sulwhasoo globally promotes the value of holistic beauty with the legendary ingredient such as the Jaum Balancing Complex™ and Korean ginseng, which contains the wisdom of Asia, with Sulwhasoo's unique cutting-edge technology. As of 2018, Sulwhasoo has established itself as an authentic global brand, operating in 12 global markets around the world such as South Korea, Mainland China, Singapore, Hong Kong (China), Thailand, Indonesia, Malaysia, Taiwan, Vietnam, the US, Canada and France, by conveying Korean traditional beauty and value to all around the world.