Sulwhasoo releases five kinds of 'Serenedivine Oil' for healthy radiance and clarity
INTERNATIONAL
|
2018.12.05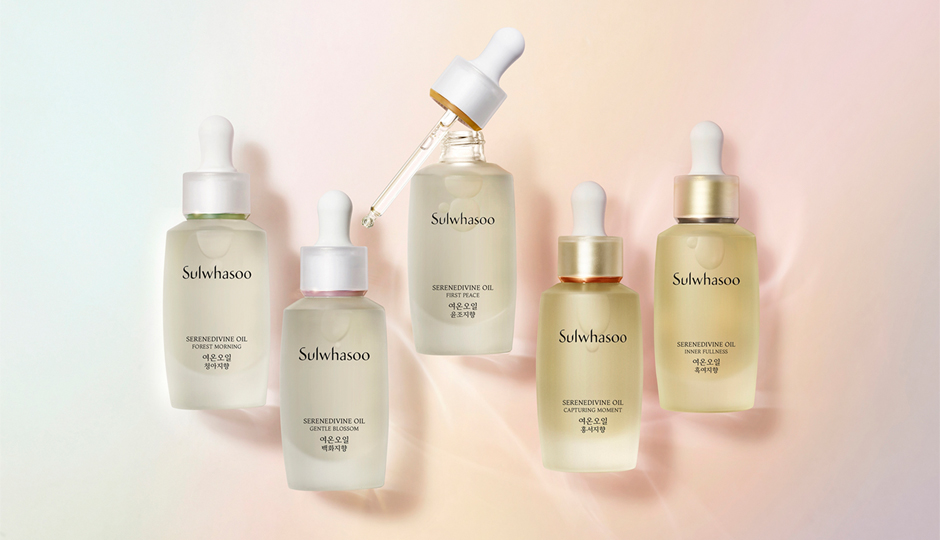 Sulwhasoo releases five kinds of 'Serenedivine Oil' for healthy radiance and clarity
- Pine nut oil and precious Korean herbal medicinal formula deeply nourishes and moisturizes the skin.
- Presents holistic beauty with five beautiful scents that harmonize with nature.
Sulwhasoo, the leading luxury beauty brand of Korea, has released five kinds of 'Serenedivine Oil' for the clarity and radiance of skin.
During winter, face oil is highly recommended to sooth and moisturize the dry skin. Sulwhasoo's new 'Serenedivine Oil' deeply moisturizes and nourishes the skin with the pine nut oil and the precious Korean herbal medicinal formulas for healthy radiance and clarity.
Also, the five exquisite and beautiful scents inspired by nature's light, tree, flower, berrie, and roots awaken the internal sentiments and complete the holistic beauty. You can choose from Serenedivine Oil Forest Morning with the freshness of a green forest, Serenedivine Oil Gentle Blossom with the subtle scent of spring from the petals of plum blossoms, Serenedivine Oil First Peace, full of gracefulness and warmth of light, Serenedivine Oil Capturing Moment with the tanginess of red berries, and Serenedivine Oil Inner Fullness with the energy of roots inside the soil.
Serenedivine Oil Forest Morning, Serenedivine Oil Gentle Blossom, and Serenedivine Oil First Peace are the fresh and light type, while Serenedivine Oil Capturing Moment and Serenedivine Oil Inner Fullness are the rich type. The oil penetrates smoothly without stickiness to restore the oil-moisture balance.
[NEW] Sulwhasoo Serenedivine Oil


Components: Serenedivine Oil, 20ml (Light Type: Serenedivine Oil Forest Morning/Serenedivine Oil Gentle Blossom/Serenedivine Oil First Peace), Rich Type: Serenedivine Oil Capturing Moment/Serenedivine Oil Inner Fullness)
About Sulwhasoo
Inspired by the ultimate beauty of plum blossoms blooming in the snow, Sulwhasoo, Korea's leading luxury beauty brand, presents timeless beauty, conveying the true aesthetics found from the philosophy of harmony and balance, tradition and modernity. The Sulwhasoo brand gains wisdom from the laws of nature, pursues beauty reminiscent of nature with precious natural ingredients and delivers beauty of harmony and balance between the body and the mind by creating beauty from the inside out. Sulwhasoo globally promotes the value of holistic beauty with the legendary ingredient such as the Jaum Balancing Complex™ and Korean ginseng, which contains the wisdom of Asia, with Sulwhasoo's unique cutting-edge technology. As of 2018, Sulwhasoo has established itself as an authentic global brand, operating in 12 global markets around the world such as South Korea, Mainland China, Singapore, Hong Kong (China), Thailand, Indonesia, Malaysia, Taiwan, Vietnam, the US, Canada and France, by conveying Korean traditional beauty and value to all around the world.