Sulwhasoo launches its new "2020 Spring Limited Collection"
INTERNATIONAL
|
2020.02.24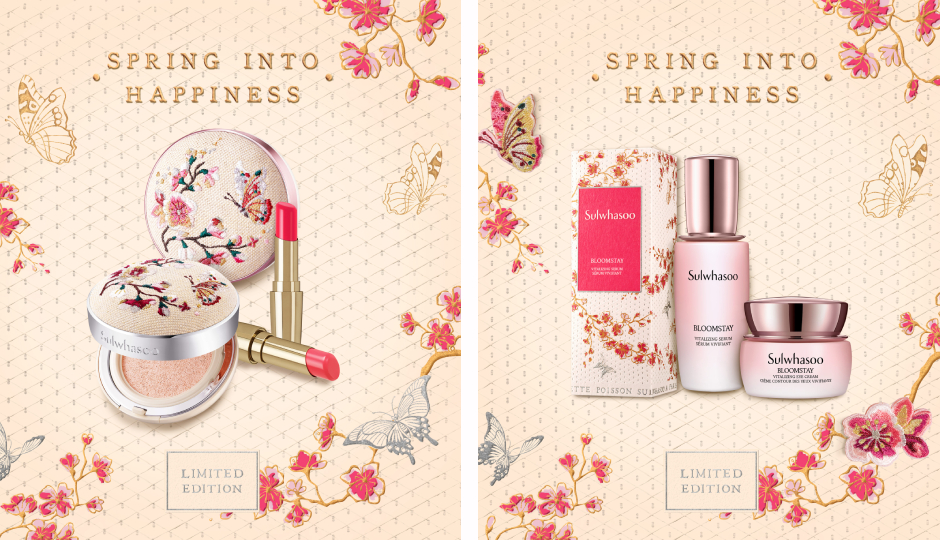 Sulwhasoo launches its new "2020 Spring Limited Collection"
Sulwhasoo collaborates with renowned French art decor studio to create an exclusive plum blossom and butterfly design for this year's limited collection
The collection features five products, including makeup products (Perfecting Cushion, etc.) and Bloomstay Vitalizing products
Korea's leading luxury beauty brand Sulwhasoo has launched its "2020 Spring Limited Collection." This new collection features two of the most beloved symbols of spring - plum blossoms and butterflies.
Every year, Sulwhasoo works with world-class designers around the world to develop and launch a limited-edition collection for the spring season. Each new collection features traditional Korean motifs re-imagined by the collaborating designers to help promote and carry on the value and beauty of traditional Korean culture. This year, Sulwhasoo worked with Antoinette Poisson in Paris, France, to produce the 2020 Spring Limited Collection, which features a more contemporary version of traditional renderings of plum blossoms and butterflies. Antoinette Poisson is an art decor studio that designs various patterns for textile products and wallpapers based on their extensive experience in restoring "domino wallpapers," a high-end art decor product that was popular in 18th century France.
Starting from today (24th of February), Sulwhasoo's 2020 Spring Limited collection will be available at Sulwhasoo stores nationwide as well as the Amorepacific Mall (online). The new limited collection will feature five products - three makeup products (Perfecting Cushion, Snowise Brightening Cushion, Essential Lip Serum Stick) and two Bloomstay Vitalizing products (Bloomstay Vitalizing Serum, Bloomstay Vitalizing Eye Cream). The Perfecting Cushion and Snowise Brightening Cushion products come in a gorgeous fabric case embroidered with plum blossoms and a butterfly, which makes the entire product look delicate and beautiful. The Bloomstay Vitalizing Serum features an embroidered butterfly patch, and the special Bloomstay Vitalizing Eye Cream set has an embroidered plum blossom patch, both of which can be applied onto a pouch or eco-bag to help create a more distinct look.
Meanwhile, Sulwhasoo successfully retained its top spot among all skincare cosmetics brands in 2019 (based on cumulative sales at domestic department stores). In particular, its signature products – Essential Balancing Water EX & Emulsion EX, First Care Activating Serum EX and Gentle Cleansing Foam - respectively ranked no. 1 in each of their product categories. (Research by global beauty market survey organization Beaute Research) Due in large part to its success in the market, Sulwhasoo came in at 1st place for the third consecutive year in the Heart to Heart Index (HTHI) category at the "8th Korea Market Award" hosted by the Korea Marketing Association. This latest achievement is widely regarded as another reminder of the continued interest and support consumers have given Sulwhasoo as Korea's signature luxury brand.
[Product Information]
Sulwhasoo Perfecting Cushion (No. 15, no. 21, no. 23)

• Price/Volume: Approx. KRW 65,000/ 15g*2
- A "cover glow" that realizes the perfect makeup with its light and fine cover combined with moist and radiant finish.

Sulwhasoo Snowise Brightening Cushion (No. 15, no. 21, no. 23)

• Price/Volume: Approx. KRW 68,000/ 14g*2
- A brightening cushion that delivers a radiant, pearlescent glow to skin, and creates a gorgeous skin complexion.

Sulwhasoo Essential Lip Serum Stick (No. 5, no. 23)

• Price/Volume: Approx. KRW 40,000/ 3g
- An essential lip serum stick that completely covers your lips to keep it well-hydrated and vitalized.

Sulwhasoo Bloomstay Vitalizing Serum

• Price: approx. KRW 140,000
- A vitalizing and resilience-boosting serum that uses the anti-oxidating energy extracted from plum blossoms to leave the skin feeling bright and clear.
- Featured Products: Bloomstay Vitalizing Serum (50ml), Embroidered butterfly patch

Sulwhasoo Special Bloomstay Vitalizing Eye Cream Set

• Price: Approx. KRW 100,000
- An eye gel cream that uses the anti-oxidating energy extracted from plum blossoms to take care of dark circles, boost resilience round the eyes, and keep the entire eye area more vitalizing.
- Featured Products: Bloomstay Vitalizing Eye Cream (20mL), Embroidered plum blossom patch, Bloomstay Vitalizing Water (15mL), Bloomstay Vitalizing Cream (5mL), Bloomstay Vitalizing Serum (8mL)
About Sulwhasoo
Inspired by the ultimate beauty of plum blossoms blooming in the snow, Sulwhasoo, Korea's leading luxury beauty brand, presents timeless beauty, conveying the true aesthetics found from the philosophy of harmony and balance, tradition and modernity. The Sulwhasoo brand gains wisdom from the laws of nature, pursues beauty reminiscent of nature with precious natural ingredients and delivers beauty of harmony and balance between the body and the mind by creating beauty from the inside out. Sulwhasoo globally promotes the value of holistic beauty with the legendary ingredient such as the Jaum Balancing Complex™ and Korean ginseng, which contains the wisdom of Asia, with Sulwhasoo's unique cutting-edge technology. As of 2018, Sulwhasoo has established itself as an authentic global brand, operating in 12 global markets around the world such as South Korea, Mainland China, Singapore, Hong Kong (China), Thailand, Indonesia, Malaysia, Taiwan, Vietnam, the US, Canada and France, by conveying Korean traditional beauty and value to all around the world.