Sulwhasoo hosts "Sulwha Art Project," an online exhibition for traditional patterns
INTERNATIONAL
|
2019.10.02
Sulwhasoo hosts "Sulwha Art Project," an online exhibition for traditional patterns
- The exhibition, featuring re-interpreted works of traditional patterns from 25 artists, is publicly available for everyone online
Korea's leading luxury beauty brand Sulwhasoo is hosting "Sulwha Art Project," an online exhibition for traditional patterns. On October 2, Sulwhasoo expects to open the exhibition to the public on Kakao Gallery, followed by Visual Dive (Naver Post), and the official Instagram of Sulwhasoo culture.
"Sulwha Art Project," a new cultural initiative by Sulwhasoo, is an art campaign that showcases "new approaches to traditional patterns by 25 artists."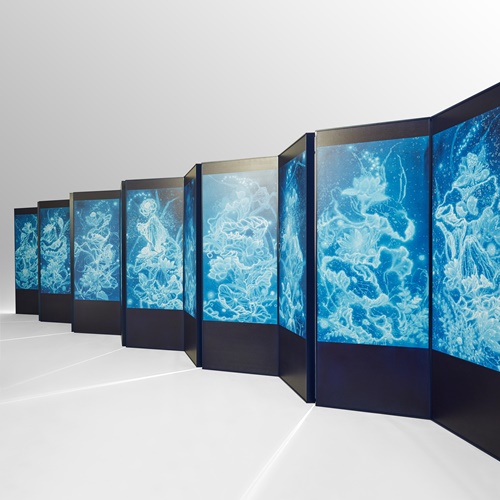 The campaign was designed to sponsor artists and create a channel through which artists communicate with the public with their works.
Unlike previous exhibitions, Sulwha Art Project will be available across multiple online platforms, allowing the public to enjoy art without having to worry about time or space-related constraints.
In this year's exhibition, 25 artists specializing in handicrafts, paintings, installation art, etc. will present their works that reflect the reinterpretation of traditional Korean patterns.
In addition to the featured artworks, Sulwha Art Project will offer various types of other content, including teaser videos and interviews with participating artists, to give consumers a chance to look at traditional culture from a fresh, new perspective.

The 25 artists participating in this year's exhibition were selected through the "2019 Sulwhasoo Creative Visual Art Contest" co-hosted by Sulwhasoo and the Seoul Foundation for Arts and Culture (SFAC).
Sulwhasoo reimbursed the nominated artists for expenses spent in creating their artworks, and offered a venue to showcase their art to the public.

Meanwhile, Sulwhasoo has been hosting its Sulwha Cultural Exhibition for multiple years, and has collaborated with master artisans to reinterpret and reimagine some of our noble traditions with a more modern touch, and to promote the beauty of our traditional culture.
This year's Sulwha Cultural Exhibition "Micro-Sense: House of Pattern," which is expected to feature reinterpreted beautiful traditional patterns in a house-like setting, will get under way from October 18 (Fri) at Amorepacific's headquarters.
[Sulhwa Art Project Overview]


■ Exhibition Title: New Approaches to Traditional Patterns by 25 Artists




■ Exhibition Period: October 2 (Wed) ~ Until further notice




■ Available Platforms: The official Sulwhasoo Culture Instagram (@sulwhasoo.culture), Kakao Gallery, Naver Post-Visual Dive




About Sulwhasoo
Inspired by the ultimate beauty of plum blossoms blooming in the snow, Sulwhasoo, Korea's leading luxury beauty brand, presents timeless beauty, conveying the true aesthetics found from the philosophy of harmony and balance, tradition and modernity. The Sulwhasoo brand gains wisdom from the laws of nature, pursues beauty reminiscent of nature with precious natural ingredients and delivers beauty of harmony and balance between the body and the mind by creating beauty from the inside out. Sulwhasoo globally promotes the value of holistic beauty with the legendary ingredient such as the Jaum Balancing Complex™ and Korean ginseng, which contains the wisdom of Asia, with Sulwhasoo's unique cutting-edge technology. As of 2018, Sulwhasoo has established itself as an authentic global brand, operating in 12 global markets around the world such as South Korea, Mainland China, Singapore, Hong Kong (China), Thailand, Indonesia, Malaysia, Taiwan, Vietnam, the US, Canada and France, by conveying Korean traditional beauty and value to all around the world.