Sulwhasoo to host the 2019 Sulwha Cultural Exhibition "Micro-Sense: House of Pattern"
INTERNATIONAL
|
2019.10.17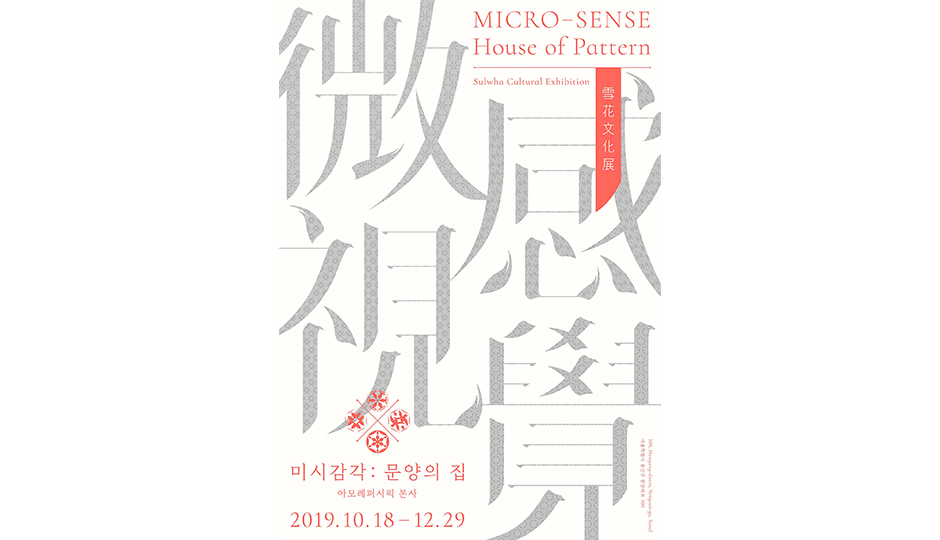 Sulwhasoo to host the 2019 Sulwha Cultural Exhibition
"Micro-Sense: House of Pattern"
- A modern take on traditional Korean patterns: butterflies, birds, and flowers -
- Re-discovering the beauty of traditional patterns in an everyday house-like environment -
Korea's leading luxury beauty brand Sulwhasoo is hosting the 2019 Sulwha Cultural Exhibition "Micro-Sense: House of Pattern" at the Amorepacific headquarters (Yongsan, Seoul) from 18th of October to 29th of December.

The mainstays of this year's Sulwha Cultural Exhibition - "Micro-Sense: House of Pattern" - are butterflies, birds, and flowers, all of which stand for happiness and beauty when used as traditional Korean patterns. The exhibition, which features reinterpretation of traditional patterns created by a list of contemporary artists using their unique artistic styles, shows that the tradition patterns, elements of fragile beauty, are recreated sensuously within the everyday space of "home."
features modern interpretations of traditional patterns presented by eight contemporary artists, including Leehong Kim (architecture), Sungjin Park (spatial planning), Joo Lee Kang (drawing), Jinjin Kim (fabric), Baek Jong hwan (interior), Lee Daeun and Cho Eun-ae (fashion), and Kyungmo Choi (video). Visitors can throw themselves into the "micro-sense" world of traditional patterns created using rooms they see every day at home such as living rooms, dining rooms, bedrooms, powder rooms, and libraries to discover the true value and beauty traditional Korean patterns.
The butterflies, birds, and flowers at the exhibition re-created with contemporary drawing and illustration techniques were inspired by the "10-panel Tiger Swallowtail Screen," "10-panel Flower and Bird Screen," and the "10-Side Partition by 10 Artists of Seohwa Art Society."
The Sulwha Cultural Exhibition can trace its roots back to the "Sulwha Club," which began in 2003 to support Korean traditional culture and traditional artisans. Today, it has matured into Sulwhasoo's signature cultural MECENAT initiative. Celebrating its 14th anniversary, the Sulwha Cultural Exhibition strives to help younger generations understand and identify our traditional culture through traditional and modern encounters. In doing so, it facilitates better communication and interaction between different generations.
For more details regarding the 2019 Sulwha Cultural Exhibition, please visit the official Sulwhasoo website.
[2019 Sulwha Cultural Exhibition Overview]
■ Exhibition Title: 2019 Sulwha Cultural Exhibition
■ Exhibition Period: October 18 (Fri), 2019 – December 29 (Sun), 2019
■ Exhibition Hours: 10:00 am - 06:00 pm (closed on Mondays)
■ Exhibition Venue: 1F, Amorepacific Headquarters, Yongsan (100, Hangang-daero, Yongsan-gu, Seoul)
■ Sulwhasoo - Official Websitewww.sulwhasoo.com
Sulwhasoo - Official Instagram www.instagram.com/sulwhasoo.official
Sulwhasoo - Culture Instagram www.instagram.com/sulwhasoo.culture
About Sulwhasoo
Inspired by the ultimate beauty of plum blossoms blooming in the snow, Sulwhasoo, Korea's leading luxury beauty brand, presents timeless beauty, conveying the true aesthetics found from the philosophy of harmony and balance, tradition and modernity. The Sulwhasoo brand gains wisdom from the laws of nature, pursues beauty reminiscent of nature with precious natural ingredients and delivers beauty of harmony and balance between the body and the mind by creating beauty from the inside out. Sulwhasoo globally promotes the value of holistic beauty with the legendary ingredient such as the Jaum Balancing Complex™ and Korean ginseng, which contains the wisdom of Asia, with Sulwhasoo's unique cutting-edge technology. As of 2018, Sulwhasoo has established itself as an authentic global brand, operating in 12 global markets around the world such as South Korea, Mainland China, Singapore, Hong Kong (China), Thailand, Indonesia, Malaysia, Taiwan, Vietnam, the US, Canada and France, by conveying Korean traditional beauty and value to all around the world.