Sulwhasoo releases upgraded anti-pollution,
sun-care cream, UV Wise Brightening Multi Protector
INTERNATIONAL
|
2020.03.02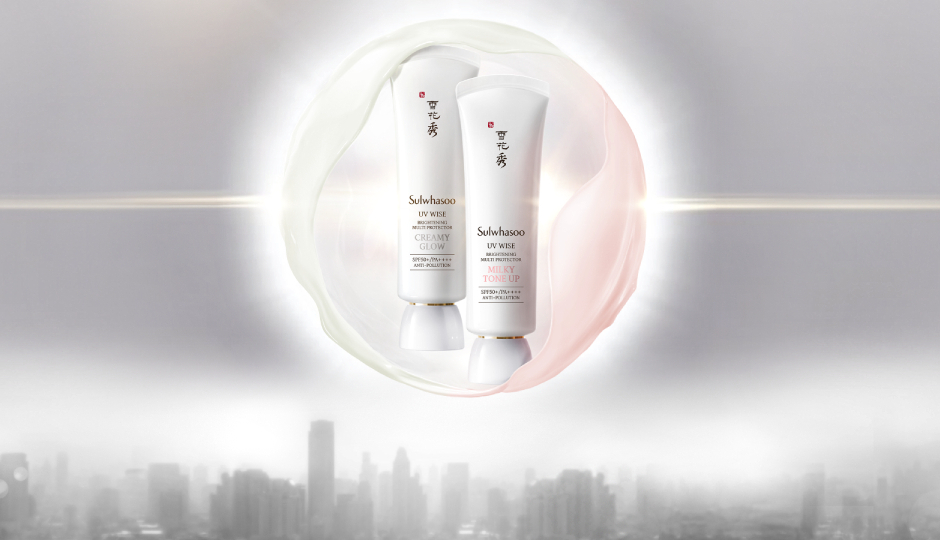 Korea's leading luxury beauty brand, Sulwhasoo, is releasing an upgraded anti-pollution sun care product, the UV Wise Brightening Multi Protector, that protects the skin from harmful environmental factors such as ultrafine dust and ultraviolet rays.
The UV Wise Brightening Multi Protector offers strong UV protection with its skin surface coating formulation technology, and it is the brand's signature sun-care product with a high customer repurchase rate. Sulwhasoo's UV Wise Brightening Multi Protector that is about to be released was researched and developed at the Amore Pacific's anti-pollution research center and it is applied on the skin in a more thin and fine layer compared to the existing products that it effectively protects the skin from ultraviolet rays and ultrafine dust. It contains the Plantia Protecting Complex™ ingredient which soothes skin irritated by external heat, evens out the skin tone, and has a brightening effect. It is a hypoallergenic sunscreen that can be used comfortably, even on fragile skin.
Sulwhasoo's UV Wise Brightening Multi Protector will be available in two types that can be selected according to one's preference. The two types are the #1 'Creamy Glow,' which makes the glow on the skin with a soft, cream-type texture and the #2 'Milky Tone Up,' which can be served as a make-up base with an immediate skin tone-up effect.
A Sulwhasoo brand official said, "Skin can damaged very quickly only with a short exposure to harmful external environmental factors such as ultraviolet rays, ultrafine dust, and blue light. Therefore it is very important to protect the skin ahead of time to prevent various skin problems. For this, we recommend Sulwhasoo's UV Wise Brightening Multi Protector, which has been upgraded with a strong anti-pollution care solution."
About Sulwhasoo
Inspired by the ultimate beauty of plum blossoms blooming in the snow, Sulwhasoo, Korea's leading luxury beauty brand, presents timeless beauty, conveying the true aesthetics found from the philosophy of harmony and balance, tradition and modernity. The Sulwhasoo brand gains wisdom from the laws of nature, pursues beauty reminiscent of nature with precious natural ingredients and delivers beauty of harmony and balance between the body and the mind by creating beauty from the inside out. Sulwhasoo globally promotes the value of holistic beauty with the legendary ingredient such as the Jaum Balancing Complex™ and Korean ginseng, which contains the wisdom of Asia, with Sulwhasoo's unique cutting-edge technology. As of 2018, Sulwhasoo has established itself as an authentic global brand, operating in 12 global markets around the world such as South Korea, Mainland China, Singapore, Hong Kong (China), Thailand, Indonesia, Malaysia, Taiwan, Vietnam, the US, Canada and France, by conveying Korean traditional beauty and value to all around the world.