Sulwhasoo launches 'Phoenix Collection' to wish harmony in families
INTERNATIONAL
|
2019.04.02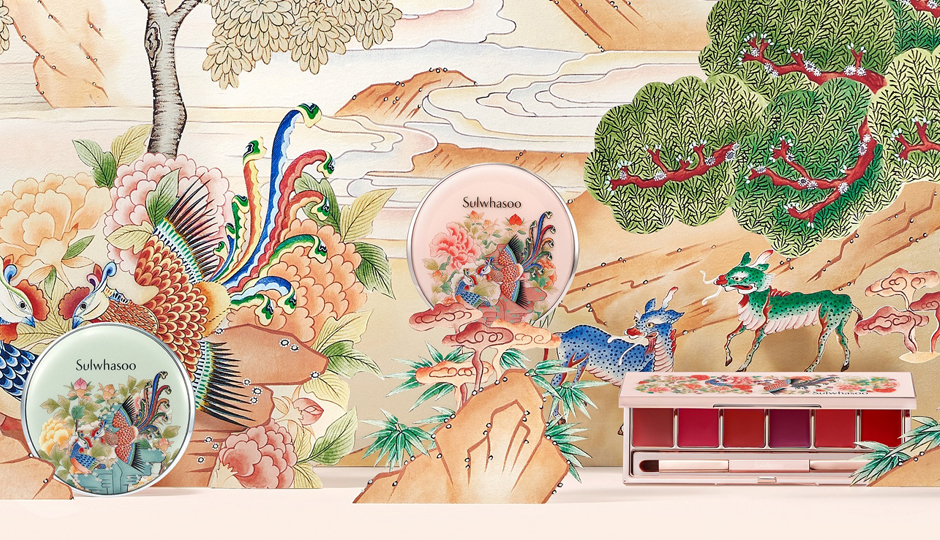 Sulwhasoo launches 'Phoenix Collection' to wish harmony in families
Unveils limited edition featuring Phoenixes from Korean folk painting "Seosunakwondo" in its packaging design
Sulwhasoo, Korea's leading luxury beauty brand, is launching the 'Phoenix Collection' to wish families nothing but happiness.
The design of product and packaging of Phoenix Collection - Sulwhasoo's latest limited edition - has a pair of auspicious Phoenixes inspired by the Korean folk painting "Seosunakwondo". Sulwhasoo combined the images of Phoenixes, traditionally used in Korean folk paintings as auspicious animals, with elegant colors to emphasize the meaning of Phoenixes in traditional Korean culture and to raise the value of the Phoenix Collection as collectible items even further.
Phoenix collection includes four products - the 'Perfecting Cushion EX,' 'Snowise Brightening Cushion,' 'Luxury Lip Palette,' and 'Lumitouch Twincake.' Sulwhasoo's 'Perfecting Cushion EX' creates flawless makeup with a delicate, yet perfect coverage and healthy-looking radiance. The 'Snowise Brightening Cushion' features the Pearlescent Complex, which delivers a three-dimensional light reflection effect, and produces a gorgeous, pearl-like glow by brightening and clearing up skin. Meanwhile, with six different colors perfectly suited for spring, the 'Luxury Lip Palette' helps create smooth, vivid, and radiant lips with a single sweep. Finally, as the first designed limited product from the Lumitouch line, the 'Lumitouch Twincake' erases fine lines and wrinkles around the eyes with its moist, tight-fit cover powder.
[NEW] Sulwhasoo Perfecting Cushion EX Phoenix Limited Collection (15g*2)


Flawless coverage with moisture for the perfect complexion (no. 15, no. 21, no. 23)
[NEW] Sulwhasoo Snowise Brightening Cushion Phoenix Limited Collection (14g*2)


Snowise Brightening Cushion leaves your skin with a pearlescent glow that's brighter and more radiant (no. 15, no. 21, no. 23)
[NEW] Sulwhasoo Lumitouch Twincake Phoenix Limited Collection (11g)


A twin cake in a smooth texture that adheres with hydration and covers your skin smooth without heaviness (no. 21, no. 23)
[NEW] Sulwhasoo Luxury Lip Palette Phoenix Limited Collection (1.2g*6)


A luxury lip palette with elegant glossy colors to create lips full of vitality




(L32 Rosy Pink, L35 Feminine Pink, L27 Sunset Coral, L37 Plum Rose, L34 Blooming Pink, L56 Classic Red)
About Sulwhasoo
Inspired by the ultimate beauty of plum blossoms blooming in the snow, Sulwhasoo, Korea's leading luxury beauty brand, presents timeless beauty, conveying the true aesthetics found from the philosophy of harmony and balance, tradition and modernity. The Sulwhasoo brand gains wisdom from the laws of nature, pursues beauty reminiscent of nature with precious natural ingredients and delivers beauty of harmony and balance between the body and the mind by creating beauty from the inside out. Sulwhasoo globally promotes the value of holistic beauty with the legendary ingredient such as the Jaum Balancing Complex™ and Korean ginseng, which contains the wisdom of Asia, with Sulwhasoo's unique cutting-edge technology. As of 2018, Sulwhasoo has established itself as an authentic global brand, operating in 12 global markets around the world such as South Korea, Mainland China, Singapore, Hong Kong (China), Thailand, Indonesia, Malaysia, Taiwan, Vietnam, the US, Canada and France, by conveying Korean traditional beauty and value to all around the world.