The History of Shine Classic, the Lofty Elegance of Beauty
2018.10.15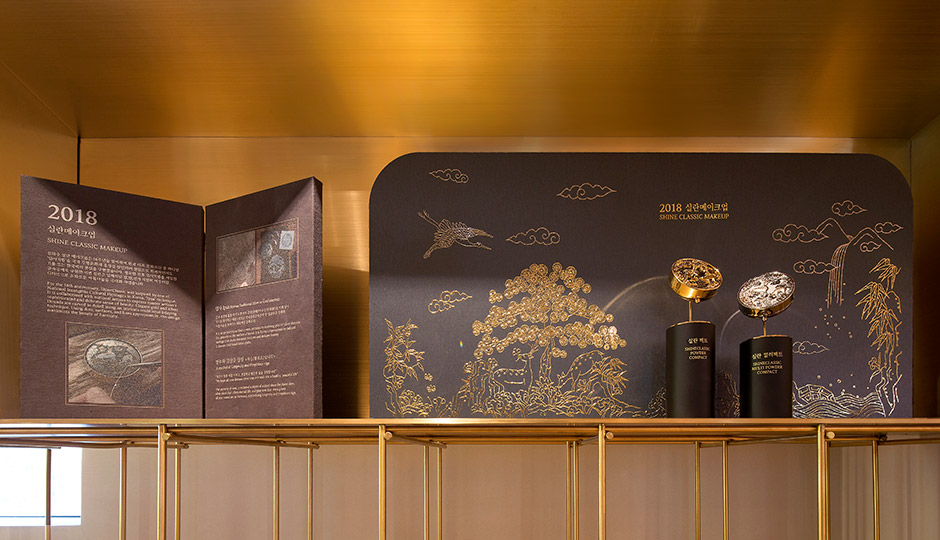 Sulwhasoo introduces "The Art Collaboration Project: Shine Classic Makeup," which reproduces the essence of Korean beauty characterized by elegant beauty and grace through collaboration with intangible cultural heritage who have devoted their entire life to create a state of the art masterpiece every year.
Since 2003, Sulwhasoo has continuously presented the ShineClassic Makeup every year, drawing inspiration from traditional Korean patterns, materials and craft techniques. The ShineClassic Makeup has globally promoted the outstanding beauty of the Korean culture, harmonizing the traditional with the modern and bringing Korea and the word together.

This year, celebrating its 16th anniversary, the ShineClassic Makeup is meaningful in that it showcases Korea's traditional artisan culture, featuring a traditional Korean metal inlay technique as a motif. Through collaboration with master artisan of inlaying holder, Hong Jeong Sil, designated as No. 78 Intangible Cultural Heritage, the 2018 Master Artisan Art Collection incorporates the elegant beauty of the metal inlay technique to a one-of-a-kind luxury limited edition.
In the metal inlay craft, a design is chiseled into the surface of a metal substrate. Elegant gold and silver threads are carved in detail using an intricate traditional inlaying technique. Using dots, surfaces, and lines appropriately, the design maximizes the beauty of harmony.
Inlaying Crafts
Inlaying is a craft that creates patterns by inserting gold or silver threads into grooves carved on a metal surface. As Korea's representative cultural heritage, it shows the intricate beauty of Korean traditional metal crafts.

The exquisite inlay designs of deer, elixir plant, and pine tree, which symbolize longevity and great fortune, carry the message "One can achieve his or her purposes and lead a healthy, peaceful life." and add classy beauty to the packaging.