Product, The 17th Shineclassic Collection
2019.10.24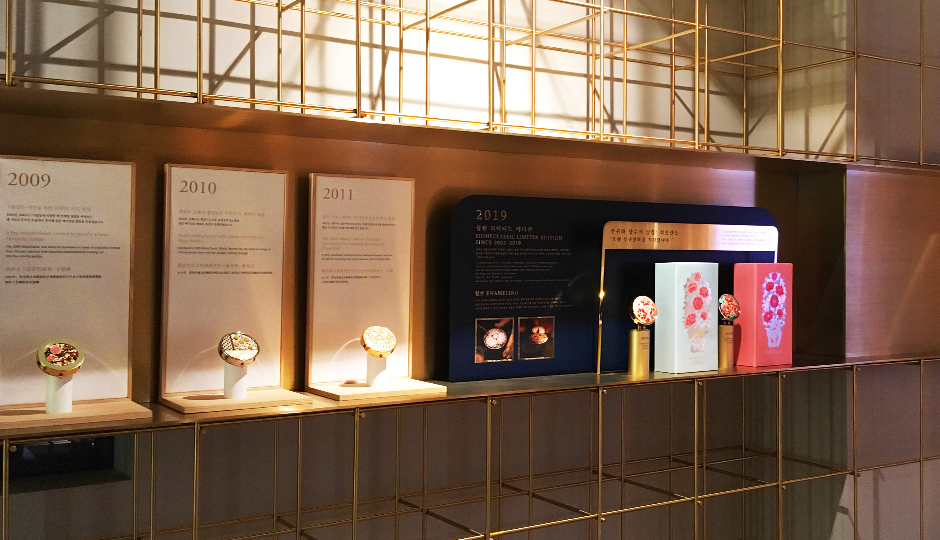 To reproduce the true nature of Korean beauty and deliver exquisite artisanship and higher beauty based on fading tradition and history, Sulwhasoo has continued to present "the Art Collaboration Project: the Shineclassic Makeup Collection" for the past 17 years. Since its inception in 2003, the Sillan Makeup Collection has annually showcased special designs and colors under the theme "Rediscover the Traditional Korean Beauty of Korean women in the Bygone Era." The Sulwhasoo Flagship Store is the only place where viewers can trace the history of the project.
In celebration of the 17th anniversary of the Shineclassic Makeup Collection, Sulwhasoo has brought back the beautiful colors of "Chilbo," or traditional Korean enamel craft, through an artistic collaboration with Master Noh Yong-sook who was designated as National Intangible Cultural Property. Specializing in Korea's important heritage, the master used the Rock and Peony Paintings symbolizing wealth, prosperity, and longevity.
Chilbo refers to a traditional enamel craft that involves applying colorful glaze to the metal surface and firing at high temperature. The process transforms a piece of simple, ordinary metal into a jewel in seven colors, or literally "Chilbo" in Korean. We at Sulwhasoo hope viewers will rediscover such works of authentic Korean beauty through the Shineclassic Makeup Collection designed to maximize the mystique of splendid colors, textures, and materials.