Sulwhasoo Post
Sign Up Now
Radiant and Resilient Trio
SAMPLING EVENT
17 October – 17 November 2022
Sulwhasoo's
Signature Trio
for a radiant
and resilient skin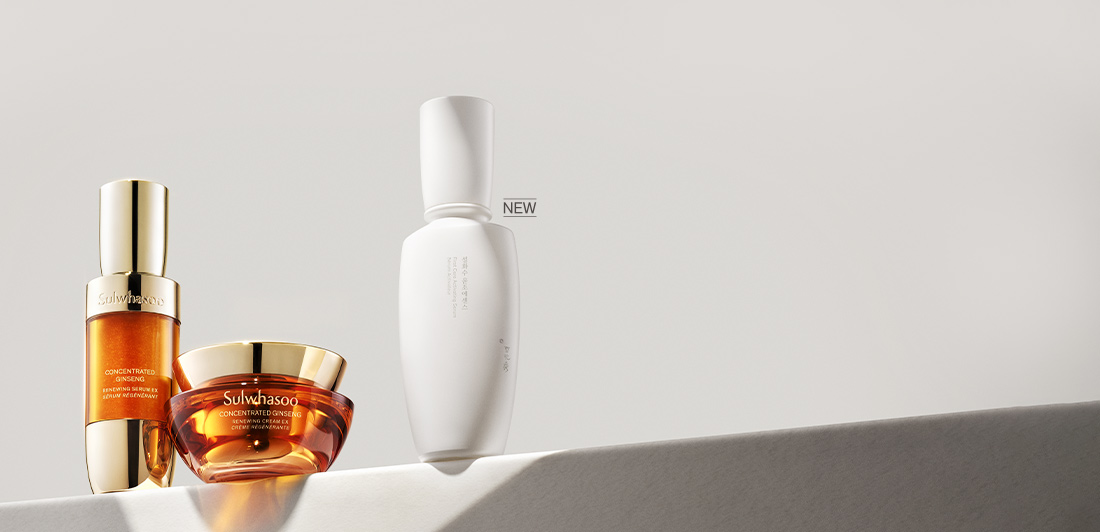 FIRST CARE ACTIVATING
SERUM
LIMITED EDITION
DESIGN STORY
Designed with flowing curves and sleek shoulders,
Sulwhasoo's
bestselling First Care Activating Serum
has
been reborn into a work
of art that expresses the
harmony
of traditional beauty and modern
sensibility
by incorporating
the purity and aesthetics of Joseon
Baekja (white porcelain
from the Joseon dynasty).
ESSENTIAL FIRST STEP
The essential first step in your skincare routine for
a healthy
radiance. The secret to getting a glass
skin-level glow,
this
lightweight, skin-priming serum
harnesses the power
of five precious
Korean herbs
to minimise signs of ageing,
hydrate, brighten, and
firm
your skin. Your skin will be more
receptive to any
product applied
afterwards, helping the rest
of your
skincare absorb better for
amplified results.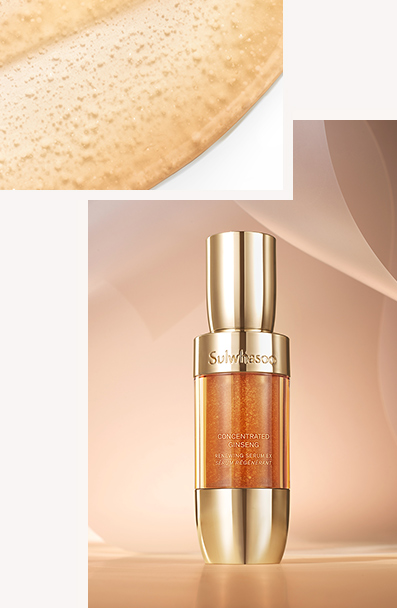 CONCENTRATED GINSENG
RENEWING SERUM EX
Replenish, strengthen and support
with the skin-regenerating
serum for
youthful and resilient skin.
With 100,000* Ginsenomics™ capsules in
a single bottle,
experience firmer looking
skin with the anti-ageing skin
solution
The triple resilience-boosting efficacies of the serum,
which targets areas lacking in resilience,
replenishes the skin from within to deliver smooth and
firmer skin in just 7 days**.
*100,000 capsules in a 30mL bottle, 190,000 capsules
in a 50ml bottle
**Concentrated Ginseng Renewing Serum EX clinical study
(results after 1 week/8 weeks of use)
on 32 women (age: 30~49)
| Testing Agency:
DERMAPRO | Testing Period: May 31, 2021~July 30, 2021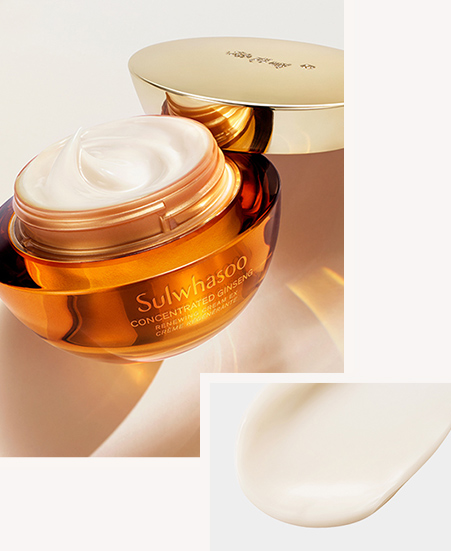 CONCENTRATED GINSENG
RENEWING CREAM EX
Powered by the vitality of Korean Ginseng,
achieve unlimited skin resilience with
the Concentrated
Ginseng Renewing Cream EX.
Ginsenomics™ and Ginseng Peptides come together
in
an opulent formula to repair your skin's protective
barrier,
and improve its resistance against micro-damage
by external factors and future ageing elements.
The soft, velvety cream also provides a 24-hour
moisture
lock to enable the skin to remain supple
and resilient
throughout the day.
Available in richer and more nourishing texture,
try the Concentrated
Ginseng Renewing Cream EX Classic.
SULWHASOO'S SIGNATURE
SKINCARE PRODUCT
Keep your skin looking healthy and radiant
with First Care Activating Serum.
Follow it up with the perfect combination of
Concentrated Ginseng Renewing Serum EX
and
Concentrated Ginseng Renewing
Cream EX.
Your skin will look naturally
revitalized and feel replenished.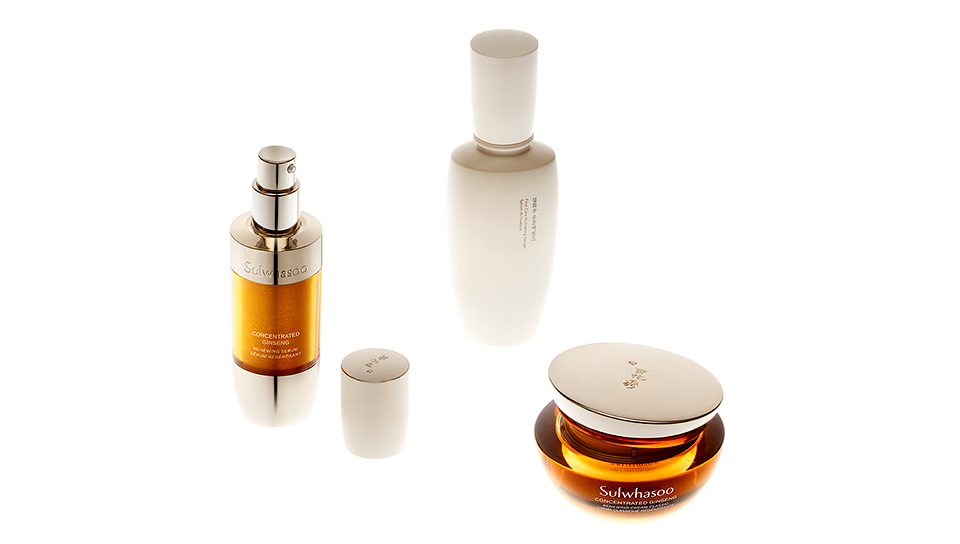 Sign Up Now
Sign up now to redeem your complimentary
Radiant and Resilient Trio Sample Kit
at Sulwhasoo boutiques or counters
Terms &
Conditions
Sampling redemption is only valid at your selected store
/boutique by 30 Nov 2022.
Each redemption consists of First Care Activating Serum
sachet x 2 pcs, Concentrated
Ginseng Renewing Serum EX
x 2pcs,
Concentrated Ginseng Renewing Cream EX x 1 pc
and Cream Classic x 1 pc.
While stocks last, on first come, first served basis.
Limited to ONE (1) redemption per person.
Confirmation email will be sent upon successful registration
(kindly check your spam inbox
folder if you did not receive).
Kindly present the confirmation email at selected store within
the valid period.
The registered customer must present the redemption email
page to store staffs in order to
collect the gift,
strictly no
redemption on behalf of another person.
Your contact information may be used to contact you for
collection purpose.
Sulwhasoo will not be responsible for any incorrect
information submitted.
Sulwhasoo reserves the rights to make amendments to the
sampling activity without prior
notice.
You may not be able to receive emails from Sulwhasoo if your
email address is related with
Microsoft such as Hotmail,
MSN,
Live, and Outlook.