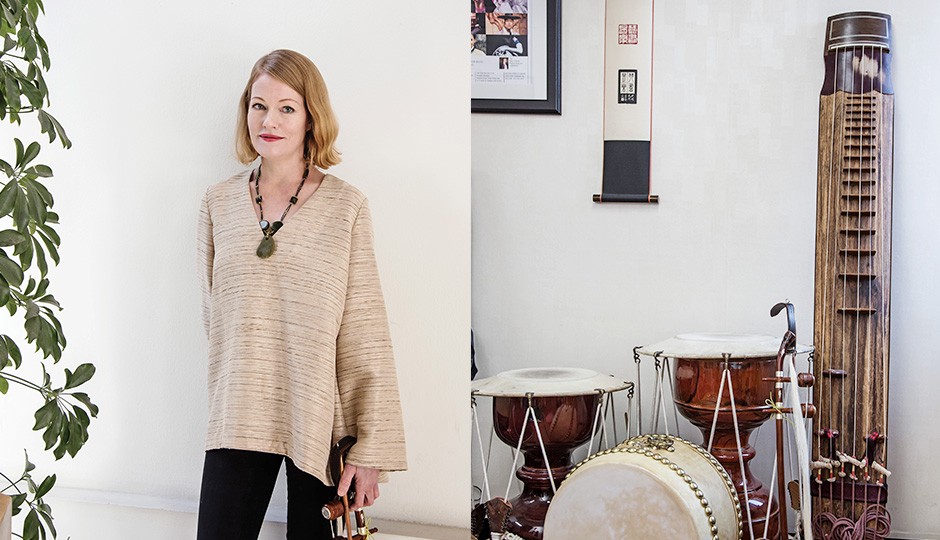 Hilary Vanessa Finchum Sung
Why did you decide to study a traditional music of a foreign country?
When I decided to go to graduate school, I chose to major in ethnomusicology, which combines music with anthropology. One day, I happened to listen to three Gugak CDs at a bookstore, and they brought me here. I had spent a long time in South Korea, from 1998, so it did not feel foreign to me when I had to teach at Seoul National University in 2009. I was just worried about the confusion that my students would experience. I love all kinds of music in the world, and Gugak just happens to be my field of study.
When you were first exposed to Gugak, how did you feel about it?
Chinese music to me was too active and high-pitched. I had thought that the palace music of Japan was static and peaceful, with much importance placed between notes, so I had expected something similar from Gugak, but when I listened to it, it was actually very different. It gave me a strong feeling that the sounds of the instruments, such as the piri, ajaeng, and haegeum, were very similar to human voices.
Why do you think Gugak has become distant from the public despite its charm?
It's not the music but the society that accepts the music has changed. With the industrialization and urbanization that quickly swept the country after its liberation, Gugak could no longer be a part of the lives of most people. In addition, other factors, such as the intangible cultural assets and the college curricula, have degraded various music genres. For example, even Jindo does not accept any sound as Gugak besides "Yukjabaegi" and "Arirang". I have captured the "sounds of women's voices" in Jindo since three years ago. When I ask the old ladies at the village training centers to sing "Sijipsari Taryeong," they say, "What for? It's not even a song." As the lyrics and melodies have become standardized since the '60s, the formlessness of Gugak has been looked down on. This is not natural. When I first came to South Korea in the '90s, creative Gugak was popular thanks to the efforts to bring Gugak closer to the public, and I became interested in it. At present, I am focusing on the 21st-century changes and directions of Gugak in light of education, composing, and marketing.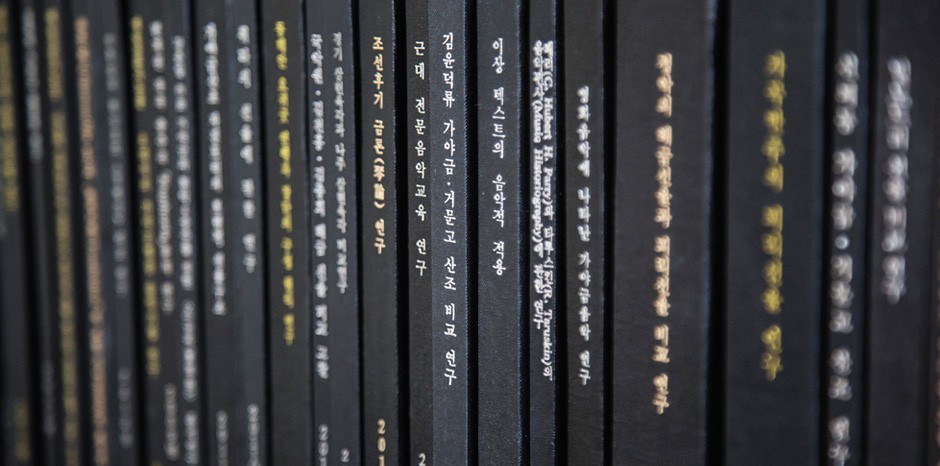 You just said you are capturing the sounds in Jindo. Can you elaborate on the purpose of that study?
At first, I was interested in the sounds of women. I wanted to find the sounds in womens' lives, but ever since I met many older ladies, it has become a process of understanding the lives of the Korean women who have lived since the last generation. I spent almost my entire sabbatical last year in Jindo. I had many accomplishments, but I also have many regrets. At this one time, about half of the Daeboreum events were cancelled because of the agedness of the community, and there was no one who could sing "Manga" when one of the intangible assets passed away. If it wasn't for his pupils, we might not have been able to sing at his funeral. It used to be that the funerals in Jindo were considered not just mournful events but festivals. Now they are becoming nothing special compared to other funerals. Ibelieve that it is necessary to reorganize the system and to develop alternatives for the cultural heritages that have fulfilled certain functions for a long time.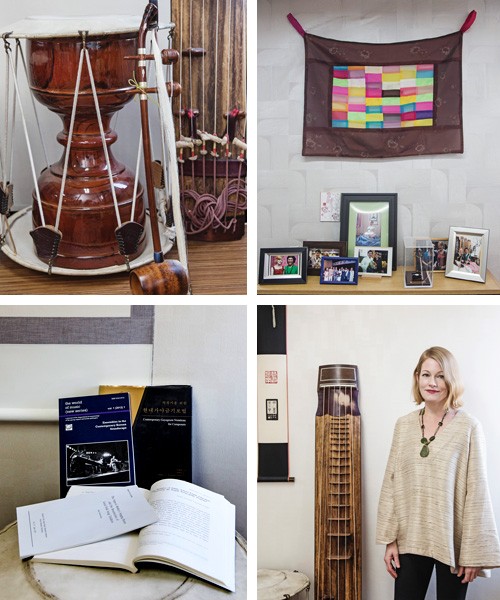 You teach theories, but we heard that you enjoy performing using Gugak instruments.
I love all the Gugak instruments, but my favorite is haegeum, which sounds like a baby once it is played. I don't want to bother my fellow professors by asking them to teach me, so I'm getting lessons from professional performers outside the school. I am planning to visit Boston with a team of performers in March. My job will be to host the event, to perform, and to deliver a lecture. The purpose of this event is to show the Americans, who are curious about Gugak, that"these are the instruments that make the sounds you have been hearing."
We heard that you're from Nashville, the mecca of country music.
It's a city of music, with a long history. We're sad that it's used too much for commercial purposes, like LA or Las Vegas, but it's still a lively place where anyone can enjoy delivering musical performances at a cafe or a club. In Nashville, partying means bringing your musical instrument and gathering with your friends at a friend's house for a jamming session. I sometimes miss my home when I read about my pals' jamming session on social media.
What are your plans for the future?
My strength is that I can approach Gugak from a different perspective compared to those who have been studying it since they were young. I can also translate some major publications into English, such as Professor Ji Young Lee's <Modern Gayageum Notation for Composers>. I'm planning to publish my findings both in English and in Korean, of course. I'm also going to build an open archive where anyone can share and reach my research materials.