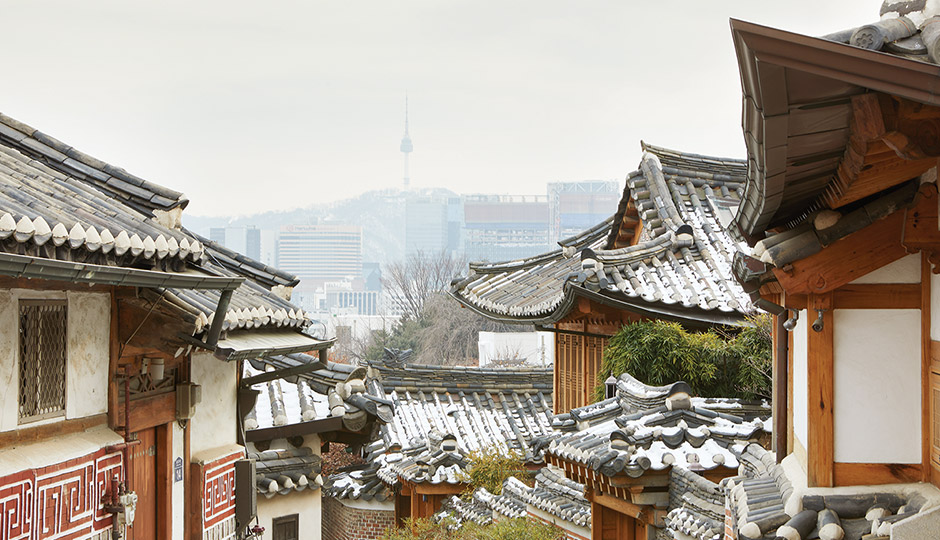 Bukchon
Bukchon is located between Gyeongbukgung Palace and Changdeokgung Palace. Since it is at the north of Cheonggyecheon River and Jongno, it became a major residential area with many traditional Korean houses within the castle of Seoul. It is known as Gahoe-dong and Samcheong-dong, but Anguk-dong, Sagan-dong, Gye-dong, Sogyeok-dong, and Jae-dong cherish its long history as much as its traditional names. Bukchon is low at the south, but is high in the north, where it forms four valleys. The roads naturally lead from the north to the south, and they still exist today as Samcheongdong-gil, Gahoe-ro, Gyedong-gil, and Wonseodong-gil.
Connecting Bugak and Eungbong, Bukchon used to be a residential area for noble families in the olden times. Many historical relics and cultural heritages have been preserved as it was the home of the nobility and government officials. As a high-class neighborhood during the era of the Joseon Dynasty, a cluster of small to medium sized Korean houses was built during the Japanese colonial era. Korean houses have been transformed into modern style as glass doors were installed on Daecheong, and hanging steel awnings on the eaves. The Korean houses in Bukchon have become urban homes,which have adapted to contemporary conditions. They do not have the original magnificence and dignity of traditional Korean houses, but they portray the beauty and humble wisdom of Korean homes within limited spaces.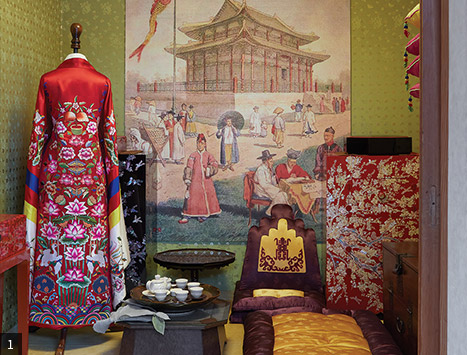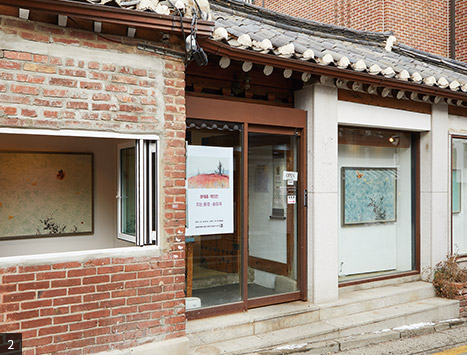 Also, Bukchon had many luxurious craft studios that supplied to the palace, which led the lifestyle of royal and noble families. The craft studios were built by craftsmen affiliated with the central government office of Joseon Dynasty to produce various supplies for royal and noble families, and included about 130 kinds. Bukchon today also continues the efforts of craft masters and studios to promote traditional culture in unique Korean houses. Traditional crafts, in cluding palace food, knots, embroidery, lacquer, Hwamunseok (floral mats), and gold plating, have been quietly yet constantly created under the fingertips of many people. The studios are widely open to the general public and international travelers. You can observe the masters at work, or create something yourself. Due to the active promotion of traditional culture experience programs, there are many programs to choose from.
Past Samcheongdong-gil and Gahoedong-gil are relatively wellknown to attract many tourists or commuters, so you can visit Gyedong-gil and Changdeokgung-gil with a new perspective. There are humble and free-wheeling small stores, cafés filled with exotic pictures taken by the owners who travel for a living, tiny bookstores filled with picture books for grownups, neighboring shoulder-toshoulder Korean houses, and aged buildings. Today's lively thoughts co-exist with old, quiet alleyways.