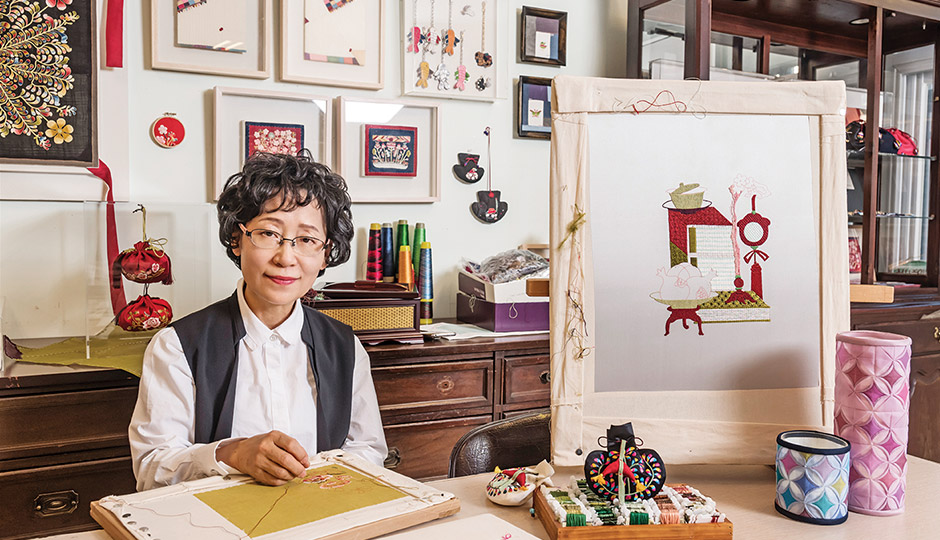 Park Insook
The boudoir of Joseon was only seen in textbooks, and it was considered rare. How do you think the craft of boudoir must be interpreted by an artist?
The process of embroidery in a boudoir may sound tedious. But the craft involved in making a boudoir was the most positive way for women to relieve their socially repressed energies. It was the way of praying for their husbands' success and their children's wellbeing. Women's profession of selfless love still exists in the 21st century. Their maternal love is timeless. Thus, the craft involved in producing a boudoir is not simply a heritage from the past, but it is a formidable bridge between the present and the future.
In the past, young girls learned to sew and embroider in Home Economics class. Are they still being taught such skills in class?
It's not a regular subject, but they can choose to learn in afterschool programs. The members of the Imyeong Bojagi Society have taught sewing and embroidery for many years. When we give students Goebul Norigae, which is thought to keep the bad spirits away, they hang it on their backpacks as if stuffed bears. Even it looks strange, the students still understand the care and the authenticity it conveys.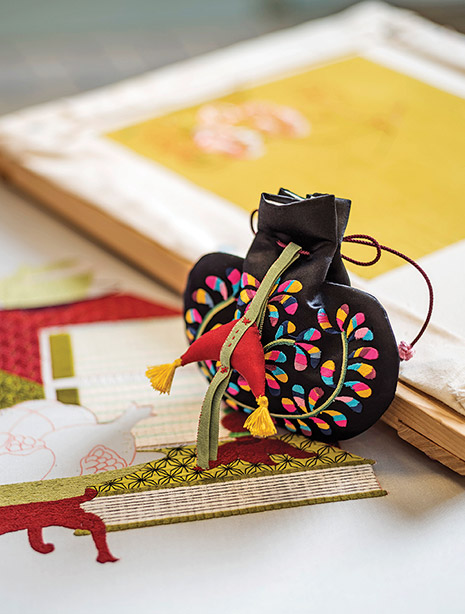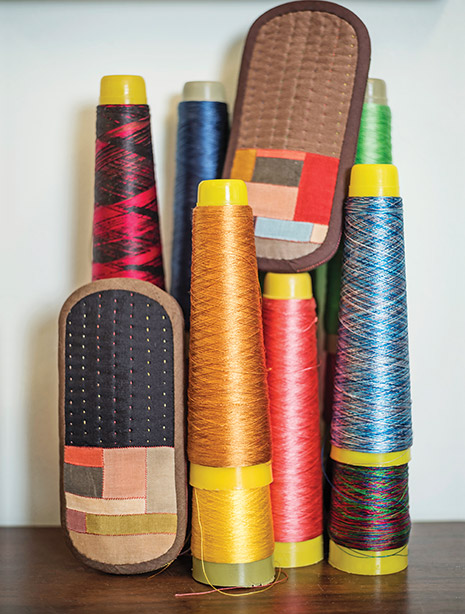 Traditional culture has two challenges: 'succession' and 'modern reinterpretation.' What are you doing between these forked roads?
It's hard because you have to stay in the middle ground. However, I try not to lose the original character of traditional craft because the origin must be preserved to secure strength and sustainability. I am also trying to create a new culture at this period. For example, I mix materials that are heterogeneous, such as metal and wood, or collaborate with experts in other fields. I am attempting to transform traditional fabric into materials that have other properties. The future of traditional culture is not guaranteed, unless it undergoes changes.
You even made a chair from an old tire
I thought about a way of applying the craft of boudoir to daily routine, and used old tires to make a chair in the shape of a pin cushion. I hope the craft of boudoir can move closer to mundane spaces, and become familiar culture. It's also good for environmental preservation.
How did you begin to work with the craft of boudoir?
Back in 2002, I had a chance to stay in Seoul for nearly a year. I wanted to do something special, and an acquaintance introduced me to this field. I met Embroidery Master Hyun Hee Kim, and I had an opportunity to demonstrate my creativity. Luckily, I later learned that Gangneung's Subojagi and Ssamji patterns were the best in the boudoir culture.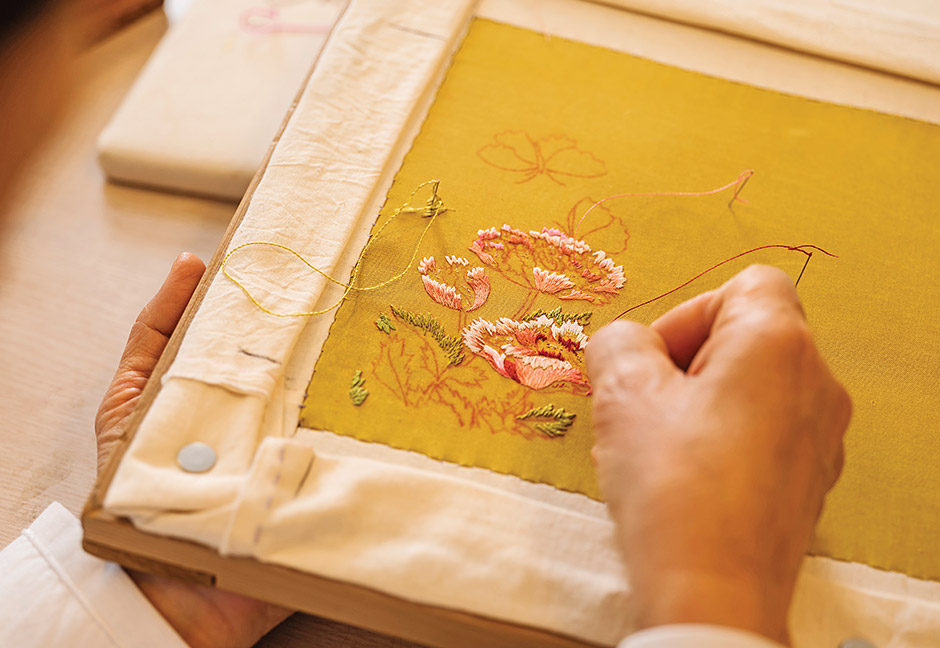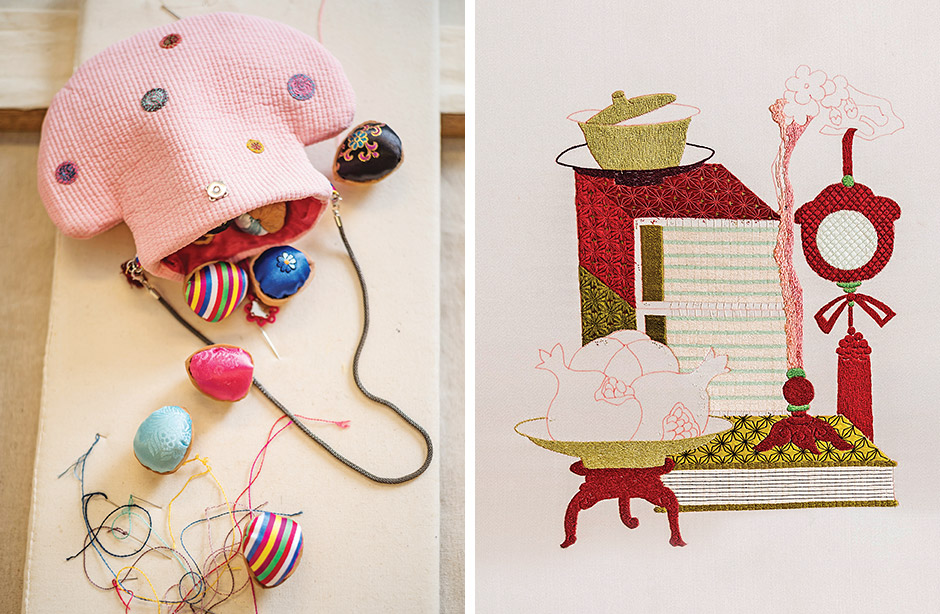 Subojagi must be special since it represents Gangneung. What makes it so special?
Gangneung Subojagi's unique patterns and skills are incomparable. From a shape that resembles a sectional view of a tree trunk to various design elements that symbolize good fortune with thousands of long branches, the patterns of Gangneung Subojagi are even geometric. For that reason, it can certainly be expanded to modern designs.
The artwork featured on the cover is quite interesting in a figurative manner. And another piece won the Presidential Award at the 'Korea Tourist Souvenir Competition.'
I named the piece on the cover, 'Goebul Gangneung Pocket,' which is a kind of fortune pocket. This region's fortune pocket combines the angled pocket and the rounded pocket, and it is round on the bottom with a wrinkly opening, representing both masculinity and femininity. It resembles a mast because there were many sailors in this town. It was inspired by two artifacts that were exhibited at the Dongyang Embroidery Museum. I collaborated with the Korea Craft & Design Foundation in celebration of the 2018 Pyeongchang Winter Olympics. I did not expect to win at the 20th Korea Tourist Souvenir Competition. I printed Gangneung Subojagi to create a glass cloth, and I had no idea that it would fetch me such a major prize. Subojagi takes up to 6 months to finish, and it is not easy for the general public to see one. I wanted to print it out so more people can revel in its beauty. I am not only proud of the prize itself. Instead, I am happier that the value of Gangneung Subojagi has been acknowledged again.
Can you tell us about your future plans?
It has been 13 years since I gathered those who are devoted to this field, and founded the Imyeong Bojagi Society. It's a great honor for us to hold an exhibition along with the Olympics being held in Korea. We will have an opportunity to introduce Gangneung's boudoir culture to the world at the Gangneung Municipal Art Museum from February 7 through 25. I hope that the exhibition can highlight the talents and the passion of our society that encouraged the refinement of our skills.