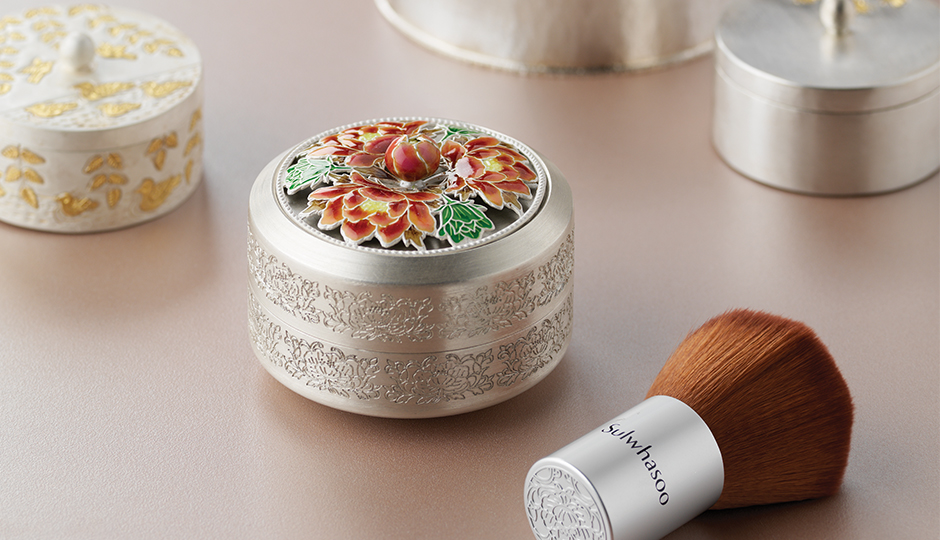 Healthy Beauty as Reflected on Flushed Cheeks
Since the olden times, Koreans appreciated the neatness and beauty of appearance. They worshipped the color white, so they longed to make their skin white and refined. They were also aesthetically aware as there were records of color makeup existing during The Age of the Three Kingdoms of Korea. The tomb murals of Goguryeo portray women with blushers on their cheeks regardless of social status, and the people of Silla produced their own color pigments for their cheeks and lips. An old text from Japan, titled , states that Baekje transmitted cosmetic production technology and skills to Japan.
The first step in color makeup was brightening the skin tone with powder that was made with white clay, pearl powder, rice flour, or Mirabilis jalapa seed powder. The eyebrows were shaped by using 'Mimuk,' which was soot that was mixed with oil. After shaping the eyebrows, they used Yeonji, the blushers, to achieve flushing looks on the cheeks. According to , Yeonji was written as '燕脂,' meaning 'cosmetics from the Yan Dynasty.' There are different stories about the meaning of Yeonji on the cheeks. Some say that it is to express youth as a 14- or 15-year-old girl's cheeks that are naturally flushed, while others say that it represents virginity and youth as brides wear red Yeonji in the shape of circles during a wedding ceremony. It is also said that it is worn to protect the bride as it drives away bad spirits that detest the red color.
The Safflower of Compositae was normally used to make red Yeonji. When safflower bloomed and petals developed into a bright red hue around July, they were gathered at dawn. They were crushed, juiced, and slowly dried in the cool shade to make powder that was molded into round balls for storage, and mixed with oil for application on the skin. The powder was applied with a cocoon house or stamp, and Yeonji in oil was dabbed on peach cheeks by using the tips of the fingers. However, it was difficult to make, and it was expensive since an extremely small amount of powder was extracted from each stem of the safflower. It was not affordable for commoners in the Joseon Dynasty, so they used red minerals or dried peppers cut into rounds and placed on paper. They would also apply dried stamen of lilies or pigments derived from coccids in the form of powder or balls dissolved in oil. Makeup techniques have been developed for a long time, but it was not very elaborate or exaggerated. Women were focused on enhancing their natural beauty, and color makeup was just light and subtle.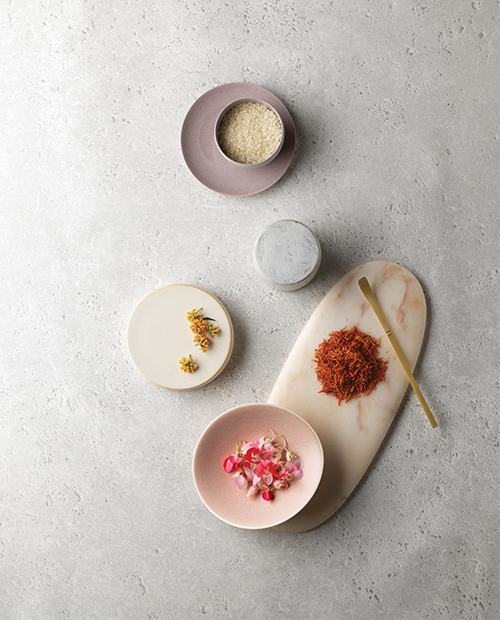 Sulwhasoo's Shineclassic Multi Powder Compact also brings healthy vitality to the skin with natural colors and elegant shades for subtle yet radiant skin. 'Shineclassic Masterpiece Collection' applies 'Chilbo,' the traditional Korean craft technique, to handmade covers as an expression of the splendid beauty of peony and as an added value to the product.