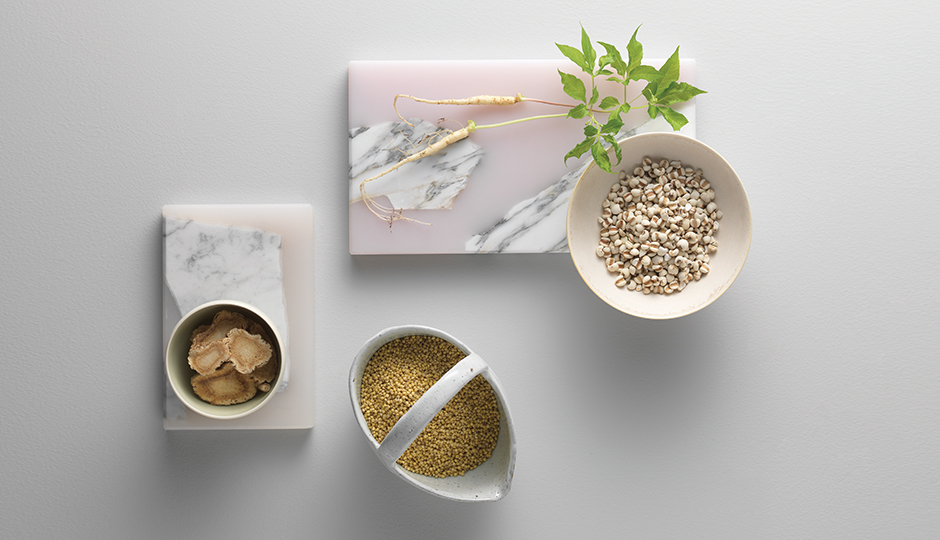 True Beauty Brightened with a Radiant Complexion
Some people often comment about the complexion of others while greeting them. They would say, "You look bright", or "You have dark circles under your eyes." This is not just their usual greeting, but instead, it is their way of saying that they are concerned about you because a healthy complexion has always been considered as very important since the ancient times. In traditional Korean medicine, it is believed that a person's first impression is determined by his or her complexion. The skin tone is used as an indicator to measure one's health condition.
Not only has a clearly radiant complexion been a sign of healthy condition but it also was used as women's beauty indicator measuring how beautiful they were. As a result, many women adopted various wise tips to take care of their complexion. Hwang Jini, a representative beauty figure of Korea's past Joseon Dynasty, drank tea made with ginseng leaves, and also used it to cleanse and bathe to maintain clear and fine complexion. < Bencao gangmu > mentions that 'Dahurian angelica' roots refine the complexion as they are effective for brightening the skin as well as removing freckles. It is widely known that Yang Guifei, China's famous beauty, also used the roots for brightly white skin.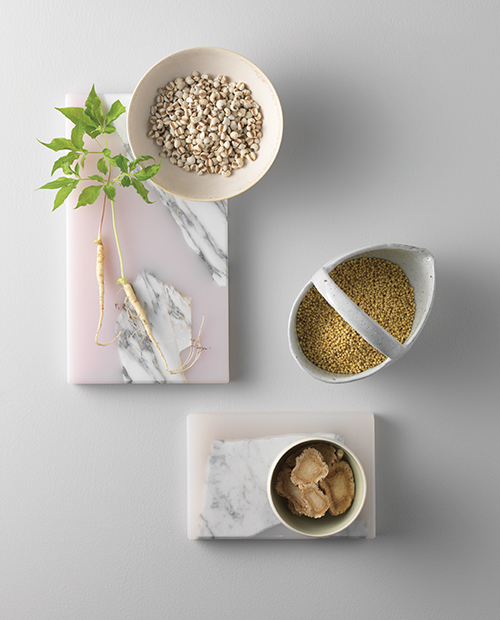 < Gyuhap Chongseo >, a family encyclopedia for the elite class noble families in the Joseon Dynasty, states that 'white, jade-like skin' is the requisite condition for a beauty, and it introduces various ways to fulfill the requirement. The methods involve mixing skin whitening powder to apply it as a wash-off mask and keeping melted snow from the last month of the lunar year with the peach blossoms in the spring to use as a cleansing soap. Various makeup-related burial goods were found in the tomb of Princess Hwahyeop, the daughter of the 21st King Yeongjo of Joseon Dynasty, including today's cream-like substance which was discovered in a porcelain container with colorful patterns. It was revealed that the cream was made by mixing the millet-cleansed-water, peach blossoms, and Benincasa hispida seeds with honey to brighten the face complexion, indicating that the palace women were deeply interested in having a bright complexion.
It is important to check on the delicate skin area around the eyes for that healthy complexion and beautiful first impression. Dark circles under the eyes, according to < Donguibogam >, may make you look tired.
< Donguibogam > says that the eyes are where the energy of the internal organs come together and thus it is important to do special massages around the area in order to brighten the eyes and around eye areas. The book recommends to "rub your hands together to generate heat and rub both eyes 14 times in order to remove the blurriness of the eyes." With the start of 2020, Sulwhasoo has also recently launched the Bloomstay Vitalizing Eye Cream whose plum blossom ingredients offer antioxidant energy and relieve skin fatigue, while the porcelain eye massager effectively massages around the eyes, enhancing the blood circulation and therefore giving immediate cooling effect.