Musical actress
Ok Joo Hyun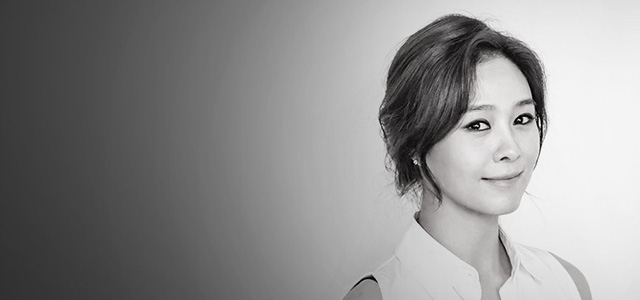 The season of beauty
listens to her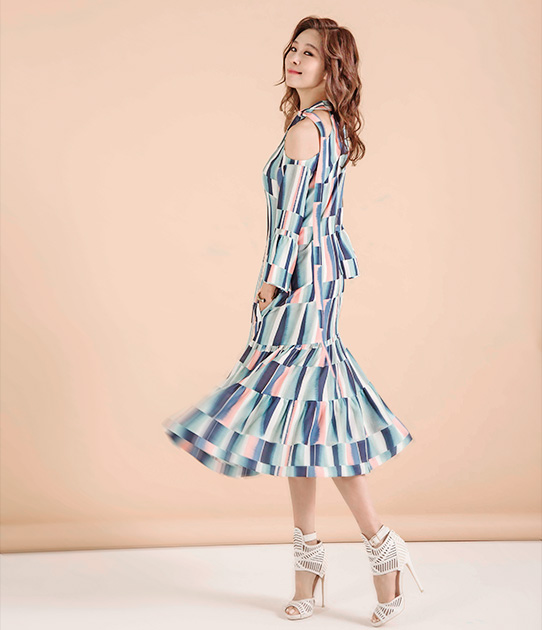 Morning breeze enters through the window.
It must have traveled through a grass garden. It has a rich scent of mild grass. Then, it must have stopped by a bakery on a hill. The scent of the baguette tickles the nose. It also has a hint of a fluttering heart; it may have eavesdropped on lovers in the alleyway across the street. I put on my earphones, feeling each line of the breeze. I listen to Joohyun Ok. The breeze into the ears awakens the sense of rhythm hibernating in my body. The senses for feeling and remembering today sit up straight. She delivers the scent, the sound, and the story that she senses along the breeze where her heart leads. She is Joohyun Ok, a musical actress. Starting with <Aida>, she has performed in 13 pieces in the last 10 years, including <Chicago>, <Cats>, <42nd Street>, <Guys and Dolls>, <Rudolf>, <Count Monte Cristo>, <Wicked>, <Marie Antoinette>, <Rebecca>, <Elizabeth>, <Mata Hari>, and the current <Sweeney Todd>. We should applaud her passion toward musicals, but she must be pretty tired from working on the stage so restlessly. We asked about her unwavering strength; what has kept her balanced.
"I was probably able to maintain balance because there were things that I had to do well in, and things that I didn't have to do well in my life at the same time. Seeing myself on the stage is living with myself off the stage, and seeing myself working in front of the audience is living with myself and enjoying myself." It is easy to understand what she does well, which is appearing in musicals, but what is it that 'she doesn't do well?' Let's say that they are her 'hobbies.' She has been exercising for a long time, and she has newly learned to make porcelain a while ago.
Audiences invest their time and money to come and see me. I have to try and be perfect every single time in return for their precious time and money.
Because I have a huge responsibility, I needed to do something to relieve the tension. Porcelain craft was one of those hobbies. I wanted to go into calming water without having to create so much splash. It is calming when you work with the earth. It's something you don't have to do well, and it allows you to be yourself. I have sold some of my creations upon request, but I don't make them so that I can sell them. It's too burdensome if it becomes another tag attached to Joohyun Ok. I don't want to break the balance of my life just to catch two hares." The journey in search of balance to impress the public all the time must have also been important for her, so this clearly reflects her concentration in her work and love for her life. It is probably because she knows how to concentrate on stage and for herself, but her face and eyes are becoming brighter and deeper year after year. Her beauty on the inside and outside seems to become more harmonious over time. Joohyun Ok finds the root of her beauty in her 'concentration.'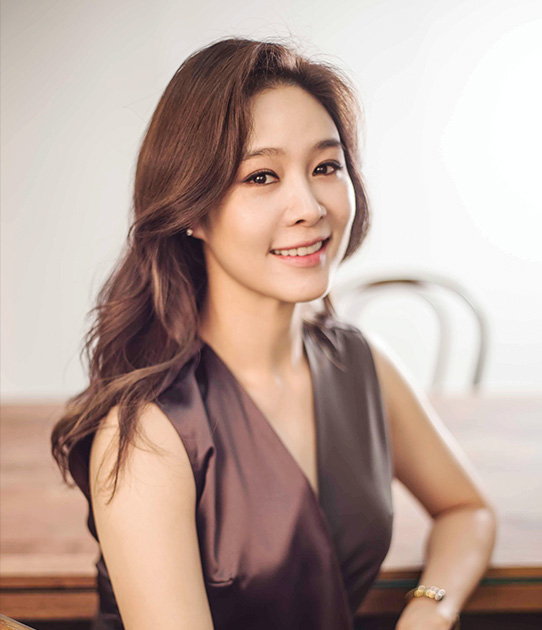 "Anyone must be like this.
They look most beautiful and healthiest
when they concentrate on
what they like."
You unveil your own beautiful color when you focus and pour your energy onto your work, or anything you care for and love.
Her concentration leads to how she deals with life. She knows when to be serious, and when to be easy-going to concentrate on each moment of her life. This way, she can be naturally beautiful without any artificial light. "What is most natural is to admit and accept the flow. It's hard, but I try to accept the flow. I'm no longer fresh in my 20s, and there was a time when I wandered not knowing how to be mature. I'm talking about the effort to naturally accept all of the flow. It's just like your cosmetic products. I have a very sensitive sense of smell. I don't like it when I smell the strong scent of chemicals. Since Sulwhasoo is great for my skin and body with a natural scent and energy, and without anything artificial, I want to be seen as a natural person on stage, and not an artificial being." She also talks about 'people.' A musical is a story about people. The stage is filled with many people. And the actors and actresses must touch people. Nothing is possible without the observation and efforts to understand people.
"I would gain trust as an actress when I follow the lives of my characters. I want to be an actress who is truly impressive, so the audience can see the characters and the stories instead of me, Joohyun Ok. That's why I have developed a habit to observe people and see their other sides even outside the stage. The contemplation to understand characters has expanded to the habit of understanding others."
This is her story; passionate yet not consumable, and beautiful yet not artificial. What would be the color she sprinkles in your heart as the wind of autumn breezes by? Whether it is red, yellow, or white, we should naturally be colored by it on stage.