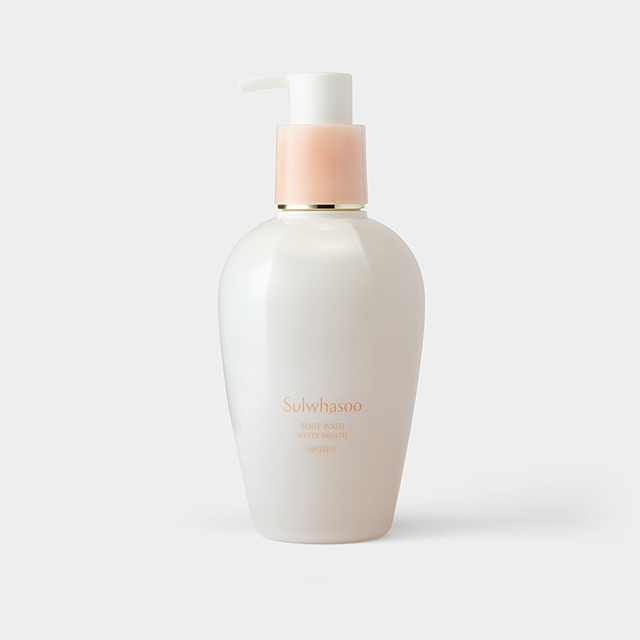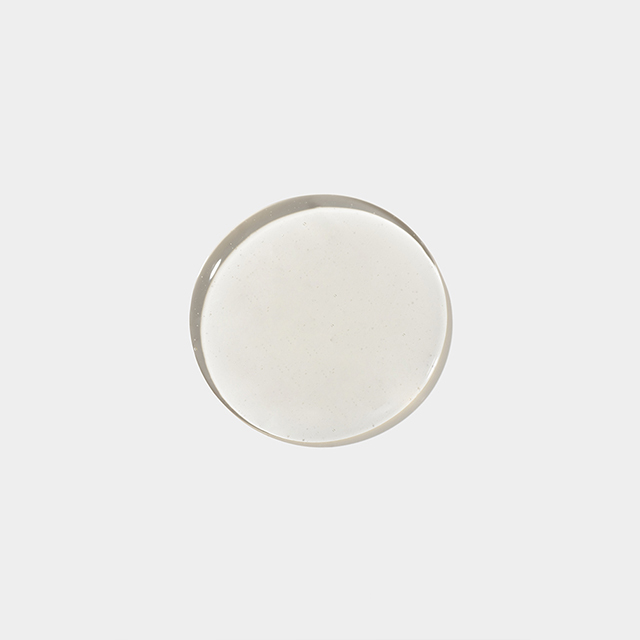 Body Wash White Breath
The body wash is formulated with the subtle scent of plum blossoms to keep you refreshed, and the mild gel formula leaves your skin moisturized
Skin Benefits

Moisturizing, Clarifying
Shop Online with FREE SHIPPING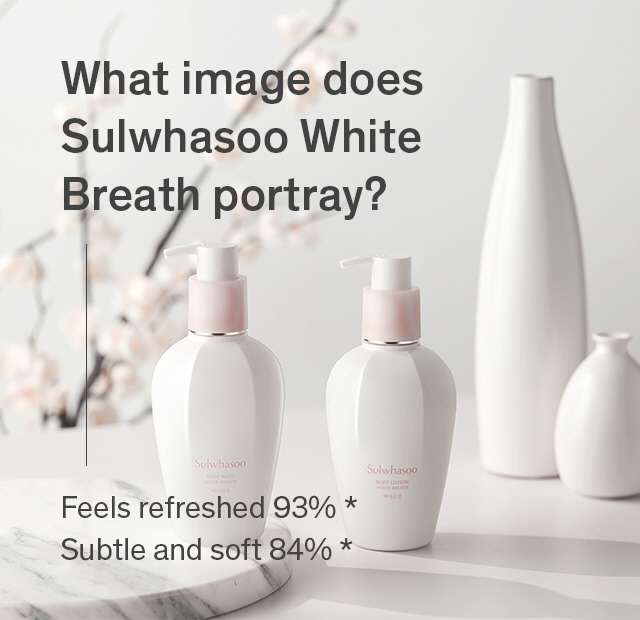 What image does Sulwhasoo White Breath portray?
Feels refreshed 93% *
Subtle and soft 84% *
Clean and pure 86% *
* Consumer Image Survey Results
BODY WASH
WHITE BREATH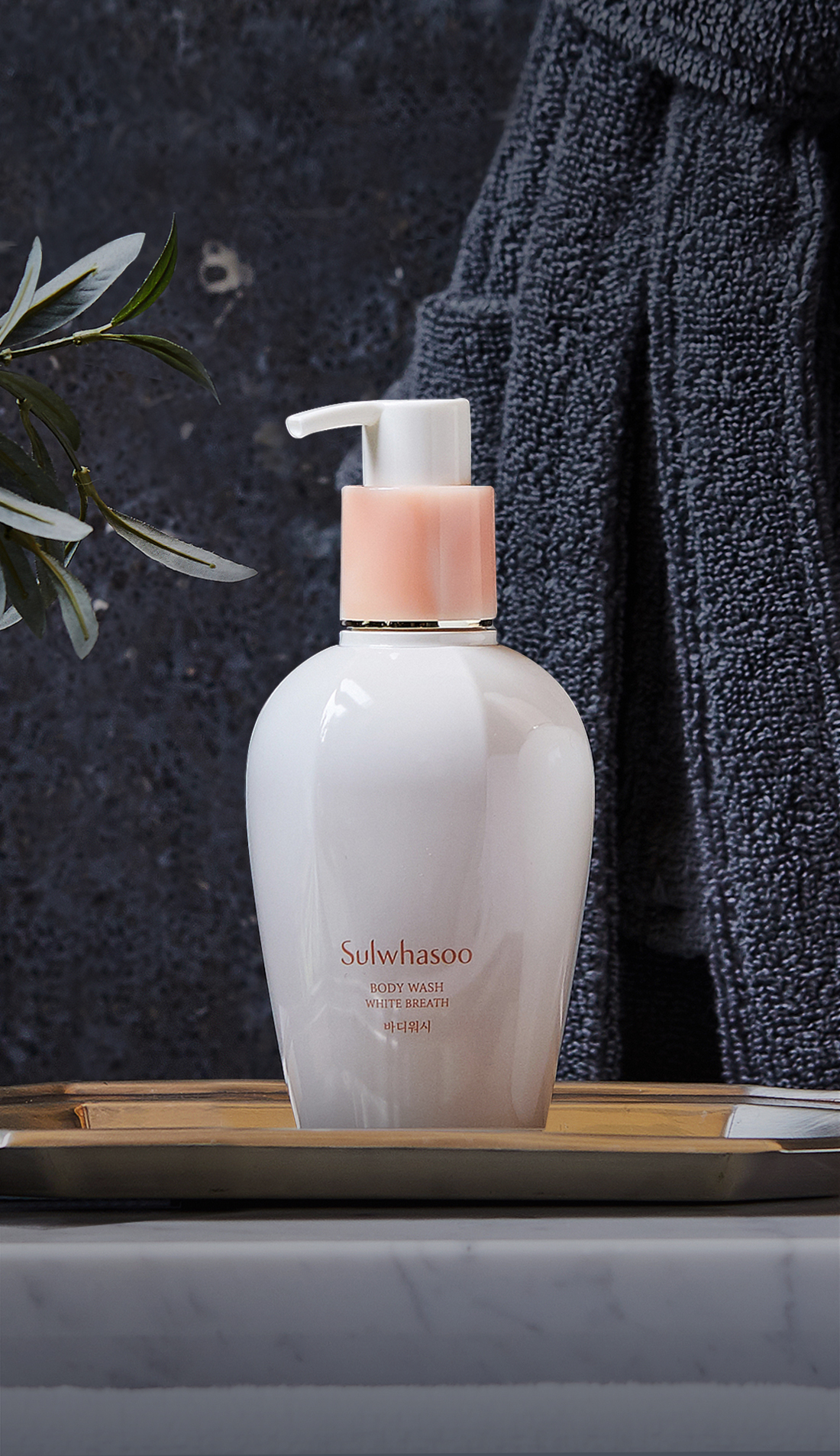 The body wash is formulated with
the subtle scent of plum blossoms
to keep you refreshed,
and the mild gel formula leaves
your skin moisturized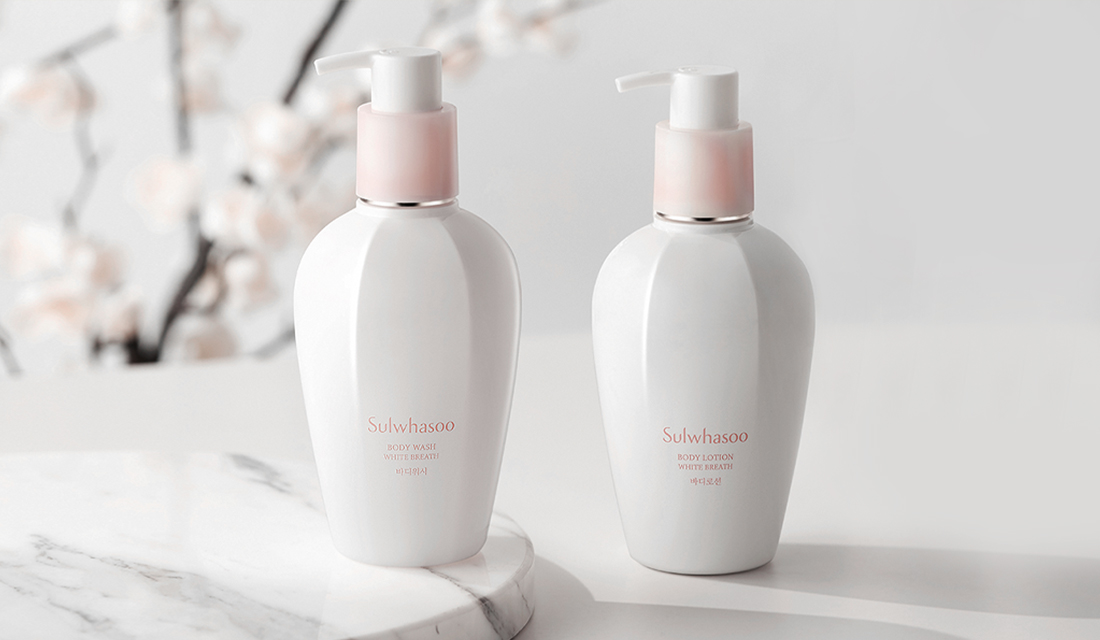 Moisture and firmness through naturally derived materials
Korean herbal medicinal inspired by korean herbal medicine, JISUN Firming Complex™ adds visible firmness to your skin. Sea pine nut oil helps strengthen your skin's moisture barrier, protecting from moisture loss.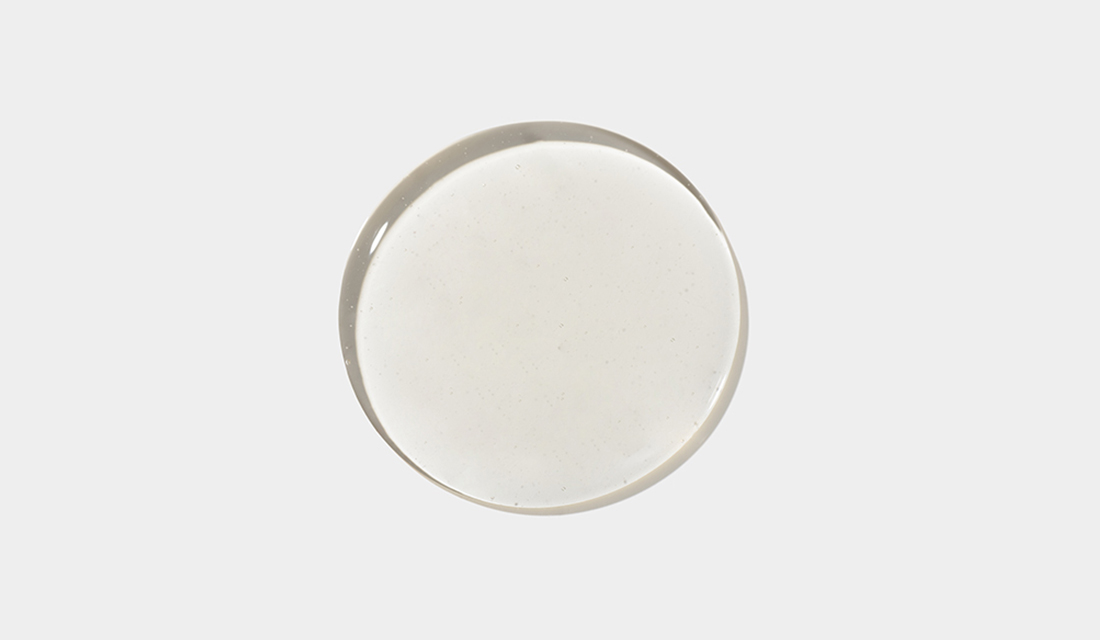 Sulphate-free texture washes away softly
Body Wash White Breath is a sulphate-free gel formula for that is gentle on your skin.
It lathers luxuriously, with densely detailed foam purifying your body.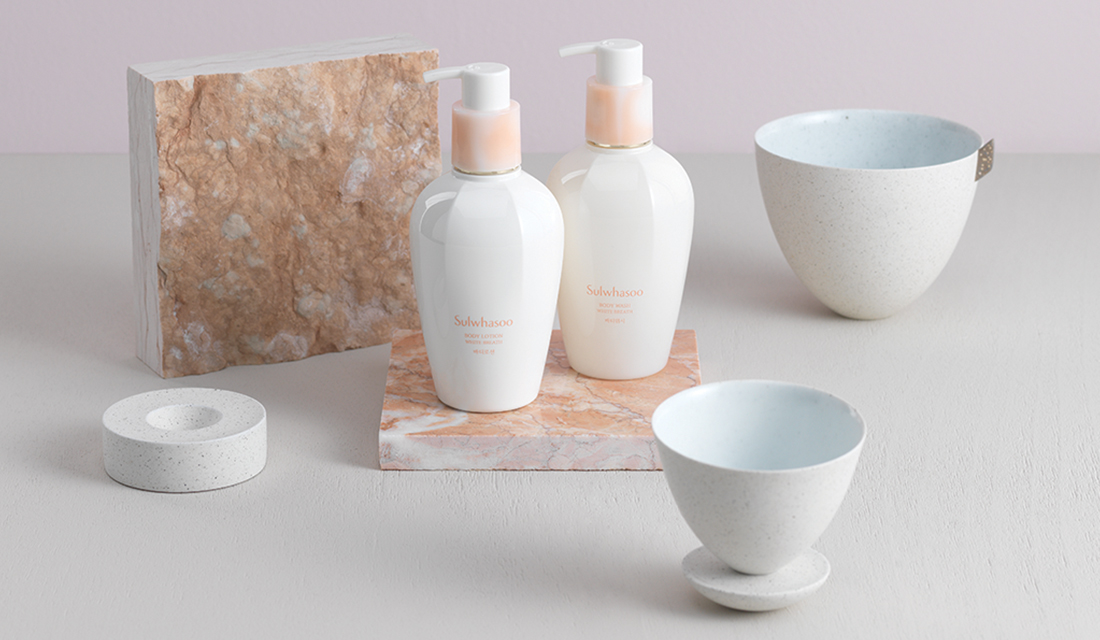 White Breath, white porcelain's dignity
The bottle is inspired by the delicate elegance of Korea's white porcelain pottery.
White marble color is used to bring the image of White Breath to the forefront.
It is a dignified object, worthy of space in your daily life.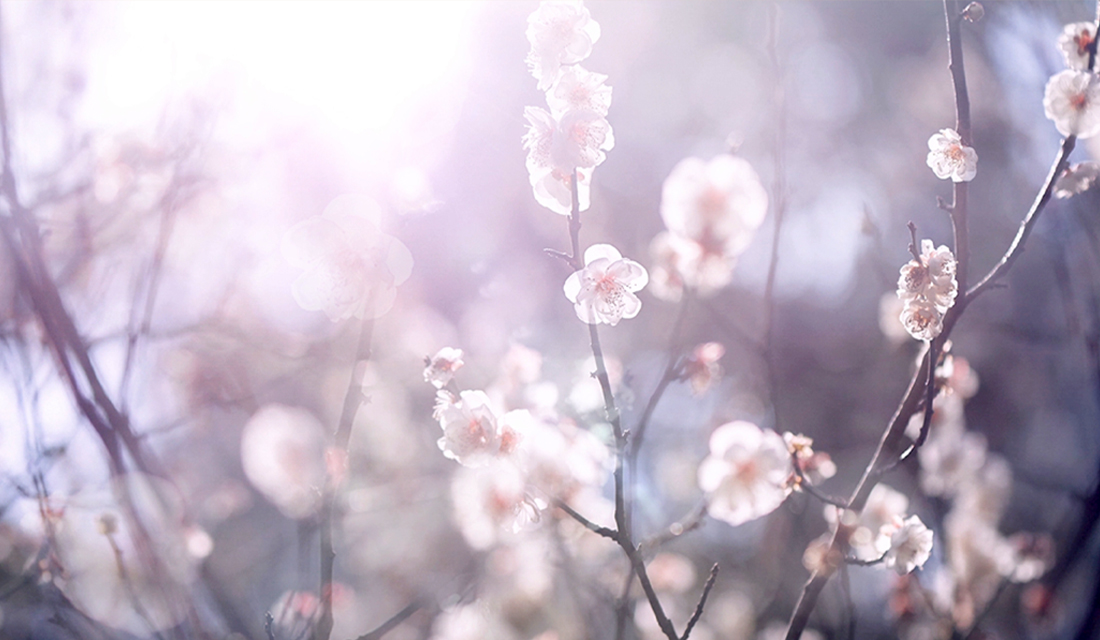 White Breath, the record of Sulwhasoo's scents
Plum blossoms endure the coldest winter nights to shine elegantly in spring.
Sulwhasoo captured the white and pure scent of plum blossoms in its White Breath aroma.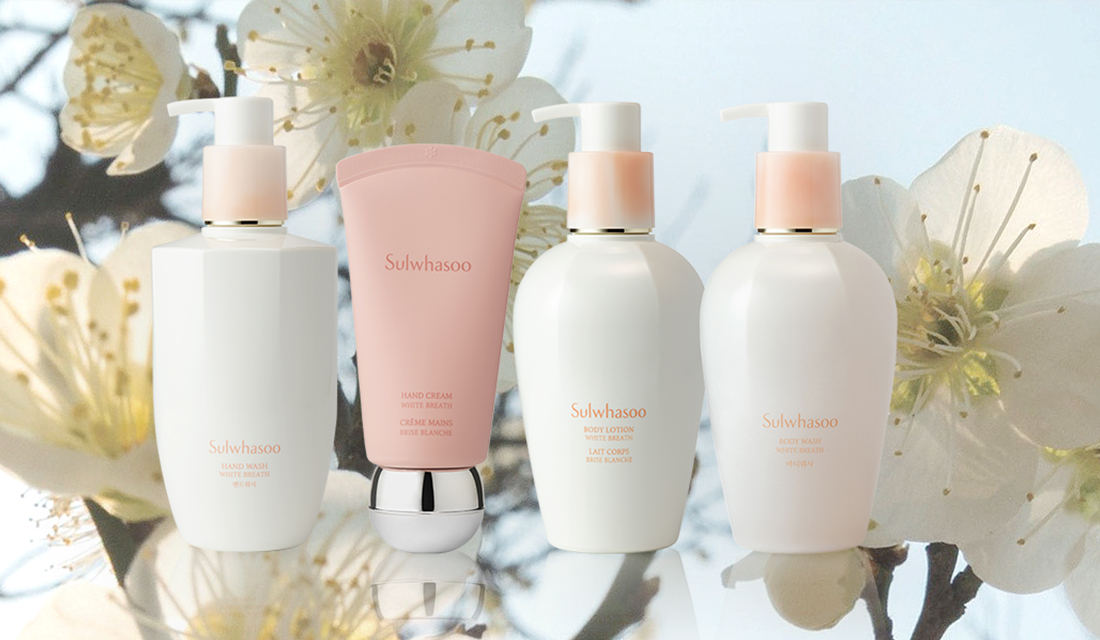 Awaken your vitality for the day with the elegant scent of plum blossoms
Sulwhasoo White Breath Synergy Care
TIP
Use with bath sponge or towel, soaked slightly in water.
Pump an appropriate amount and lather.
Massage onto your body, and wash with water.
Ingredients
WATER / AQUA / EAU, COCAMIDOPROPYL BETAINE, SORBITOL, DISODIUM LAURETH SULFOSUCCINATE, COCAMIDE MEA, SODIUM CHLORIDE, DISODIUM COCOAMPHODIACETATE, COCAMIDE MEA, FRAGRANCE, POLYGLYCERYL-10 LAURATE, 1,2-HEXANEDIOL, SODIUM BENZOATE, BUTYLENE GLYCOL, CITRIC ACID, CAPRYLYL GLYCOL, DISODIUM DTA, LYCIUM CHINENSE FRUIT EXTRACT, HONEY, LOTUS FLOWER EXTRACTS, POLYGONATUM HUMILE ROOT STEM/ROOT EXTRACTS, REHMANNIA GLUTINOSA ROOT EXTRACTS, PEONY ROOT EXTRACTS, LILIUM CANDIDUM BULB EXTRACTS, KUDZU VINE EXTRACTS, MALT EXTRACTS, 2,3-BUTANEDIOL, PINE NUT TREE SEED OIL, SQUALANE, HYDROLYZED SOY EXTRACTS, PHENOXY ETHANOL, SESAME OIL, CAMELLIA SEED OIL, APRICOT SEED OIL, ETHYLHEXYL GLYCERINE, PLUM TREE SEED EXTRACTS, LOTUS SEED EXTRACTS, CARNOSIC ACID