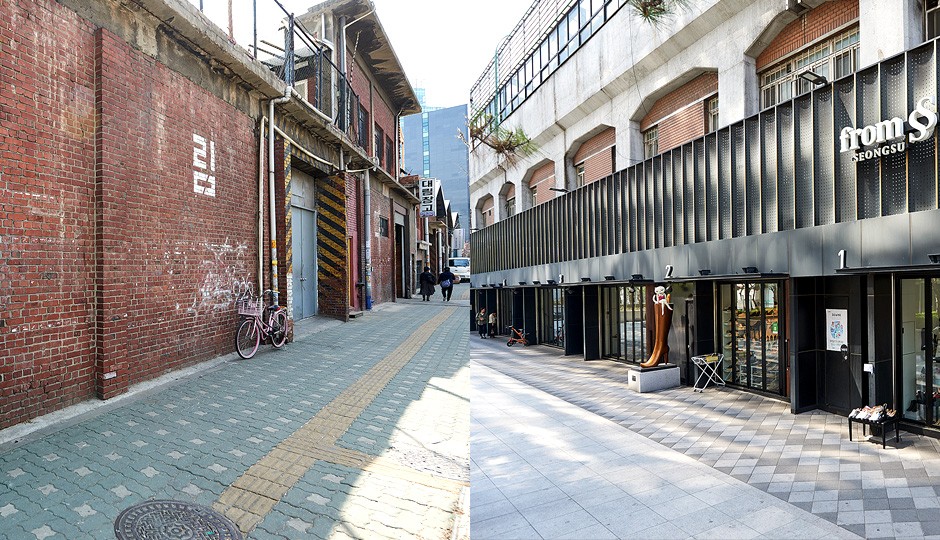 Seongsu-dong passageway between the factories and forests
Seongsu-dong refers to Seongsu Station and Ddukseom Station along Subway Line #2 and around Seoul Forest. It is an industry cluster composed of factories for printing, leather processing, and steel processing that flourished in the 1960s. However, the factories have left the neighborhood one by one, along with the economic growth of the market. Young artists have established studios at Seongsu-dong to take advantage of its convenient transportation and affordable rents. Galleries, studios, and cafés have moved into the alley, and the ateliers and social corporations in the residential zones are transforming the neighborhood into a cultural sphere. The factories that stayed have created a unique sentiment for Seongsu-dong.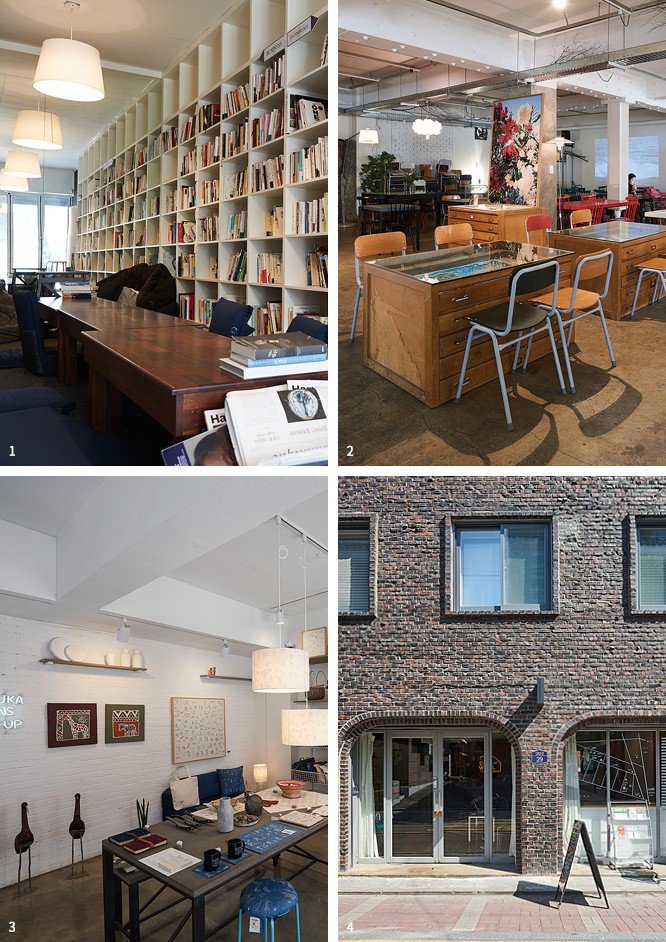 If you leave through Exit No. 1 or 2 at Seongsu Station, you will come across the handmade shoe street. The street has recently been renovated to open a shoe theme park that will help in supporting the handmade shoe industry. Beneath the Seongsu Station Bridge is a joint handmade shoe store called 'From SS'. Here, you can meet the store of Korea's first handmade shoe master and the handmade shoes of various experienced shoemakers. From Exit No. 3 of Seongsu Station, you will arrive to the printing street where you can observe the history of Seongsu-dong. 'Jageumachi', which is a café and cultural space that has renovated an old printing shop, has preserved the storage and structures that were used by the printing shop in order to display modern artifacts, books, and plants for a unique view. If you pass Jageumachi, an old brick building for storage will show. This is the 'Daelim Storage', and it is one of the oldest buildings in the neighborhood. After it was used for rice milling in the 1970s, it was turned into a storage lot. It barely survived from being demolished, and the inside has been remodeled to create a place for various events, installation art exhibition space, and photograph studio. The Ddukseom Station area around Seoul Forest is a residential zone with only a few factories left. The alley has attracted social corporations and fair trade stores. These stores have their own unique activities, but their common business belief is 'not to follow blind profit'. If you enter the alley at the left side of the Civil Center, you will see 'Penduka' and 'Smateria' run by 'The Fair Story', which is a company for fair trading. Penduka sells hand-crafted items embroidered by women in Namibia, Southern Africa and uses the profit for their independence. Meanwhile, Smateria recycles discarded products in order to create new fashion items. If you follow the alley, there is 'The Well Salon' where start-up business owners, artists, and brand marketers, among others, gather to share inspirations for innovative programs and contents for a better future. If you go further inside, you can also visit the 'Green Sharing Center', which promotes programs for the village, neighbors, and flowers, manages the Seoul Forest, and hosts flower festivals. Around the corner is 'Innovation Library', which is a small library that lends books for free and discusses social innovation. The wind of change is creating a new purpose for Seongsu-dong.