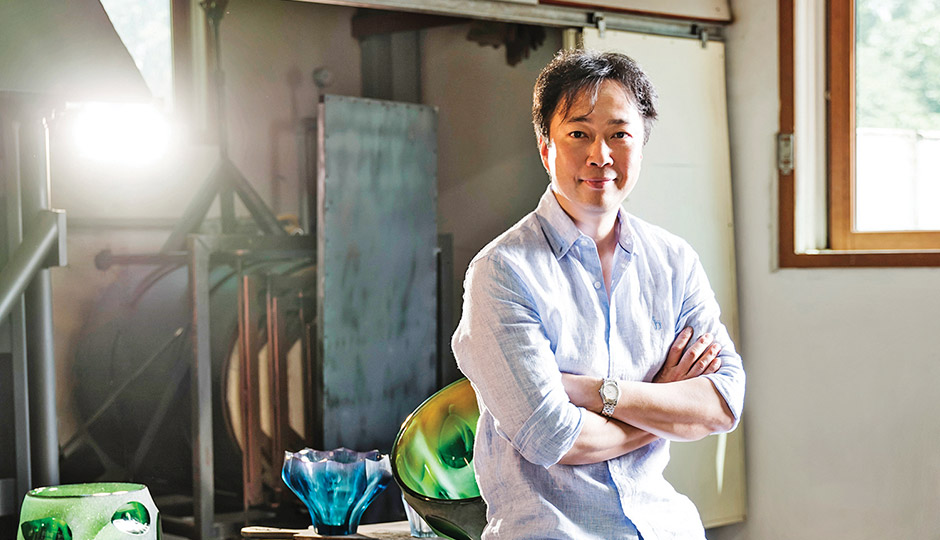 Kim Joonyong
When I first saw the artwork on the cover, it instantly reminded me of a blossoming flower.
I'm happy to hear that it seemed like my intention was intuitive. As you said, I titled it, 'Into the abyss,' as part of the Flower series, and it felt like it is pulling you in when you look at it from the top. My work is generally thick, but this piece has an extremely thin part. It would have been hard to acquire if you were the collector. I applied the gradation method to show the internal color of glass clearly, so it ended achieving the extreme.
I wonder how you would make the thickness of the glass gradually thinner.
Basically, glass craft makes use of the blowing method to breathe in air through a steel pipe. Then I add a polishing method to smoothen the surface. Therefore, I can achieve this thickness in gradation, and the difference in thickness transmits various rays of light. One of the most important properties of glass is transparency to let light pass through. I chose this method to take advantage of it as much as possible. Easily put, it is like the light and shade of ink paintings.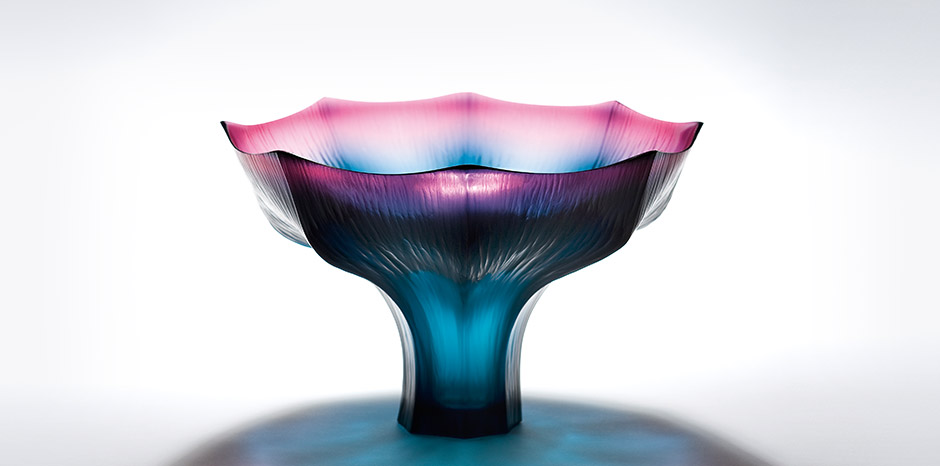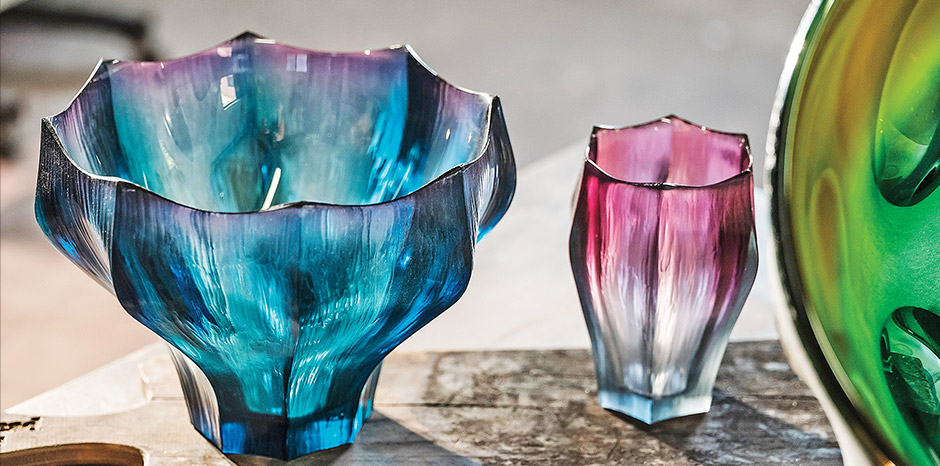 Is there a reason why you chose glass craft, which is not as popular as pottery?
I was mesmerized by the beauty of crystal before I went to college. I was hoping to make something beautiful out of it by myself rather than just appreciating it. But it was not easy to express such beauty. When you hang 10 kg of glass at the end of a heavy steel pipe, it feels like a child is swinging there. The glass sways in the form of a liquid substance. My pieces are about 30 to 40 kg in weight, so I need about 7 people to work with me. I sought the help of fellow artists who are strong enough to handle the weight of my work. Thus, I think I won't be able to do it when I get older.
Life is a series of lessons, and I wonder how you have reached the level of your current work.
I majored in Porcelain Art, so I found myself trying to create the feel of porcelain by using glass as material for nearly 10 years since graduate school. It was in the process of discovering my identity. I went on doing that until 2006, and then I felt something was missing. I even stopped working all together for 4 years after that. I met many artists during that time, and tried out various processes and methods besides blowing. Then I discovered my own color through polishing. Although it was not at work, the valuable experience made me who I am today.
You must have not only applied a new method, but you must have also changed your philosophy.
Of course! Looking back, I realized that I was only trying to express what I had learned theoretically. To evaluate myself more critically, I thought I was just working to show off. When I realized that there was no soul in my work, I spent more than 10 hours in front of the kiln every day for nearly 10 months. That was the happiest time of my life. Since then, I learned to finish working when a piece is complete, not when I have to meet a deadline for an exhibition. I used to project my thoughts through glass, but I am now discovering the original properties of glass.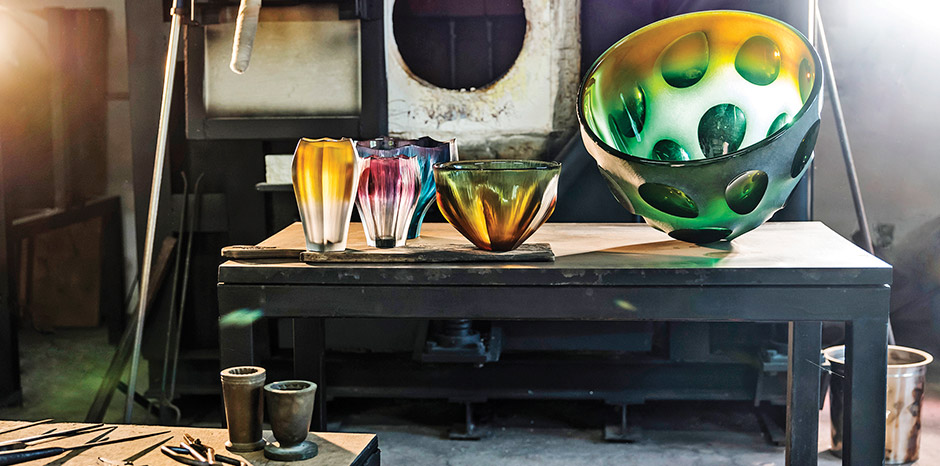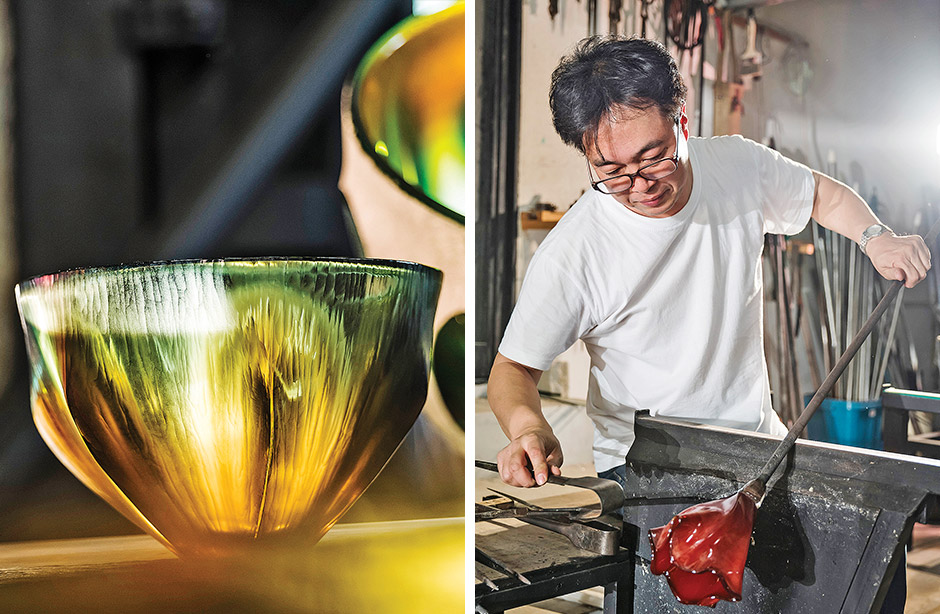 Then you must have changed the way you come up with ideas or topics?
Yes. Now I get my ideas from flowers and seeds in nature, and I express the emotions I felt while traveling with my family. I wish to capture the colors I discovered at dawn or the sad and heart-breaking splendor of the sunset. I am also concentrating on lens work. I was influenced by the work of Anish Kapoor. Glass absorbs the surrounding space because of its transparency. So I carve glass as a concave lens to create various images for each piece of work. I intend to learn more about lenses.
You must have concerns as a professor, not as an artist.
I started teaching in 2000 and I have been with Cheongju University since 2011, so it has been quite a long time. At first, I wanted to make all my students artists. In reality, however, only 2-3 out of 50 students become full-time artists. So I try not to be greedy to groom them into successful masters or artists, but I focus on helping them learn about society through 'glass,' as most of them will be out there looking for jobs. By possessing creative tools, they could easily adapt to any job. Most of my students find jobs at a design or interior design firm, and they tell me that the experience of handling glass helped them a lot.
Please tell us about your plans in the near and far future.
There still are many things I want to do and want to speak about. Like I said, this is such an intensive type of work, so I won't be able to make what I am making now in the next 10 years. But I would like to make everyday goods that are easy to use, and widely communicate with more people.