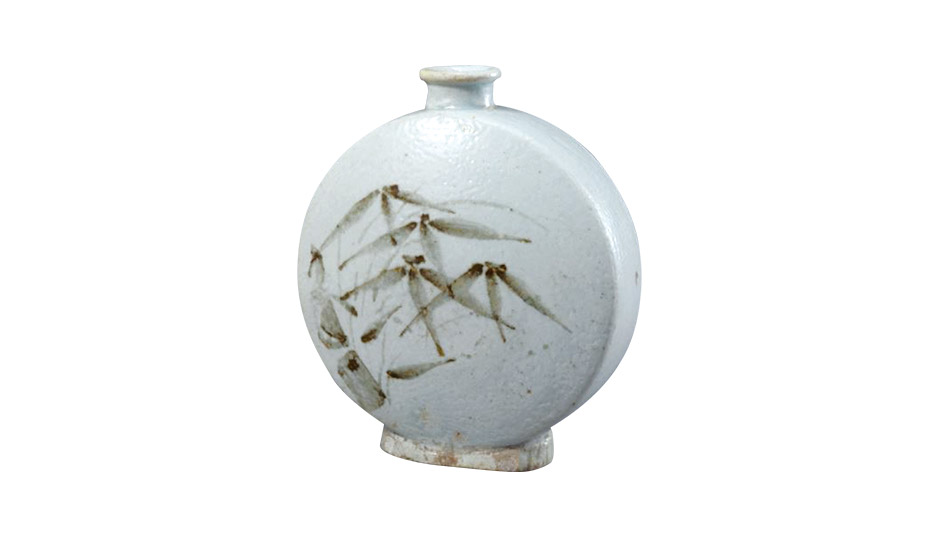 Flat Bottle: A Convex yet Flat Delicacy
A flat bottle, unlike an ordinary bottle, has a flat body. A round bottle is created on the spinning wheel, and its front and back are pounded to make it flat. It is not just flat, but it looks a little convex to achieve volume. This process creates a unique aesthetic for an object that is 3D with 2D characteristics.
The origin of the flat bottle can be found in China. A flat bottle was one of the porcelain vessels used in rituals during the Bronze Age of the Spring and Autumn Period and the Warring States Period in China. Through the era of the Southern and Northern Dynasties, the flat bottle became popular among foreigners in the north because it was easier for nomads to carry it on the horse saddle.
Korea also has the long history of flat bottles. The earthenware with just one side of the body that is flat existed from the age of the Three Empires, while Goryeo Celadon also included a new kind of flat bottle. By the time of the Joseon Dynasty, flat bottles were made as celadon with gray inlay, white porcelain, or black porcelain as they evolved into different shapes.
The white porcelain flat bottle with bamboo in iron inlay is a flat, round white porcelain with iron oxide inlay in the pattern of a bamboo. As it grows green and straight all year, it symbolizes the Confucian virtues of integrity and faith. The flat found porcelain vase of Artists Dae Jin An and Yong Joon Lee, inspired by the flat bottle of the Joseon Dynasty, presents a fresh brand of pleasure with its unique form and functionality beyond the typical.