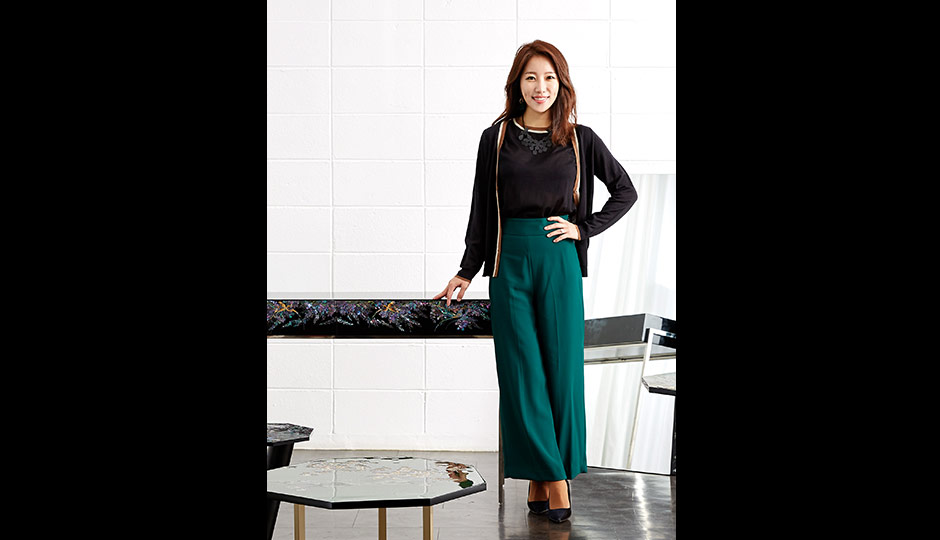 Ryu Ji An
It seems like you work mostly with 'mother-of-pearl' and 'lacquering.' First of all, I am curious as to how you got started on the craft.
While I was studying Interior Design, mostly involving furniture and architecture, in New York, I happened to visit a bamboo craft exhibition from Japan. I saw how they excellently reinterpreted their traditional craft with a modern twist and I thought I should get to know more about Korean traditional craft. I was motivated by the fact that "Our culture is relatively less known to Americans than the Japanese food or artworks." I determined that I need designs that reflect the identity of Korea in order to be competitive as an artist. So I started exploring mother-of-pearl and lacquering when I returned to Korea.
I heard you are running your own brand in addition to the creative activities.
In fact, it is not easy to work on two things at once. But I launched 'Arijian' in 2013 and I believe it is working pretty well. So I am now focusing on working as an artist who creates art furniture, objects, and lacquer powder using mother-of-pearl. That is the reason of my last creations in Paris, France in May and the following furniture exhibition at KCDF Gallery. My name means 'engraving light' in Chinese character. Just like my name, I want to continue engraving the lucid light of the Korean mother-of-pearl.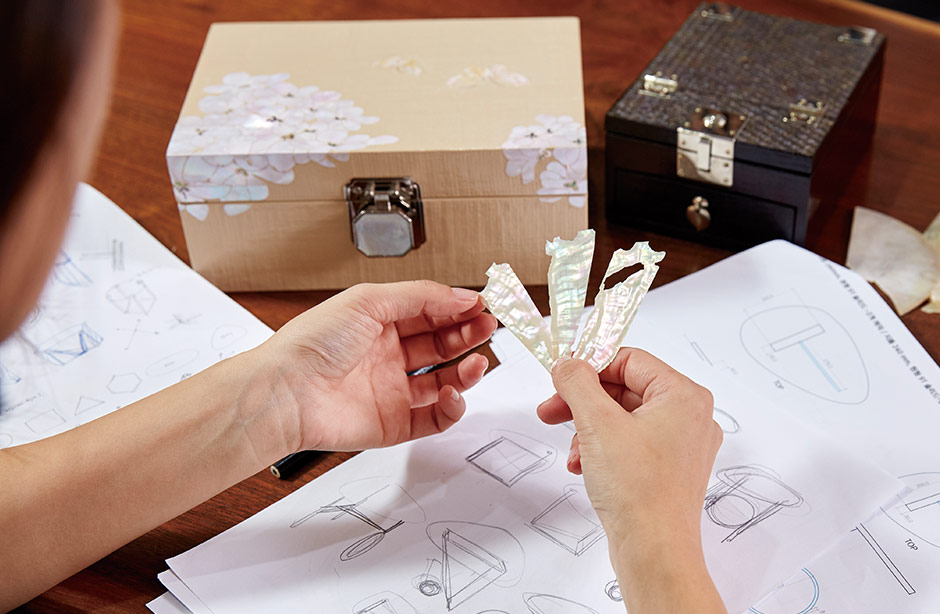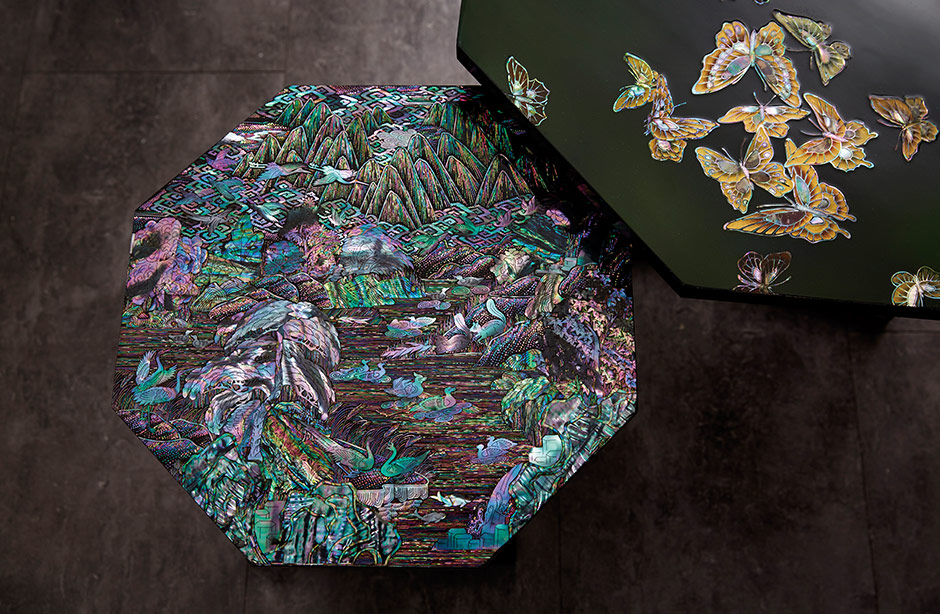 Your name has created harmony with the materials of your work. Is there a special reason why you chose mother-of-pearl among the many materials of traditional craft?
Mother-of-pearl is like jewelry. Like diamond is only valuable when it is refined, mother-of-pearl can diffuse its marvelous lust and can secure its true value only when it is elaborately crafted by a master. The traditional mother-of-pearl cabinet, which is a material of my work, becomes more attractive over time with the addition of rare value and classical beauty. Another reason why I chose mother-of-pearl is my husband's particular affection for his mother-of-pearl cabinet even though he has never lived in Korea.
What do you think makes you distinguished from other artists?
When I started working as an artist in Korea back in 2010, only a few artists modernly reinterpreted mother-of-pearl. So I did not think about how it would distinguish me from other artists. Instead, I tried to create various patterns for the traditional craft and apply my design style. For example, I emphasized the beauty of negative space by using pastel colors or arranging nothing but a stem of flower. Thankfully, my attempts were acknowledged and some of the government offices, such as the Ministry of Foreign Affairs and even Cheongwadae(The Blue House), chose to give my pieces as gifts to delegates at foreign summits. I was able to collaborate with various multinational companies in Korea and abroad.
Two types of artworks are very impressive: one was a console inspired by the traditional mother-of-pearl cabinet and the other featured a peacock.
They are two different projects. The console was the outcome of my 'Timeless Project,' which reinterpreted the old-fashioned mother-of-pearl cabinet that no longer fits the modern living space, in my own perspective and design. My clients come to me with the mother-of-pearl cabinets their mothers or grandmothers used to love and I restore the original lust of old mother-of-pearl or transform them into a new type of console, table, or cabinet with modern design factors. It is an extension of memory for my clients and an opportunity to meet with the past craftsmen beyond time and space for me. It is a remarkable experience as there are no craftsmen who can apply the old method anymore.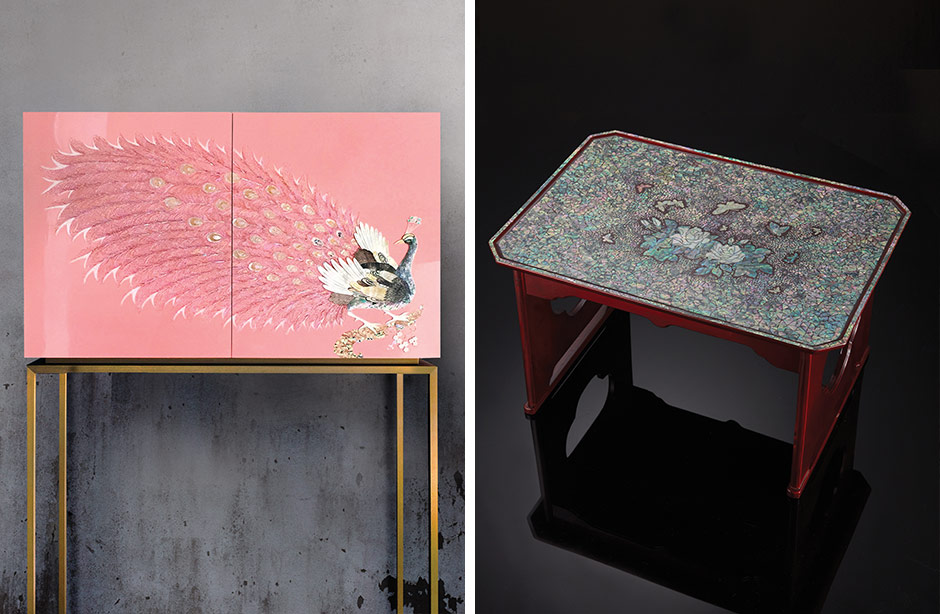 Then which project features the peacock?
The 'Peacock Cabinet' was inspired by the Peacock Room at Freer Gallery of Art in Washington D.C. I knew that the peacock was popular among the traditional patterns in Asia, but in western culture, too. It appeared in the Greek Mythology that many people are familiar and it also symbolizes elegance. With mother-of-pearl, I thought the colorful tails would diffuse different colors from different angles to maximize the glamorous beauty of peacocks.
Artists should create culture rather than following trends. What kind of design do you want to create?
I reinterpret the traditional craft of Korea, especially the mother-of-pearl craft, using my own perspective, but I do not want to be trapped in the walls of 'Korean design.' In other words, I want to create more universal designs that are widely accepted abroad. It is my dream to become a designer who reaches out to the universal sentimentality of mankind for the pursuit of beauty.
What are your plans for the future?
I am mostly working with mother-of-pearl and metal, but I am trying to adopt more variety in terms of materials and techniques. I want to show the possibility of modern aesthetics and use mother-of-pearl through various genres besides art furniture. While working on the 'Timeless Project' to connect the past, present, and future, I gratefully met many people who gave me such encouraging feedback. It feels great when I am playing the role of connecting their time of the past and present, and sharing their memories. Therefore, I will continue working on this project.