Actress
Kim Sung-kyung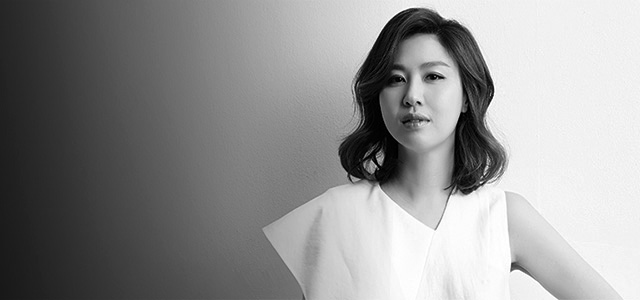 "As I passed the age of forty, I gained one piece of wisdom: being able to distinguish what I can or cannot do."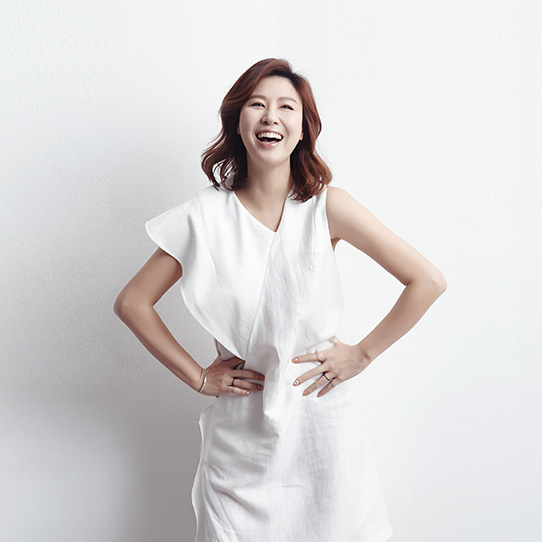 It was a cold winter three years ago when I had an interview with Kim Sung-kyung.
As I recall now, she was planning to go freelance and broaden her boundaries with the rise of all the new TV channels in Korea. In our conversation, she told me about her plans to leave the life of wearing suits and challenge herself to do different things in the world of broadcasting. Since then, I occasionally saw her on the news. And I was not surprised to see her appear on entertainment shows openly speaking her mind or hosting a talk show on current events. However I had never expected to see her at a production press conference for a drama as the main cast member. Her only previous experience had been in a supporting role and the change was beyond my imagination.
"Surprisingly, things happened one after another. Seeing me speaking frankly on the entertainment shows, the writers for the current events talk show Powerful Opponents contacted me. And a drama production company cast me after seeing me on Powerful Opponents. They said that my personality is exactly the same as the main character." At first, she turned down the offer, calling it nonsense. Then, when she called her sister (Kim Sung-ryung) to discuss it, she fully supported her saying that maybe it's time to broaden her horizons from focusing on being an MC. With her sister's approval, she was encouraged to dive into her acting career.
She began her acting career with the last year's Cheongdam-dong Scandal from SBS. She was featured in a supporting role and only appeared a few times, but the drama itself recorded a high viewing rate of 21% - a good start for her. Then she was cast as the leading role for this year's MBC's City of the Sun. The character she played was like a rushing bulldozer aiming to achieve success in life. Maybe her acting skill is innate.
"The only request from the head of the production company was to not learn how to act and just be who I am. Thankfully, I received good reviews from those around me. Actor Cho Hyeong-gi told me that I was smart for not going to an acting school and awkwardly trying to be an actor. He said it was better for me to simply show who I am." (laughs)
In fact, it's really common these days for former announcers to receive compliments on their acting. Baek Ji-yeon, Oh Sang-jin, and Kim Sung-kyung were all successful in their transitions. She agreed that it was probably because of their clear pronunciation and stable phonation. Maybe her career as an announcer was part of her acting practice.
Starting as an SBS announcer from 1993, she had survived over 20 years in the broadcasting field. Not many of her senior announcers are still at work – probably only Jeong Eun-a and Lee Geum-hee. Her key to survival was very simple: Do your job, and do it well. Her straight-forward and upright personality was a plus, and she has a clear stance on what is right and wrong, and everyone knows her likes and dislikes.
"As I passed the age of forty, I gained one piece of wisdom: being able to distinguish what I can or cannot do. For example, since I was an announcer, I felt that I was born with the ability to plan and host a show. But no matter how much I tried, I couldn't make other people laugh. I'm learning to get over these things that I don't have, and get help from others instead. When I was planning the upcoming talk concert, I tried to maintain balance by showing leadership for the parts that I could handle and leaving the rest to Kim Sook."
Her gift of planning came to the fore with Bad Girl, the opera talk concert jointly hosted with the comedian Kim Sook. The gist was to put the heroines from famous operas on the spot and talk about the types of women by era. Kim Sung-kyung was involved with everything, from planning to casting to hosting the show.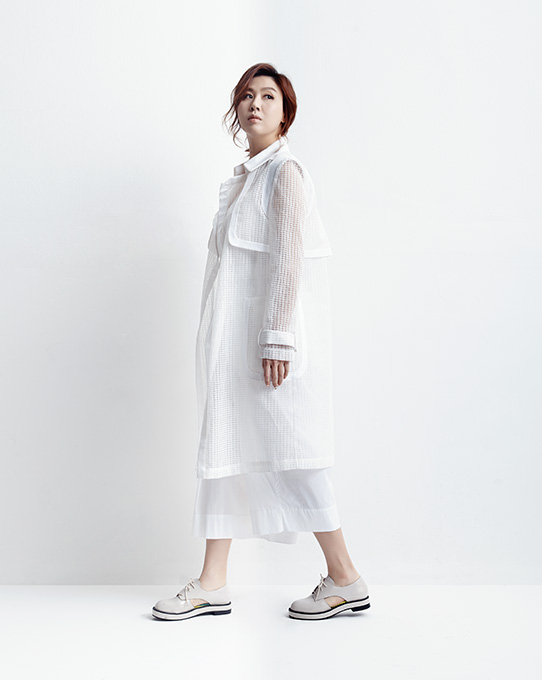 "The key in this show is the harmony of Kim Sook and I. Many considered the combination of Kim Sook and opera, and Kim Sook and I fresh. When hosting the show, we double each other's strengths. Sook makes the audience laugh, and I wrap up with my lecture. It feels more organized this way."
The show was arranged because she was close to Kim Sook and because both were deeply interested in art. When this idea hit her, her planning skill and initiative shone the brightest. She already has plans to make the show into a series with the heroines from ballet, art, and Korean classical music.
The show was more than just a discussion about art. Since the title of the show was Bad Girl, she had to explain why she is bad. However, writing out her life on paper was tougher than expected. She rewrote it over 10 times and still felt like it wasn't enough. Writing just a few sentences made her reflect on her whole life.
Balanced inner and outer beauty is another form of art, and it fascinates and impresses those who see it."
"As I edited the part that explains why Kim Sung-kyung is a bad girl, I was able to organize the thoughts on myself. When I was in the newsroom for SBS, everything was normal in my life and there were no failures. Then I got divorced and left the company. Suddenly, the two strong walls that protected me – family and company – had disappeared. That's when I decided to build the wall for myself, and it was done by being myself on TV, keeping my own principles. Sometimes I was viewed to have a difficult personality, but I think that is how I survived in the broadcasting field for all these years."
In Strong Opponents, the co-hosts call her an 'old' or 'outdated' announcer as a joke. It was maybe something that could upset her, but she laughs off. Honestly, she was going to give herself a pat on the back for enduring in the war-like industry for twentysomething years. More challenge means more excitement for her.
She worked every single day this year without a rest, but strangely she does not feel tired. Physically she may be drained, but she feels light-hearted. If drama was an exciting challenge, planning a talk concert was a thrilling pleasure. And this is why she can sum up the year with a single word: 'fun'.
Even today, she doesn't stop making her name known to the public. As a bad girl or a lady thirsting for success in a drama, the title is not important. She tells us who Kim Sung-kyung is with sincerity and draws a step closer to the audience.