Designer
Lee Ji Sun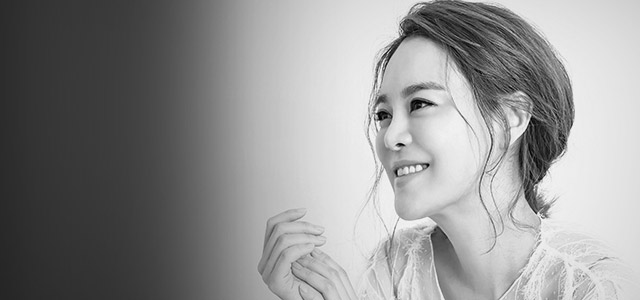 The Fantasy of Creation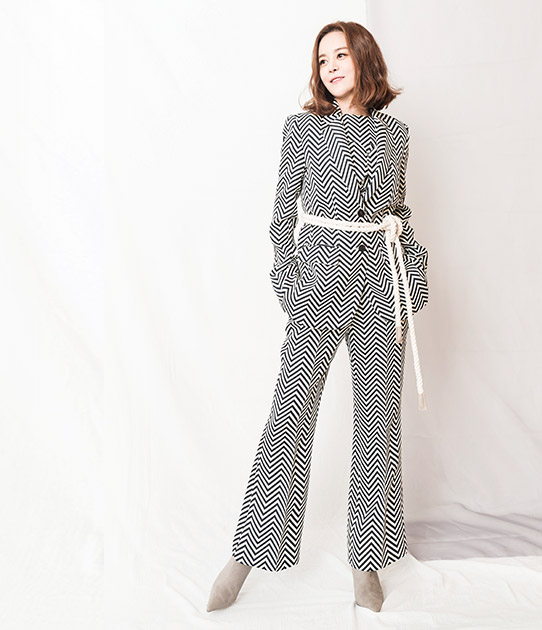 Designer Lee Ji Sun is familiar to us because she was crowned Miss Korea in 2007.
She entered the beauty pageant by chance while studying abroad. Her sophisticated looks, graceful attitude, and bright eyes instantly attracted attention. However, she was not agitated by the attention. She looked at herself from her perspective, not from others' perspectives. She was free. She chose what she wanted to do, not what others told her to do. "I got a lot of attention and experienced a lot. It was a chance to examine myself. I was able to think deeply about who I am. I have always wanted to be a designer. It was long, tedious, and hard, but I really wanted to do it. So I decided that I should stick to it regardless of other temptations. Now I'm satisfied with that decision. If I were born again, I would still choose to be a designer. Nothing makes me happier than creating something."
Fashion is an important element for women, or for mankind in general. A piece of outfit can decide how you feel and how you dress up decides how you behave. She finds that what she does is truly important every time she feels the pleasure of giving the present of a well-made outfit and sees people happy in her garments. "Being a person who gives off 'good vibes' is the only thing I want for my child and what I think is most valuable in life. I placed a piece by Frank Stella at the main foyer of my house. It's very unique and dynamic. It's my source of energy every morning and evening. It's not just for me, but for everyone I encounter."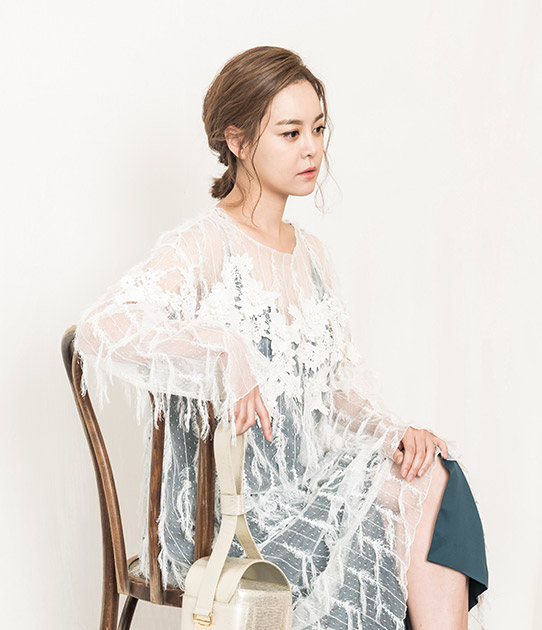 Accept Good Things to Make Good Things
It is not just from Frank Stella's painting where she gets positive energy. There are many other sources of good energy. She believes that it is her job to accept good things since it is her job to present something new.
"I often travel to quiet rural towns these days. I visited Gyeongju and Boseong Green Tea Field a while ago. It was my first time in Boseong and I just stood there by the entrance for quite a long time. The enormous tall trees paved the way and the neatly aligned green tea fields along the way were so beautiful. I breathed in good air and took enough time to walk around the quiet tea field. I get my inspirations from nature, streets, art, and any other genres. What is most important is sharing the high quality of sentiments I have inside with others."
There is a simple reason why she absorbs all the positive things. It is to express the public needs and the brand's sentiments simultaneously. If you do fashion for business, not art, you can easily lose balance. Lee makes ceaseless efforts to maintain balance. That is why the collections of J Apostrophe feel like tall, healthy trees growing in a favorable environment. As a result of her efforts for balance, she presented to the world the kids line 'Little Stella'. This is another outcome of harmony between customer needs and her own sentiments. "As my daughter, Tae Hee, grows up, I have had some needs as a customer myself. I always had difficulty with shopping for her because high-quality kids' outfits were too expensive or the trendy SPA brands that carry a wide lineup of sizes were not very good quality-wise. I thought it would be nice to have affordable, pretty, and quality outfits for growing children. I talked to other mothers who would be my customers and they all had the same ideas. I took an action right away and launched a kids' brand named 'Little Stella' after my daughter's name, which means 'bright star.' The line is getting some good reviews I'm glad."
'Little Stella' is growing rapidly just a year after launching. It's widely beloved on both online and offline platforms and is continuously expanding. Her daughter, Tae Hee, who is the first and best customer of 'Little Stella,' is Lee's best supporter. She kindly understands it even though she can't spend much time with her mom. Lee is thankful that her daughter is growing up healthy and happy without putting blame on her busy mother. Her daughter's positivity also brings good energy to her. "I want to maintain balance between family and business. I hope that my sacrifice and love can bring many inspirations and love to the people around me. I want to be a designer whose life is reflected on her great designs to give the gift of good life to those who wear them."
You open the door called Lee Ji Sun. Bright light shines through. We can enter her world freely and without any difficulties. Her world is inside. It's a world created by someone who has an insight for good things. She pours her positive energy to constantly create something new. When you come out from that door, you become a door yourself. That door will let good energy in and out for sure. To help ensure better lives, we would probably open Lee Ji Sun much more often.