Broadcaster
Mi-na Son

Her big question to us all: "Are you happy right now?"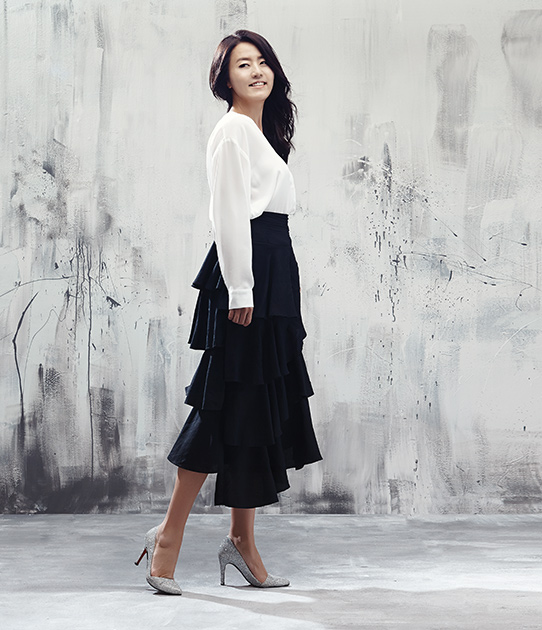 When I heard that Mi-na Son will be the head of the School of Life's Seoul branch, I thought that made a lot of sense.
The School of Life was a continuation of what she has been telling people for a long time now. The social activities she has performed as a news anchor, travel journalist, and the CEO of Son Mi Na & Company are actually connected to each other like different shades of one color. First, through the Sprout Lab, she introduces to Korea a traveling culture that is more about rest and relaxation than consuming things. This year she gave 15 underprivileged youngsters the gift of trips abroad. One of the young girls told her that her home didn't have any electricity. She also said that the trip brought light to her life, and Son was deeply moved. The company's podcast is called Ssaksu Dabang and is also doing well. Celebrities share their humble travel stories with the audiences, letting them live vicariously through the celebrity's adventure. If you listen carefully, you can be transported to a quiet street in Europe. In other words, her company is doing its part to find various ways to bring joy to the hearts of the people with the topic of travelling. The School of Life, which will open soon in Korea, has been called a school for the grownups. It was founded by philosopher Alain de Botton in London in 2008 and has spread to nine cities. Son will be the director of its Seoul Office, working as de Botton's partner.
"The School of Life doesn't teach a particular type of knowledge. Rather, it's a place where you can share emotional knowledge and reflect on how to nurture it. The topics for class are things we all need to know about in our lives but which are not easy to talk about with others. For example, how to spend time alone without feeling lonely, how to get over breakups faster, and how to succeed in online dating."
These topics are truly original. They are sweet, unique, and we all need them so desperately. The questions that would suffocate you in other places such as 'what is a happy life' will be asked openly and naturally here.
The most persuasive reason for this school to exist would be the self-confession of Alain de Botton, the founder. "I was educated at Cambridge, one of the best colleges in the world, but when I graduated and confronted life, I realized that I had not learned what I must know in order to be truly happy in life." He isn't the only one with this problem. This is how we feel today and what Son felt in the past. She crossed off the things on her to-do list every day as the head anchor for KBS. Everyone told her she was in her prime, but she felt anxious because she knew something was missing in her life. She was afraid she would tell others the same thing over and over again if she kept on living like that, so she decided to just leave. It was the moment she was asking herself the most basic yet unfamiliar questions about life. "Many friends and family expressed their concern. They told me there would be no space open for me when I return. But I didn't have a doubt in my mind because I had worked really hard. There were more than 1,000 videotapes that monitored the program I had taken part in. I told myself that I would quit this line of work if I was to be easily replaced despite all the hard work I've done."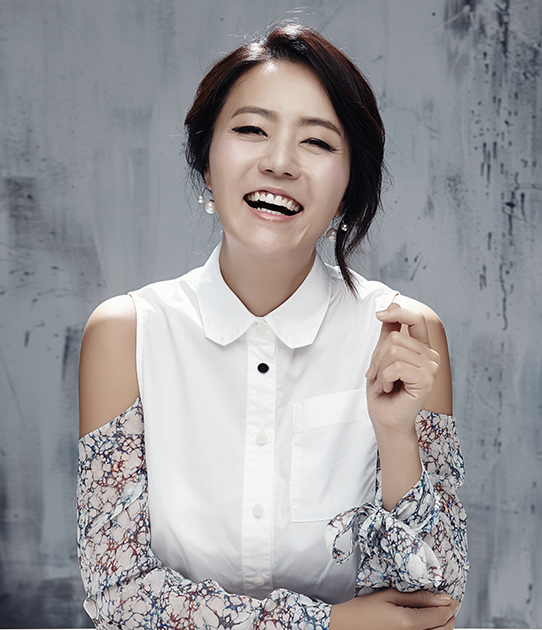 She realized two things in Spain—how great KBS is, and that life still goes on outside its boundaries. She leaned toward the latter.
It was when she realized her life could still be amazing even without the gemstone in her hand, she was able to challenge herself to do anything. She became a best-selling travel author, publishing a series of travel journals, starting with "Spain, You Are Freedom," and solidified her status as an author with her novel "Who Drew Mimosa". It was not easy to complete the novel but she was driven and eventually did it. She could have settled as a popular author. She returned from Europe at the end of 2012 prepared to do something new, but everything took a different turn when a college newspaper journalist requested she take hold of social responsibility and be an example for society.
"On hearing that, I carefully looked back on myself. If I were a chef, I would be someone with a bunch of pretty unique ingredients. I had met many people while traveling and had a lot to say based on my various experiences. I thought it would be more valuable to create a big dinner table and share these experiences, rather than trying to fit everything on a single plate for myself."
The big dinner table that she set is the Son Mi Na & Company. To keep her promise to share the value of social responsibility, she is trying to be a positive role model for others through her books, the Sprout Lab, and the School of Life. No matter how many titles she has as a CEO, director of the School of Life, author, and editor, the way she fills her life is still through traveling, writing, and publishing books. Not surprisingly, despite her busy life, she recently announced that her new book about her trip to Peru will be released soon. With the influence of her father, a historian, she had admired the mysteries of Machu Picchu and the vast desert of Peru for a long time. In fact, Peru was a land full of surprises for her. She is currently writing the book and she is very enthusiastic. "My heart was still in Machu Picchu yesterday," she said during the interview. It was such an impressive destination. When I heard her story, I could understand why she kept on smiling just thinking about it.
"While in Peru, I couldn't help but keep asking how it is all possible."
"I couldn't believe how they moved the 300 tons of rocks up the cliff to build the city of Machu Picchu, but that wasn't all. Peru still had many interesting stories throughout the country. For example, there is 'oxygen tank' on the list of room services available in the hotels on the highlands of Peru. My travel journal about Peru will be filled with truly dynamic stories."
Now all that is waiting for her is a hectic schedule. She will be publishing her travel journal about Peru sometime in September, and get ready for the opening of the School of Life in Itaewon in October. She also has a grand plan to start a new novel. Although she is taking different approaches, the stories she wishes to tell have not changed. She knows that taking a little step back once in a while helps to see life more clearly. Take a short trip or knock on the door to the School of Life to make your life happier. A holiday would be a hard-to-resist suggestion for anyone who is willing to take it.