Musical Actress
Park Hye-na

"I played hard even as a supporting role and even if the play was cancelled."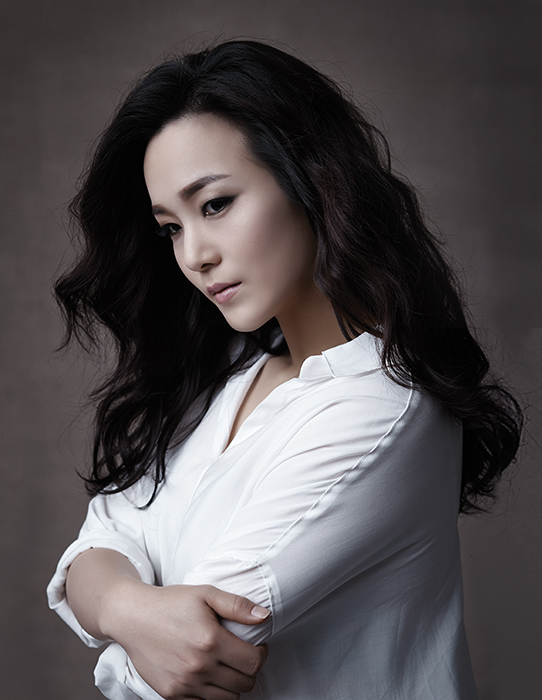 Without a doubt, the most popular debut piece would be Wicked.
It was the first time that she was cast for a big licensed show and also the first time she made her name known to the public. Wicked is a musical based on the bestselling book of Gregory Maguire that twisted the classic, The Wizard of Oz, with an extraordinary imagination. She played the role of the green witch Elphaba. Those who watched the musical would understand the whole fuss on Broadway about this show. The songs sung by the girl with the emerald green-skin covering her face seized the hearts and minds of the audience. As the show proceeded, the audience whispered to find out who that charming green witch is and where she has been.
The audition for Wicked was the luckiest thing to her - just like the cliché saying work hard so that the perfect opportunity can present itself. But if someone says it was entirely luck, then she would have a lot to say. Until Park Hye-na stood in the center of the stage as a green witch, she had to go through a tough 7 years as an obscure actor. After her debut in 2006 with Mister Mouse, she played in multiple pieces including Singles, Waiting for a Hero, Midnight Diner, and Lovers in Paris, but none of them ever appealed to the public. She was one of many actors in Daehangno, which is Seoul's big theater district and full of theater groups. It was natural for her to wonder about her future as an actress. Her toughest time came around 2009.
"The first show I was cast in the lead role, the original musical My Sweet Seoul, failed. My goal was to be the star and even if I had to be the supporting actor, I was going to work hard, even if the play was cancelled. Finally I got a main role, but after our last show, I was unemployed." (laughs)
Her heart sank. She had fulfilled her dream of playing the lead, but after the dream was greater emptiness. It was not easy adapting to a life of an unemployed for nearly seven months after having stood in the center of the stage as a star. The foundation was shaking and she questioned whether to continue her career. The more she felt empty, the more she made herself occupied. She was busy learning ballet, jazz dance, and singing or working out at a gym. Thankfully, she grew confident without knowing exactly why. It was a good sign. And soon, director Cho Gwang-hwa suggested the role of Nansaeng in the musical Namhan Castle.
"At the team workshop, there was a time to introduce yourself and I did so as musical actress Park Hye-na. The director said he was surprised to hear me call myself a musical actress. I looked back, and I found out when someone asked me what I do, I always said I freelance. I was reluctant to introduce my unstable career as a musical actress. As I joined Namhan Castle, I grew more confident and responsible about my job as an actress."
Actress. Why did it take so long to become confident enough to say this word? It wasn't simply because of the unstable future. To a kid whose parents were public officials, actors were special people. Creative, artistic people leading extraordinary lives. But Park Hye-na? She was hesitant to associate herself – quiet and modest – with words like actress or star. Am I qualified to be an actress? There was so much doubt in her mind.
Her beginning as an actress started with an application that she submitted coincidentally. Just like other high school students, her main focus was on studying. When she didn't get into the university she wanted, she decided to take an extra year and try again. But she also wanted to take some rest, so she attended a musical workshop and fell in love with singing and dancing. At that time, she wasn't even aware of the genre called musical.
"My father loved LP records, and my sisters always had the radio on playing Starry Night. Perhaps that is why I grew to love singing and dancing. Until I met director Koo So-yeong at the workshop, I wasn't sure if this was my path. Afterwards, I was certain."
Life consists of little ties connected together forming a line. The LP records of her father, the musical workshop, and the years working as an obscure actress. These made her who she is today. After Wicked, she was cast for famous musicals like Sherlock Holmes, Dream Girls, and Death Note. And she is now a heroine of the stage.
"I want to be humble and focus on my work."
Death Note, her current musical, is unique in many ways. It is based on a popular Japanese manga series, and the music was composed by Frank Wildhorn, the composer for Jekyll & Hyde and The Scarlet Pimpernel. She had enjoyed reading the manga series when she was a student, so she welcomed the character. Plus, the role assigned to her is the fantastic death god Rem. She stands out with a powerful presence, using smoky makeup and white suits.
"The ambiance for this piece is very special. It's a musical, but it emphasizes the feeling of a play. And just like a play, the stage and the lighting are kept as simple as possible to attract attention to the acting. You will be able to see the action and reaction between the actors more closely."
It is easy for famous actors to feel great when they are surrounded by new fans. Park Hye-na feels the same way. She gets cast for big parts all the time, and is welcomed by crowds whenever she comes out of the theater. She's also loved by all the supporting actors. These are the things she dreamed of when she was struggling in the past. Fortunately, she has a calm personality and can handle the environment well. In fact, this was why she was cast for Wicked. The director mentioned how he thought Park had a similar personality to Elphaba, someone who is able to endure the hard times and find the right path forward.
"I just want to be humble and focus on my work. The answers I found during my years as an obscure actress were very simple like 'do better than yesterday', or 'enjoy the stage'. I don't want to feel burdened or be shaken by the expectations of others."
Park Hye-na was born quiet and calm. She's the type of person who keeps her energy inside until she goes up on the stage and lets it all out. Once the curtain is lifted and the orchestra starts, her intensity is visible for all to see. This is the real Park Hye-na.