News
Perfecting Cushion Brightening, an illuminating power brighter than light itself
Sulwhasoo Perfecting Cushion Brightening leaves you with a powerful brightness found from flawlessly bright Pearlescent Complex and magnolia extract.
Sulwhasoo's Perfecting Cushion Brightening restores your skin's naturally bright radiance. Three women with beautiful skin reveal their secrets to timeless skin perfection.
Adding a deeper radiance
"I like natural makeup that looks like my real skin, so the light, translucent-looking coverage I get with this great."
- Actress Jung Hye-young
I think my ideal skin would be skin that feels natural, like my own. It's the type of skin that makes one think, "She's really taken care of her skin." That's why Sulwhasoo's Perfecting Cushion Brightening grabbed my attention right away. It gives me a natural radiance and smoothness, with a brightness that seems to come from deep inside the skin. And it looks like my own skin!
Snowise EX Whitening Serum helps recover the natural glow within your skin
Snowise Tri-White Complex™ contains the world's first ginseng brightening formula. It penetrates deeply into your skin to erase the yellow hue and dull tone, and help recover your natural, translucent radiance.
Brighten your skin with licorice purifying water
Using our licorice extract instead of purified water to purify skin, our formula helps your skin get the extra boost of brightness it needs.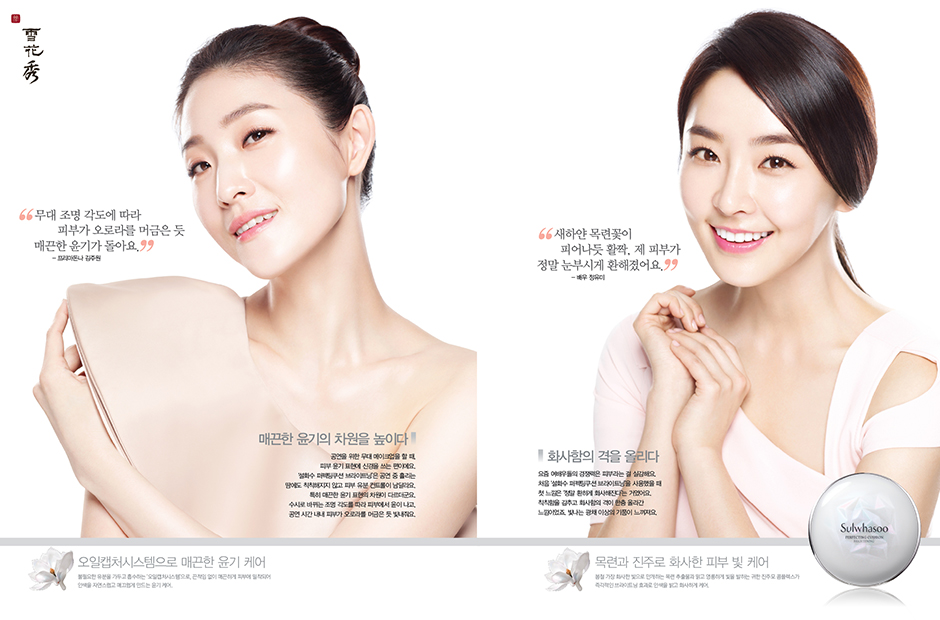 A naturally smooth radiance that is a step above
"Depending on the lighting angle on stage, this product brings a smooth radiance to my skin. It's like an aurora."
- Prima Donna Kim Joo-won
When applying makeup to go on stage, I focus on achieving a bright radiance, with flawless skin coverage. Sulwhasoo Perfecting Cushion Brightening's oil control formula is different from all the others and can withstand sweat throughout my performance. Best of all, it has a smooth radiant coverage that simply goes a step beyond. Depending on the lighting angle on stage, it gives me an aurora-like radiance throughout the entire performance.
The Oil capture system creates a smooth and radiant finish
The Oil capture system absorbs excess oil and glides easily onto the skin to provide a natural and smooth radiance.
Another level of brightness
"My skin becomes dazzlingly bright, like the brightness of freshly blossoming white magnolias,"
- Actress Jeong Yu-mi
These days it seems like if you want to be a great actress you need to have great skin. It's like a competitive edge. When I first used Sulwhasoo Perfecting Cushion Brightening, my skin looked so radiant and bright. It erased dullness and gave my skin another level of brightness. I feel more elegant and radiant.
Brightens skin with magnolia and pearl
Magnolia, which blooms with the bright light of spring, combines with Pearlescent Complex to give your skin an instant translucent radiance and bright glow.