2015 Sulwha Cultural Exhibition《Once upon a time: tale of crape myrtle》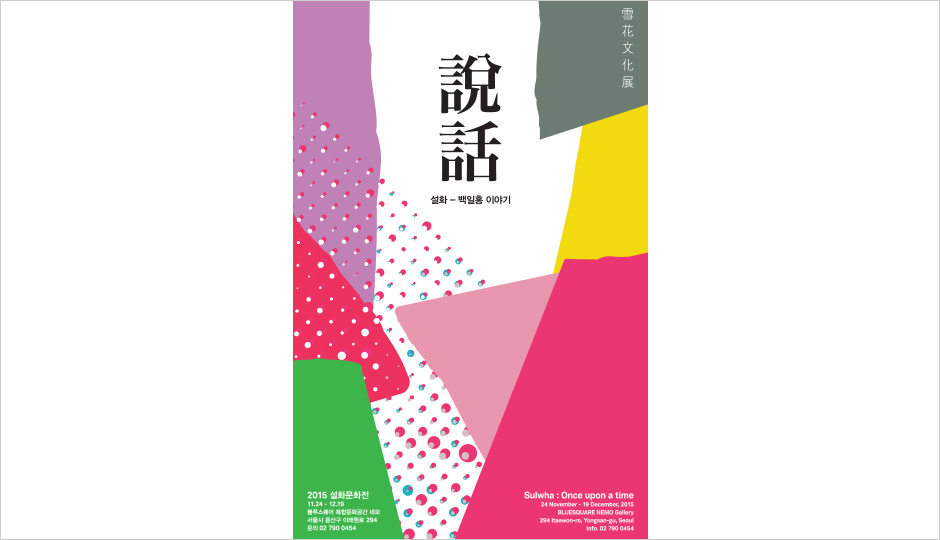 Contemporary reinterpretation of traditional culture to build cross-generational bridge
- Sulwhasoo hosts the 2015 Sulwha Cultural Exhibition at Bluesquare NEMO Gallery in Hannam-dong, Seoul, Korea from Nov. 24 through Dec. 19.
- Contemporary reinterpretation of 'tale of crape myrtle,' a multi-genre twist of traditional folklore
Sulwhasoo, a holistic beauty brand that presents beauty of harmony and balance inspired by Asian philosophy and wisdom, hosts "The 2015 Sulwha Cultural Exhibition《Once upon a time: tale of crape myrtle》 at Bluesquare NEMO Gallery in Hannam-dong, Seoul, Korea from Nov. 24 (Tue.) through Dec. 19, 2015 (Sat.).
For the past 9 years, Sulwha Cultural Exhibition has been a representative culture Mécénat program of Sulwhasoo. It was served as a platform for cultural communication, which helped the modern and tradition to evolve in harmony. In particular, Sulwha Cultural Exhibition is recognized for its bold step in 2014, going beyond the portrayal of tradition itself towards the contemporary reinterpretation of traditional culture. The exhibition took itself to a higher level, in that it enabled contemporary artists to give expression to various traditional elements, which symbolized the five senses, from their own perspectives. This eventually made a strong appeal to younger generations and promoting cross-generational exchanges and connection.
The 2015 Sulwha Cultural Exhibition seeks to build up on the success and expand the meaningful communication in Sulwhasoo's unique way. That is, Sulwhasoo embarks on its search for elements of imagination from Korea's traditional folklore stories in partnership with young contemporary artists from different genres, reinventing tradition from a contemporary point of view. The 2015 Sulwha Cultural Exhibition is set to create greater engagement and connection with younger generations through a new and intriguing cultural exhibition. For this purpose, the Sulwha Cultural Exhibition has chosen "tale of crape myrtle", an old story known to most Koreans from their childhood, as this year's theme. It is expected to be an unprecedented exhibition titled as 《Once upon a time: tale of crape myrtle》
The 2015 Sulwha Cultural Exhibition 《Once upon a time: tale of crape myrtle》 brings back the heart-wrenching story of eternal love to life with a modern touch by breathing imagination into the folktale. Symbolic motifs in the traditional folktale - good and evil, commitment and promise, meeting and parting, death and reincarnation – are reconstructed with varying and unconventional viewpoints. The playful and unexpected twists will encourage visitors to look at the familiar story with a new perspective. In particular, installation artworks, which make use of the unique structure of the gallery building, will introduce visitors to different genres of art and allow them to engage in the exhibition in their own way.
The 2015 Sulwha Cultural Exhibition opens to high expectations by bringing together 11 rising, young contemporary artist groups from various genres – installation art group: Monocomplex, interactive artists: teamVOID, architect: Daesong Lee, designer: Dongjoo Seo, installation artists: Minseop Yoon, Chaewon Kim, Jihyun Boo, Youkyeong Oh and Sungim Choi, song writer: Jaemyoung Doe, illustrator: DEARDAYS. Such participation from different genres is raising expectation for how far their imagination can take.
For more information about the 2015 Sulwha Cultural Exhibition, please visit Sulwhasoo's instagram (https://instagram.com/sulwhasoo.kr) and facebook (www.facebook.com/sulwhasoo.kr). For those, who have made reservations in advance via the official website (www.sulwhaculture.com) and mobile will receive an invitation to ensure priority entrance to the gallery.
2015 Sulwha Cultural Exhibition
Period: November 24, 2015 (Tuesday) ~ December 19, 2015 (Saturday)
Venue: Bluesquare NEMO Gallery in Hannam-dong, Seoul (294, Itaewon-ro, Yongsan-gu, Seoul
Opening hours: The exhibition is open every day during the exhibition period:
Weekdays: 11:00-20:00
Weekends: 11:00-19:00
Contact number: +82 2-790-0454
About Sulwhasoo
Sulwhasoo believes in a holistic approach to beauty and skincare, providing the ultimate skin solution that carefully treats our inner and outer beauty. The approach harmonizes our natural beauty with ancient Asian wisdom and legendary Asian medicinal herbs to restore the delicate equilibrium between body and mind. The Sulwhasoo brand gains wisdom from the laws of nature and lavishes your body with the rare and precious ingredients of nature in pursuit of that ideal beauty. Sulwhasoo showcases the value of holistic beauty to the world with the Jaum Balancing Complex ™, our unique solution designed to supplement yin energy and help reverse aging by restoring the skin's balance. The formula uses just five precious ingredients, carefully selected from a list of more than 3,000 medicinal herbs, including Korean ginseng, the legendary ingredient that makes Sulwhasoo's unique formulas even more special when combined with our cutting-edge bioconversion technology. As of 2015, Sulwhasoo has stores in South Korea, Mainland China, Singapore, Hong Kong (China), Thailand, Indonesia, Malaysia, Taiwan, Vietnam, and the U.S., successfully thriving as the Asian beauty creator.