Sulwhasoo Men reveals new Refreshing Cleansing Foam and Age Defying Cream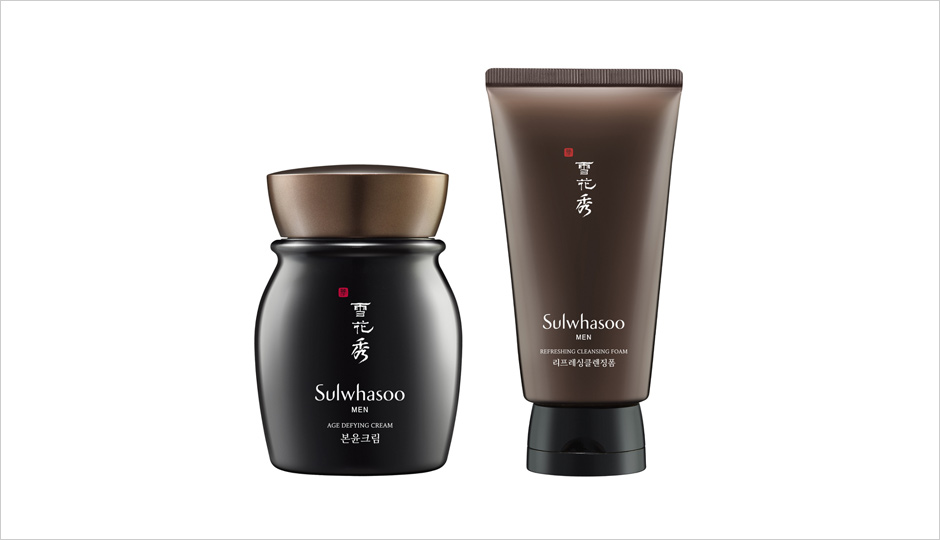 "Sulwhasoo Men Line to Create Vibrant Skin"
Sulwhasoo Men reveals new Refreshing Cleansing Foam and Age Defying Cream
Refreshing Cleansing Foam is a daily exfoliating cleansing foam with natural powder particles
Age Defying Cream is an intense moisture anti-aging cream for men with sensitive skin
Sulwhasoo, a holistic beauty brand that prizes the beauty of harmony and balance inspired by Asian philosophy, proudly introduces Refreshing Cleansing Foam, a new cleansing foam for men, and Age Defying Cream, a new and improved anti-aging cream for men.
Refreshing Cleansing Foam is the most recent addition to the Sulwhasoo Men line since Inner Charging Serum and Age Defying Cream. It is a daily exfoliating cleansing foam containing natural powder that is perfect for gentle exfoliation. The rich yet delicate foam thoroughly cleanses the impurities deep inside your pores, while the harmony of the invigorating herbal fragrance and woody scent awakens your skin's senses as you cleanse and refresh.
Sulwhasoo Men's Age Defying Cream is a deep-hydrating, anti-aging cream that contains Ginseng Seed Oil to prevent signs of aging and leave your skin hydrated and revitalized. The Ginseng Seed Oil in the Age Defying Cream is a precious substance that can be gathered only once a year and effectively restores your skin's natural resilience, protecting it from such harmful environments as a dry climate and leaving your skin youthful and powerful. The nourishing and rich texture of the Age Defying Cream is rare for men's cosmetics. It penetrates your skin amazingly fast for long-lasting hydration without excess shine or stickiness.
Sulwhasoo Men's Refreshing Cleansing Foam and Age Defying Cream will be available at Sulwhasoo stores from October.
Sulwhasoo Men Refreshing Cleansing Foam
Size/Price: 150ml / Approximately 30,000 KRW
Released: October 2015
Sulwhasoo Men Age Defying Cream [Wrinkle Correcting Cosmetics]
Size/Price: 40ml / Approximately 90,000 KRW
Released: October 2015
Inquiries: AmorePacific Corp. Customer Center (080-023-5454)
About Sulwhasoo
Sulwhasoo believes in a holistic approach to beauty and skincare, providing the ultimate skin solution that carefully treats our inner and outer beauty. The approach harmonizes our natural beauty with ancient Asian wisdom and legendary Asian medicinal herbs to restore the delicate equilibrium between body and mind. The Sulwhasoo brand gains wisdom from the laws of nature and lavishes your body with the rare and precious ingredients of nature in pursuit of that ideal beauty. Sulwhasoo showcases the value of holistic beauty to the world with the Jaum Balancing Complex ™, our unique solution designed to supplement yin energy and help reverse aging by restoring the skin's balance. The formula uses just five precious ingredients, carefully selected from a list of more than 3,000 medicinal herbs, including Korean ginseng, the legendary ingredient that makes Sulwhasoo's unique formulas even more special when combined with our cutting-edge bioconversion technology. As of 2015, Sulwhasoo has stores in South Korea, Mainland China, Singapore, Hong Kong (China), Thailand, Indonesia, Malaysia, Taiwan, Vietnam, and the U.S., successfully thriving as the Asian beauty creator.