Sulwhasoo presents upgraded'Snowise Brightening Serum'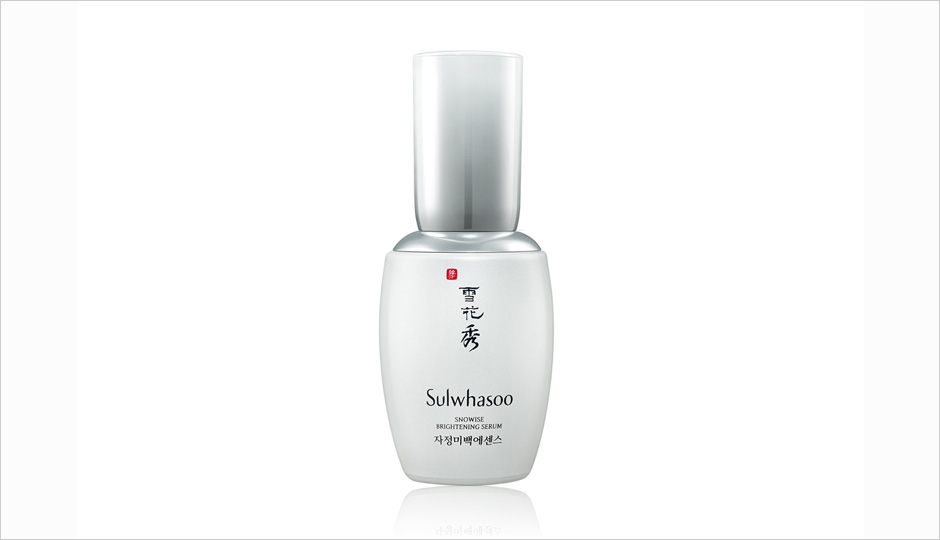 A brightening serum that unveils your skin's translucent inner-glow with superior brighteness by White Ginseng
- Introducing 'Volume Brightening' which infuses the skin with collagen to boost resilience while reduces dullness and discoloration
Sulwhasoo, a holistic beauty brand that presents the beauty of harmony and balance inspired by Asian philosophy and wisdom, releases the upgraded version of Snowise Brightening Serum. It infuses skin with collagen for a translucent inner-glow with precious White Ginseng.
Skin changes that accompany aging such as dullness, discoloration and unevenness, are not just due to an overproduction of melanin but also due to the loss of skin-firming agents This casts a dull shadow over the skin.
Sulwhasoo has identified skin-firming and anti-melanin treatments as a comprehensive whitening solution to address hyperpigmentation, which takes place from the age of 30 or so.
In 2016, Sulwhasoo presents the upgraded Snowise Brightening Serum, enriched with precious White Ginseng ingredient to infuse skin with collagen and reduce dullness and discoloration. Sulwhasoo's Snowise Brightening Serum contains White Ginseng saponin, which is Sulwhasoo's proprietary whitening agent and the world's first ginseng-derived whitening ingredient, to firm up the skin and suppress excessive melanin production. In addition, the upgraded Snowise Brightening Serum contains White Ginseng polysaccharides, which are 2.5 times more concentrated than before, to keep your skin hydrated and achieve a translucent inner-glow. Sulwhasoo Snowise Brightening Serum unveils your skin's translucent, inner-glow, giving you a rejuvenated look all day.
Sulwhasoo Snowise Brightening Serum [Skin-whitening product]
Price/Content: 50ml
Release date: March 2016
About Sulwhasoo
Sulwhasoo believes in a holistic approach to beauty and skincare, providing the ultimate skin solution that carefully treats our inner and outer beauty. The approach harmonizes our natural beauty with ancient Asian wisdom and legendary Asian medicinal herbs to restore the delicate equilibrium between body and mind. The Sulwhasoo brand gains wisdom from the laws of nature and lavishes your body with the rare and precious ingredients of nature in pursuit of that ideal beauty. Sulwhasoo showcases the value of holistic beauty to the world with the Jaum Balancing Complex ™, our unique solution designed to supplement yin energy and help reverse aging by restoring the skin's balance. The formula uses just five precious ingredients, carefully selected from a list of more than 3,000 medicinal herbs, including Korean ginseng, the legendary ingredient that makes Sulwhasoo's unique formulas even more special when combined with our cutting-edge bioconversion technology. As of 2015, Sulwhasoo has stores in South Korea, Mainland China, Singapore, Hong Kong (China), Thailand, Indonesia, Malaysia, Taiwan, Vietnam, and the U.S., successfully thriving as the Asian beauty creator.