Sulwhasoo MEN releases Relaxing UV Protector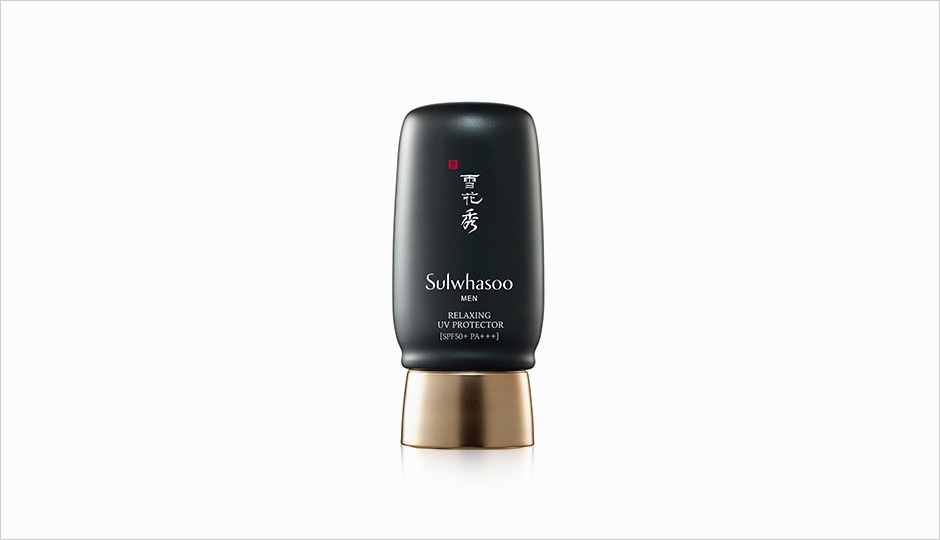 Non-sticky convenient UV protection for men's skin
- A blend of skin-regenerating Jeongyangdan and stress-relieving Portulaca oleracea extract provides comfort and care to men's sensitive skin
Sulwhasoo, the holistic beauty brand that delivers beauty of harmony and balance with Asian philosophy and wisdom, introduces a new addition to the Sulwhasoo MEN line. Sulwhasoo MEN Relaxing UV Protector provides strong protection against UV rays and external aggressors.
Sulwhasoo MEN Relaxing UV Protector forms a non-sticky, protective layer on the surface of the skin and effectively shields the skin against UV radiation, the main cause of photoaging. Relaxing UV Protector contains Portulaca oleracea extract, a traditional skin-soothing remedy, to calm tired skin from external aggressors and stress. Sulwhasoo MEN Relaxing UV Protector enhances the skin's regeneration with Portulaca oleracea extract and Jeongyangdan, which is infused with five skin-benefitting ingredients based on traditional Korean herbal medicine.
The key ingredient Portulaca oleracea extract is traditionally used in many forms as a skin-soothing agent. Portulaca oleracea extract reduces cell degeneration by protecting mitochondria from UV-induced damage and has strong skin repair effects. Its soothing properties relieve the skin from the effects of impurities and external irritants.
Relaxing UV Protector is formulated with an optimal blend of UV-protective components, oil and macromolecule powders. The formula spreads out in an even layer on the skin to provide effective and convenient protection against UV rays and easily rubs into the skin without leaving a sticky feeling. In addition, the wafting oriental woody fragrance gently conveys a sense of comfort.
Sulwhasoo MEN Relaxing UV Protector is available at Sulwhasoo stores nationwide from May.
Sulwhasoo MEN Relaxing UV Protector [UV protection cream]
About Sulwhasoo
Sulwhasoo believes in a holistic approach to beauty and skincare, providing the ultimate skin solution that carefully treats our inner and outer beauty. The approach harmonizes our natural beauty with ancient Asian wisdom and legendary Asian medicinal herbs to restore the delicate equilibrium between body and mind. The Sulwhasoo brand gains wisdom from the laws of nature and lavishes your body with the rare and precious ingredients of nature in pursuit of that ideal beauty. Sulwhasoo showcases the value of holistic beauty to the world with the Jaum Balancing Complex ™, our unique solution designed to supplement yin energy and help reverse aging by restoring the skin's balance. The formula uses just five precious ingredients, carefully selected from a list of more than 3,000 medicinal herbs, including Korean ginseng, the legendary ingredient that makes Sulwhasoo's unique formulas even more special when combined with our cutting-edge bioconversion technology. As of 2015, Sulwhasoo has stores in South Korea, Mainland China, Singapore, Hong Kong (China), Thailand, Indonesia, Malaysia, Taiwan, Vietnam, and the U.S., successfully thriving as the Asian beauty creator.